Have you received a letter from Chase informing you that your Chase Slate card is changing to a Chase Freedom card?
Or more specifically, that it's being updated to a Chase Freedom card so you can start earning cash back?
Well, I did. The letter explained how I would receive the Chase Freedom card soon, and that once I did, I'd have to destroy my Slate card and begin using Freedom instead.
They were quick to point out that my account number and payment due date wouldn't change, nor would my interest rate or credit limit.
Additionally, there's still no annual fee on my yet to be received replacement card.
However, I will begin earning 1% cash back on all purchases, and 5% cash back on categories that rotate each quarter.
Lastly, to the make the deal I did not ask for nor negotiate even sweeter, they're offering me a $100 cash back bonus when I spend $500 on my new Chase Freedom card by September 30, 2014.
What's the Catch with This Offer?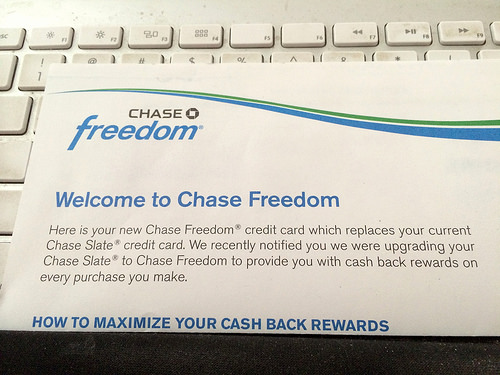 At first glance, it sounds pretty great. The Chase Slate card doesn't really offer all that much in the way of perks. In fact, the only real draw of the card is the 0% APR no fee balance transfer, which is why I applied for the card to begin with.
Speaking of, I'm currently enjoying 0% APR on a balance transfer with the Chase Slate card until May 2015.
And there's no real rush to pay off my balance aside from regular monthly payments that will reduce the balance to zero before I incur any interest next May.
But the offer from Chase is basically trying to entice me to spend money on my new Chase Freedom card via purchases, which could complicate the situation.
Why you ask? Well, if I start ringing up purchases on the new card, they'll be subject to 11.99% APR, and I'll start incurring interest unless I pay my balance off in full.
So clearly I won't want to mix up my purchases and balance transfers unless I can completely pay off the existing balance.
Alternatively, I could start making larger payments to my existing balance to pay it down before October, and make $500 in purchases right after that (but before September 30th) to get the $100 bonus.
That too would benefit Chase in that it would force me to pay off my credit card balance with them faster, or possibly cause me to slip up and pay finance charges in the process.
Either way, it would be cutting into my original plan to enjoy 0% interest until next May.
Why Are They Doing This?
Why they're doing this is somewhat unclear. Perhaps they know the Chase Slate card is popular for balance transfers, but not much more than that.
So cardholders are only using Slate to transfer a balance and then simply letting it collect dust (or worse, canceling it).
By automatically turning it into the more useful Chase Freedom card, I may actually want to use the card to get access to those generous 5% cash back categories, and/or the $100 bonus.
In other words, Chase is banking on me becoming an actual customer with them once they make the switch, as opposed to me simply using them for the 0% APR and making my everyday purchases elsewhere.
Ironically, the card is called Freedom, but I don't really get a choice…
Update: Because Chase was offering a $200 sign-up bonus around the time of my automatic conversion, I sent a secure message asking if I could get the bonus as well, despite not being a new customer, but a converted one.
The first customer service rep told me no, but I asked again, and clarified why I should get the full bonus and I received a yes the second time around.
Here's what the second rep said:
"Thank you for contacting Chase about the 20,000 point enrollment bonus offer. Let me begin by saying that I sincerely apologize for the previous misinformation you received. We certainly can match the 20,000 point bonus offer on your account since the account was automatically switched to a Freedom Card in the last 90 days. Once you meet the $500 spending requirement by 9/30/14, please contact us to have the additional 10,000 reward points added to the account."
So at this point it's worth paying off my existing Chase Slate balance and then spending $500 to get the $200 reward.  Yes, my balance transfer will be cut short, but the bonus is too good/easy to pass up.