Recently, I wrote about credit cards that allow you to transfer points to airline partners.
This can be an extremely valuable redemption option if you're a frequent flyer, or simply have a big trip in mind. Put simply, you can get a lot more mileage out of your points, no pun intended (or was it?).
For example, you might be able to book a flight from the USA to Asia for 50,000 points. That probably beats redeeming your points for a $500 gift card, seeing that international flights will generally run in the double-digits.
Unfortunately, only a select few credit cards allow such transfers. But the good news is Citi ThankYou Premier is one of them, thanks to recent moves by Citi to match the offerings of its peers.
60,000-Point Sign-Up Offer with Citi ThankYou Premier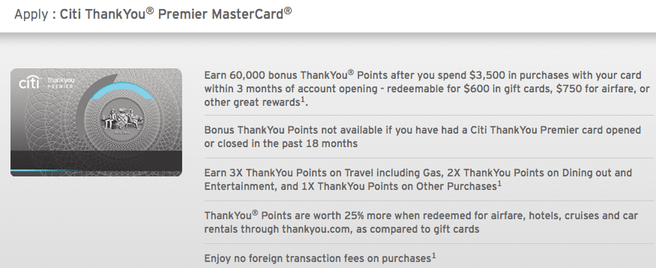 This just in – Citi has upped the opening bonus to 60,000 Thank You Points when you spend $4,000 in the first three months. It used to be $3,500, but you can thank inflation (and the need to turn bigger profits for that).
Anyway, it's not a bad haul, especially with the annual fee waived the first year.
If you haven't applied yet, this offer just got sweeter for you. If you already applied and didn't get the 60k bonus, it may not be too late to get matched.
Simply call Citi at 800-950-5114 and tell a customer service representative that you'd like to get matched for the higher offer.
Or use the secure message center on their website to send them a quick message. I've done this and it worked. It took about two business days to hear back and for the extra bonus points to post to my account.
Citi should match offers for cards opened in the past 90 days of the new, higher offer.
You don't have to get too specific, just be friendly and they'll put in the request to get the extra 10,000 TYP.
When I called the rep quickly saw that I spent $5,000 or so in the first three months, meaning I met the higher demands of the better offer.
Don't wait too long on this, call ASAP to make sure you get those 10k points!
Citi ThankYou Premier Bonus Categories
3 ThankYou Points on gas, hotels, travel (airfare, Uber, etc.)
2 ThankYou Points on restaurants and entertainment
1 ThankYou Point elsewhere
What about other ways to earn points? Well, the Citi ThankYou Premier has some bonus categories that are also due to be overhauled fairly soon.
At the moment, you can earn 3X ThankYou Points on dining and entertainment, and 2X ThankYou Points on travel and hotels.
Come April 19th, 2015, the bonus categories change to 3X ThankYou Points on travel (including gas), and 2X ThankYou Points on dining and entertainment.
So it's a bit of a flip-flop, but probably for the better for most consumers. Aside from including gas in travel, you might also be able to earn 3X on ridesharing purchases.
You also earn 1 ThankYou Point for every other purchase. So there is potential to earn points somewhat quickly.
However, the lack of a shopping portal, such as ShopDiscover or the Chase Ultimate Rewards Mall, is a bummer. These online portals can be a great way to supplement your daily spending points.
Citi Travel Partners
Assuming you do rack up some miles, you may want to transfer them to an airline partner at a 1:1 ratio, as previously mentioned.
But beware; Citi is only partnered with a bunch of international carriers. They include:
– Asia Miles
– EVA Air
– Etihad Guest
– Flying Blue (Air France and KLM)
– Garuda Indonesia
– Malaysia Airlines
– Qantas
– Qatar Airways
– Singapore Airlines
– Thai Airways
– Virgin America (new!)
– Virgin Atlantic
With the recent addition of Virgin America, you can now take advantage of more domestic flights with TYP transfers to airlines.
They also allow you to transfer ThankYou Points to Hilton HHonors if you want to redeem for hotel stays instead.
So while they do allow for airline transfers, their partners might not appeal to everyone, especially those who only fly domestically.
Another potential problem is that the transfer of points can take up to 14 days. So booking award travel might get…tricky.
The good news is that there is no limit to how many points you can transfer, and no fee to transfer them. But there is a minimum transfer amount of 1,000 points.
Citi ThankYou Premier Extra Goodies
– No foreign transaction fees
– Smart chip technology (EMV)
– Points don't expire nor have a limit
– Points are worth 25% more when redeemed via the Citi ThankYou Travel Center
– Citi Price Rewind
– Citi Private Pass (access to VIP events)
– Worldwide car rental insurance
– Lost baggage protection
– Various travel-related insurance policies
– Annual fee often waived the first year
In summary, this card could be a winner, assuming the conditions are just right. But the way they split up the opening bonus is certainly a turnoff. This is no longer the case!
And the transfer partners and potential delay in transferring points could also complicate redemption.
Tip: If you already have a Citi credit card that is part of the ThankYou Rewards program, but it isn't eligible for transfers to airline partners, becoming a Citi ThankYou Premier cardholder will allow you to combine those points and transfer them out.
The same goes for those with Chase Freedom and Sapphire or Ink cards. This can maximize the value of points that otherwise can only be redeemed for gift cards and cash back.
In order to earn 100,000 ThankYou Points, I may apply for the Citi Prestige card as well. Combined, I'll have more than 100,000 TYP after meeting the minimum spending requirements, hopefully with some bonus category spend sprinkled in.
That should be enough to travel just about anywhere.
Why I Carry Citi ThankYou Premier in My Wallet

I recently applied for the Citi ThankYou Premier to pay for some of my wedding costs and easily hit the minimum spend.
Seeing that the annual fee is waived for the first year, it's an easy way to get 60,000 ThankYou Points without paying a dime. My fiancée also got the card, so that's over 120k points right off the bat.
It might be enough for us to take a second honeymoon, or perhaps a babymoon in the near future. I also thought about applying for the Citi Prestige as well seeing that I have so many wedding costs I can charge, but I held off for now.
I also like the bonus rewards categories with this card, which should make earning a lot of points pretty easy. I use Uber a lot, so 3X there will certainly help. And 3X at hotels will also prove to be beneficial.
The best thing about this card so far has been merchants asking how and where they swipe the card because the magnetic stripe is on the front, not the back. Makes you feel kind of cool for a minute.
Citi ThankYou Premier Used to Offer a Funny 50k Point Sign-Up Bonus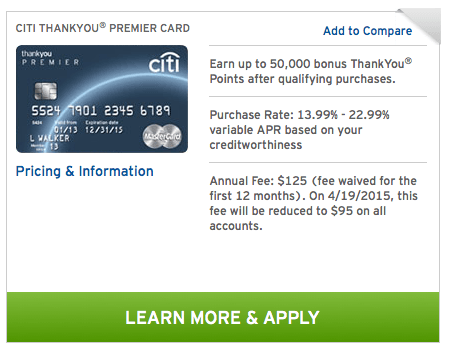 Citi used to offer an inferior version with just 50,000 bonus points on TYP, a higher annual fee, and a strange way to earn it.
The bonus wassn't so straightforward. You could actually only earn 20,000 bonus points during the first year. The other 30,000 couldn't be earned until year two. Talk about a trap to make you pay the annual fee.
Broken down, you had to spend $2,000 in the first three months to get your hands on the first 20,000 points. Then if and when you spent $3,000 within the first three months of your second cardmember year you'd get the other 30,000.
Funnily enough the annual fee is waived for the first year. But that doesn't really matter because they're banking on you sticking around in year two to get your 30,000 bonus points!
For the record, the annual fee on the Citi ThankYou Premier used to be $125, though it has since been reduced to $95 (see screenshot above), which just so happens to match the annual fee on the Chase Sapphire Preferred.
Oh, now I get it…looks like Citi wants to compete with Chase. That's great, since Sapphire Preferred has a 40,000 welcome bonus after spending $4,000 in the first three months. They also waive the annual fee the first year, but Citi is beating them now with their 60k offer.
So for someone looking to acquire points quickly and without a fee, Citi TYP wins.