You may have seen ads or commercials recently for the "Fidelity Rewards Visa Signature Card."
I did at some point, which is why I chose to sign up and write this credit card review.
For the record, this credit card was formerly known as the "Fidelity Investment Rewards American Express credit card" before being offloaded by American Express and acquired by Elan Financial Services.
Those who previously had the Amex version were automatically given a Visa replacement version of the card.
However, as far as I can tell the card benefits haven't changed outside the Visa vs. American Express brands and their associated benefits.
You still earn 2% cash back on every purchase, which can be deposited into your associated Fidelity investment account, which is the main takeaway of this credit card.
2% Cash Back on All Purchases with Fidelity Investment Rewards

The biggest draw is the 2% cash back on all purchases
Which is basically the highest cash back rate you'll find
For a credit card year-round
But the rewards must be redeemed in an eligible Fidelity account to earn full value
At first glance, it looks like a pretty solid rewards credit card, what with its 2% cash back on all purchases.
That beats the industry average of 1% cash back, which is an obvious plus. Or even the 1.5% cash back some cards now earn.
You also don't need to worry about rotating categories that offer higher percentages of cash back, such as those seen on the Chase Freedom credit card.
So it's a no fuss cash back credit card. But what makes the cash back even sweeter is that it can be deposited into your Fidelity account, whether it's an IRA account, a college savings account, or a brokerage account.
For every $2,500 in purchases you make, you can set the card up to automatically deposit $50 into your designated Fidelity account(s).
If you have multiple Fidelity accounts, you can split the money up and send it to all of them (or just one or two).
This is clearly the main draw of the cash back on the Fidelity Investment Rewards Visa credit card.
Not only do you get a solid percentage of cash back, it goes toward your future (or your child's), instead of simply offsetting your credit card purchases, or worse, being spent the minute you receive it.
So the cash back ideally rises in value of over with your investments.
Hypothetical Fidelity Investment Rewards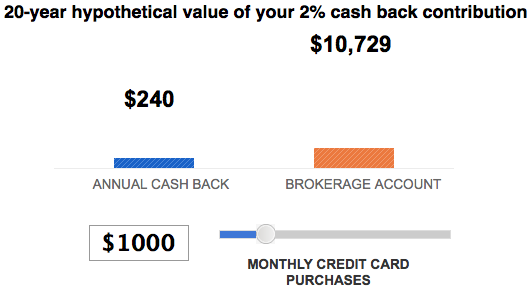 The 2% cash back rate will ideally be higher
If the money in invested with Fidelity over time
A hypothetical cardholder who spends $1,000 per month
Will earn a near-2.5% cash back rate on all purchases
Fidelity has a nifty little calculator on their website that lets you calculate how much your spending with the Fidelity Rewards Visa card could earn.
Using their default example of $12,000 in annual spending ($1,000 a month), you'd earn $240 in cash back rewards each year.
If the same amount were invested every year and earned a fairly conservative 4% return, it would be worth $2,916 in 10 years.
That's a cash back rate of nearly 2.5%, not inflation-adjusted or adjusting for any taxes, etc.
So you can see how the cash back can really add up, especially with no limit on the rewards you can earn.
It's not enough to send your kids to college, at least using their example, but you have to remember that this is "free money" on top of your regular investments.
Not a bad deal for simply using your credit card.
For the record, you can also convert your spending into WorldPoints Rewards, which can be used for things like travel, merchandise, or cash.
Let's Talk About Rates and Fees on Fidelity Visa

There is no annual fee
But the card does charge 1% on foreign transactions
No promotional APR or balance transfer APR
So best to pay off all purchases in full each month
The Fidelity Rewards Visa credit card has no annual fee, a 1% foreign transaction fee (which beats the standard 3% average), and up to a $38 late payment fee.
The credit card APR for purchases is typically high, generally in the teens, which can vary based on the Prime Rate. So expect it to climb higher in the future as the economy gets back on track.
It used to come with 0% APR on balance transfers for the first seven billing cycles, but this is no longer the case. Either way, the 3% balance transfer fee makes that option pretty unattractive.
[Capital One 50% More Cash Credit Card Review]
The Fidelity Rewards Visa also comes with the standard bells and whistles, including zero liability fraud protection and travel and car rental insurance.
All in all, it's a great credit card for someone looking for better-than-average cash back rewards without any hassle, along with the ability to build their retirement savings without giving it much thought.
Why I Use the Fidelity Visa Card
Whenever I can't earn 5% cash back
I turn to Fidelity Visa for the attractive 2% cash back without any strings
The fact that the money goes straight to my retirement is a big plus
And automatic redemptions make it a breeze
If I actually use the credit card in question, I'll always let you know. And the Fidelity Visa is actually my go-to credit card because of the handsome 2% cash back on ALL purchases (assuming I'm not taking advantage of a rotating 5% category).
I combine it with cash back portals to earn even more money back. And I love the fact that the money goes straight toward my retirement, which should boost the effective rate of return I earn for my credit card spending.
Understandably, this won't work for everyone, namely those without Fidelity accounts, or those not interested in boosting their retirement accounts.
If you need cash back in hand, go with a different card. But if you're happy to let your credit card rewards accrue value over time, this could be the card for you.
If you want to earn 2% cash back and actually get ahold of the money, one might opt for the Citi Double Cash card instead so it's not tied up in a retirement account you can't touch.
Finally, since this product switched from Amex to Visa, merchant acceptance should no longer be an issue.