News just broke of yet another new credit card from Chase, the "Chase Ink Business Preferred," which is now available with an impressive 80,000-point sign-up bonus!
It's a latest version of the existing Chase Ink card, so nothing too mind-blowing, but a new product means a new sign-up bonus opportunity for those looking for a new credit card to apply for.
There are also some important differences to take note of.
In what seems like an ode to the Chase Sapphire Reserve for the business-minded credit cardholder, it comes with solid multiples in a variety of new spending categories and a slightly larger sign-up bonus.
Additionally, the limits to earn points in said bonus categories are lifted quite a bit to suit the big spenders.
80,000 Ultimate Rewards Bonus with Chase Ink Business Preferred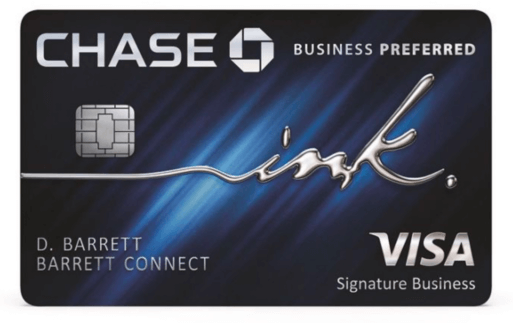 First and foremost, the new business card comes with 80,000 Ultimate Rewards points when you spend $5,000 in the first three months of account opening.
This beats the current 70k bonus that you can earn via the limited time in-branch Chase Ink Plus offer, or the 60k public offer available via the Chase website.
So another 10,000 Ultimate Rewards points for the same amount of spending is the first plus to this new credit card.
Chase Ink Business Preferred Offers 3X Points in 4 Categories
Secondly, the Chase Ink Business Preferred card comes with four 3X bonus categories geared toward business owners.
They include:
Travel
Telecommunications (Internet/phone/cable)
Shipping
Advertising on social media and search engines
Perhaps more importantly, the cap in these 3X categories is a combined $150,000 annually. In other words, you can spend $150,000 in these categories before they revert to 1X per dollar spent.
The existing Chase Ink Plus has an annual limit of $50,000 combined in its bonus categories, which for some might seem a bit on the low end.
For the record, the Chase Ink Plus categories earn 5x at office supply stores and on wireless, landline, internet, and cable services. So maxed out you're looking at 250,000 UR points each year.
With the categories on the new version of Ink maxed out, you'd be looking at 450,000 UR points.
Of course, it would require three times the spending to get there for less than double the amount of points…
The decision of which card to pick will ultimately (no pun intended) be dictated by which spending categories you favor.
I like the travel category because it's pretty wide open in terms of what qualifies (e.g. Uber, Lyft, plane tickets, hotels, etc.).
And for some business owners that might be huge if they don't want to spend $450 annually on the Chase Sapphire Reserve, though the net cost is only $150 with the $300 travel credit factored in.
For those who maximize the office supply store category by purchasing gift cards, the original Ink Plus is probably still the best card.
It will also depend on how Chase defines telecommunications…if it's all the common utilities like wireless and internet it'll be more lucrative.
The good news is that the same $95 annual fee applies to Chase Ink Business Preferred, and it's waived the first year.
Additionally, Chase Ink Preferred will come with up to $600 (per claim) in cell phone protection as long as you pay your wireless bill with the card. This benefit covers employees listed on your bill as well.
There is a limit of 3 claims per 12-month period and a $100 deductible per claim. Also note that this insurance is secondary (supplemental) to other policies you may have. A nice perk nonetheless.
The only question I have now is if it'll be plain old plastic or some kind of metal alloy. Based on them running out of materials for the Sapphire card, it's probably the former.
Chase Ink Business Preferred Highlights
80,000 UR points if you spend $5k in first 3 months
$95 annual fee (not waived during year one)
3X categories include travel, shipping, advertising, and telecommunications
$150,000 annual aggregate limit in bonus categories
Up to $600 in cell phone protection if damaged/stolen
Chase Ink Preferred 100k Sign-Up Bonus
There have been swirlings of a 100k sign-up bonus on this card, though the rumors are unsubstantiated.
Even so, if you apply for the Chase Ink Preferred now and the 100k offer suddenly appears, you can likely get Chase to match the higher offer as a courtesy. They will usually do this if it's within 90 days of your original application.
And, 80k Ultimate Rewards is nothing to sneeze at. The 100k bonus may never actually surface, but the 80k bonus could eventually be dropped to 60k or 50k. In other words, it's probably best not to chance it.
You Can Get Chase Ink Preferred If You Already Have Another Chase Ink Card

One final thing to note. If you already have a Chase Ink credit card, such as Chase Ink Plus or Chase Ink Bold, you can get this new version of Ink too.
As I wrote in the past, it's possible to get two Chase Ink cards and earn both sign-up bonuses.
Sometimes you might be scrutinized since they're similar products, but these are different enough that you can argue why you'd want both.
For example, different limits in bonus categories and different bonus categories at that.
I recently applied for Chase Ink Preferred despite having two other Ink cards in the past. I did apply under a different business of mine this time just in case, but it didn't seem to be an issue regardless.
When I called in to verify some stuff, which tends to be the case with the Chase Ink card approvals, they didn't even mention my existing Ink card.
All in all, the great sign-up bonus and some nice bonus categories here make it worth applying for.
FYI: They will expedite the delivery of the card in 1-2 business days if you ask, which is helpful if you need as much time as possible to hit the minimum spend!