If you're looking to give your Ultimate Rewards point balance a serious boost, consider the red-hot "Chase Sapphire Reserve" credit card.
It's not longer just a rumor (now it's a fact and you can apply today!), and I've got all the important details you need to know about before you fill in the application.
Here's what we know about the new iteration of Chase Sapphire so far (take with a grain of salt until confirmed). It is now confirmed!
100K Opening Bonus with Chase Sapphire Reserve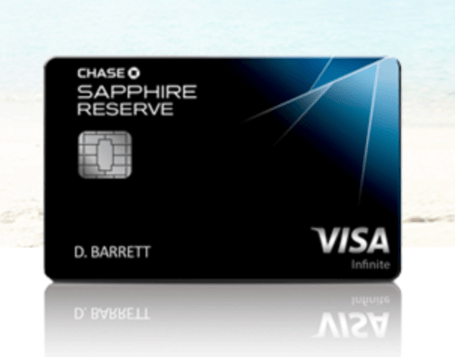 The Chase Sapphire Reserve is a Visa Infinite card that comes with a staggering 100,000 Ultimate Rewards point sign-up bonus if you spend $4,000 during the first three months from account opening.
Surprisingly, it's not any higher than the plain old Chase Sapphire Preferred that earns just 50,000 UR points.
I was actually kind of worried it might be more than $5,000 considering the mega bonus involved, but I guess the higher annual fee makes up for it.
Fortunately, there are plenty of ways to boost spending to hit the minimum without going broke.
I usually try to time the opening of a credit card with a big minimum spend to a large purchase I have just to make life easier.
Update: The bonus spend is only $4,000 for the 100,000 UR points, which to me is a steal. I assumed they'd ask cardholders to spend a lot more, but the pricey annual fee may be one reason why.
Chase Sapphire Reserve Comes with a $450 Annual Fee
Does the number $450 ring a bell? Think American Express Platinum and you're on the right track.
The Chase Sapphire Reserve comes with a hefty annual fee of $450 like Amex Platinum, and $75 annually for each additional authorized user card.
It kind of makes sense seeing that the Amex often floats a 100k sign-up bonus.
Now you just have to determine if you value Amex MR points more than Chase UR points.
All in all, it's pricey and I don't think that annual fee is waived the first year. So if you can't hit the minimum spend you probably shouldn't bother with this card.
If you're patient, there might be an in-branch offer that waives the annual fee the first year, as was done with Chase Ink.
However, I don't think I am going to hold out for something like that because I don't want to deal with the 5/24 rule and miss out entirely.
Besides, I've just finished meeting the spending requirement on a new Chase Ink card that will give me 75,000+ Ultimate Rewards points and I'm ready for something new.
Chase Sapphire Reserve Has a $300 Travel Credit
You can easily offset some (or all) of the costly Chase Sapphire Reserve annual fee thanks to the annual travel credit.
The good news is there's a $300 annual travel credit that you can probably earn twice in 365 days (over two different calendar years) to more than offset the one annual fee.
The big question is what the travel credit can be used toward. If you can buy airline gift cards it's a no-brainer.
If you can only use it for incidentals on flights it might not be as worthwhile. Still, if properly maxed out you could come out $150 ahead if you hit the credit twice in less than a year.
Update: You get a $300 credit annually for purchases in the travel category, meaning it could hypothetically be used for anything from hotel rooms to airfare to even ridesharing purchases like Uber and Lyft. If that's the case this card is a steal!
And the statement credit will apparently post the same day your purchase posts to your account.
Over roughly two years (one annual fee charge) that equates to $150 in free travel and 104,000+ UR points, all for spending just $4,000. That's pretty rad.
Chase Sapphire Reserve Offers 3X on Travel & Dining Worldwide

One great thing about Chase Sapphire Reserve is the bonus categories. We're talking 3X on both dining and travel worldwide, with dining the more interesting one for me. I eat out a lot so it'd be an efficient way to earn lots of UR points.
The only easier way to earn UR points is via Chase Ink and its 5X categories on things like internet, cable, cell phone, and office supplies. But if you had both cards open you could earn a boatload of UR points in a hurry with just plain old everyday spending.
The card is also expected to come with Priority Pass Select, which is airport lounge access that competitors like Citi offer via their Citi Prestige card. And things like a rebate for Global Entry and/or TSA Pre.
So in summary, the Chase Sapphire Reserve appears to be an ultra premium travel rewards credit card with one of the highest sign-up bonuses I've ever seen from Chase, which could be its greatest appeal.
[Amex Platinum vs. Chase Sapphire Reserve]
Should You Apply for Chase Sapphire Reserve?
I don't know if most savvy credit card churners would keep this card for more than a year, but I know a ton of them (if not all) would want to get their hands on 100,000 UR points for meeting a relatively low minimum spend.
This card is expected to be rolled out on August 21, 2016, so we should know in a few weeks if the rumors are all true. And what that pesky minimum spend is…it has been confirmed at just $4,000.
The $300 travel credit certainly makes the annual fee a lot less painful, if not icing on the cake of an already stellar deal.
I noted that I'm waiting because I'm working on a Chase Ink card spend at the moment, and also curious if this bonus could go even higher. Is it possible it could go to 150,000 UR points?
If you're close to Chase's 5/24 credit card cutoff, you may want to wait on applying for other credit cards to see if you can get approved for this special offer first.
My only concern in waiting is if the 100k sign-up bonus is lowered after the initial launch period. There's no indication it will be, but we also don't know if this is some sort of special bonus coinciding with the card's launch.
We could find out in a few months that it was, and that the bonus is just 75,000, 50,000, or some other lower number. I wouldn't wait if you don't have any other cards on your radar, even if it does somehow get better. Besides, Chase is good about matching public offers.
Why I Applied for Chase Sapphire Reserve
Originally I said I was going to wait to apply, but then just bit the bullet and went for it. As I mentioned, I didn't want to deal with the pesky 5/24 rule and keep track of what cards I could open and when.
I doubt anything new will be coming out from Chase anytime soon, other than the Chase Ink Business Preferred, which I have no interest in. So I figured I could use the last of my five applications in two years here.
Additionally, there were no other credit cards on my radar for the foreseeable future, so I decided to just get after it.
We really don't know if the 100k bonus will stick around or not, and it's probably not worth leaving to chance.
No sense in being greedy here if you can get approved and snag the 100k bonus. And if you have travel plans, might as well take advantage of the travel credit while you're at it.
It appears that I'll be using a Chase credit card for just about every purchase now, which is probably their grand plan.
For travel and dining it'll be Chase Sapphire Reserve. For rotating categories it'll be Freedom. For utilities it'll be Chase Ink. Well played Chase…
A Note About the $4,000 Chase Sapphire Reserve Spending Requirement
It seems a lot of folks (including myself) want to know if the travel credit will mean you have to spend more than the $4,000 spending requirement.
For example, if you spend $4,000 during those first three months, but $300 is credited back to you via that $300 travel credit, would that mean you'd have to spend $4,300 to get the bonus?
The answer is no. I asked Chase via secure message and was told the following:
Further, let me assure you that the purchases that earn
the $300.00 travel credit will still count towards to the
minimum spending requirement of $4,000.00 to earn the
Sign-up bonus. However, please know that the $300.00
credit earned from your travel purchases would not count
towards the spending requirement.
In other words, you can hit the minimum spend even if it only costs you $3,700 with $300 being refunded via the travel credit.
I don't think most people would take that chance though…
In general, it's good to err on the side of more to ensure the bonus is triggered if you happen to refund something or miscalculate your spend.
100,000 Sign-Up Bonus Being Slashed in Half
And now some unwelcome news about the 100,000 sign-up bonus. It turns out it was a limited-time bonus.
Come January 12th, 2017, the 100k bonus drops to 50k for online applications.
However, you'll still be able to apply for Chase Sapphire Reserve in-branch and get 100k points until March 12th.
So if you've been waiting, you might want to pull the trigger here and get that big bonus before it's gone forever.
Tell your friends and family to act quick!
Annual Travel Credit No Longer Calendar-Year Based
The $300 Annual Travel Credit will soon be based on your account open date, meaning you won't be able to double dip on that $300 and come out $150 ahead in the first year.
Instead, you'll wind up in the red if you apply for the card on May 21st, 2017 or later.
This means you should apply for Chase Sapphire Reserve ASAP to benefit from the way the annual travel credit is currently treated.
Put simply, for applications submitted before May 21, 2017, "annual" means the year beginning with your account open date through the first December statement date of that same year.
So if you opened your card in April, you could get $300 through December, then another $300 before the next April hit.
For applications submitted on May 21st, 2017 and later, "annual" means the year beginning with your account open date through the first statement date after your account open date anniversary.
So if you opened the card on June 1st, you'd get only one $300 travel credit through June 1st, 2018 (or around that date depending on statement closing date).
It's essentially a $300 haircut, which combined with the halved opening bonus, makes CSR a more run-of-the-mill credit card, or at least not AMAZING anymore.
It appears someone didn't do the math in corporate, and they were making the card just too darned lucrative to consumers.
Tip: You might still be able to double-dip if you get the second travel credit immediately after your one-year anniversary and then quickly cancel/downgrade the card to get the annual fee reimbursed.