Chase just launched a new hotel rewards credit card called the "Hyatt Credit Card." If you haven't heard of the hotel chain Hyatt, you probably don't travel much, let alone get out of the house.
But if you do get out a lot, and more importantly, travel, the Hyatt Credit Card could be for you.
Let's take a look at all the important details to assess and pros and cons of this new card.
Spend $1,000 = Get Two Nights Free at Hyatt Hotels
If you spend $1,000 within the first three months of cardmembership, you get 2 "Hyatt Gold Passport Free Night Awards" good at Hyatt Hotel or Resort properties (and participating M life resorts) worldwide.
They can be redeemed for available standard rooms and are valid for one year from issuance. Once you spend $1,000 it can take up to 10 days for your Free Night Awards to post to your Hyatt Gold Passport account, which is created automatically once you become a cardmember.
And the award nights don't stick you with any resort or redemption fees, unlike some rewards that could actually cost you.
You also get complimentary Internet access, and you can stay in your room until 2pm with a free late checkout request.
Hyatt Credit Card holders are also given access to expedited check-in, along with larger, preferred rooms on higher floors. Hello views!
For existing Hyatt Gold Passport Platinum members, you get two award nights and two suite upgrades after your first purchase.
If you're already a Hyatt Gold Passport Diamond member, you get two award nights in a suite.
*Membership status is determined at the time of application. If you're already a Hyatt member, there's an area to indicate that and provide pertinent information.
Essentially, you must already be a Hyatt Gold Passport Platinum or Hyatt Gold Passport Diamond member to get the "suite" bonuses mentioned above.
And both platinum and diamond status are determined by how many nights you stay in Hyatt hotels annually.
[highlight color="yellow"]Once the spending requirement is met, it can take seven to 10 days for the Free Night Stay e-certificates to post to your Hyatt Gold Passport account.[/highlight]
If you're wondering what your Hyatt account number is, it's the number listed on the front of your Hyatt Credit Card below the card number.
Be sure to sign up for a Hyatt account using that number if you're not already a member. That way you can manage your awards.
How to Book the Two Free Nights

Once the free nights show up in your Hyatt account, you can make your reservation. As noted, it may take 10 days or so once you hit that $1,000 spend for the awards to show up in your Hyatt account. So keep checking your Hyatt account online around that time (or wait patiently for the e-mail to come). Mine took about 8-9 calendar days to post after spending $1,000.
Note: You don't need to pay off the $1,000, just spend the $1,000. So don't charge it and pay it off right away thinking it will speed up the process. But do pay your balance in full when it's due to avoid interest as you would any other credit card.
Once logged in at the Hyatt website, click on "My Awards" on the main page and you should see 2 Earned Awards listed. From there you can you can click the reserve button on the website or call 800-228-3360.
I like to check availability online first, and then call Hyatt directly to ensure everything goes off without a hitch. There's also a weird issue where it doesn't seem to let you book consecutive award nights via the website.
So if you want to book two free nights in a row, it's probably best to call them up and make your reservation. It's super easy and once you provide your Hyatt account number, they'll confirm that you have free awards nights available.
Like just about everyone else on the planet, I redeemed mine at the Park Hyatt Paris-Vendôme, which was going for about $650 a night for my dates. That's $1,300 in free luxury hotel goodness folks. Need I say more?
One Free Night a Year with Hyatt
On top of that welcome bonus, cardholders also get one free award night each year on their card anniversary, for a category 1-4 property.
The category 4 hotels are definitely swanky, boutique style hotels in good locations worldwide.
And these hotels would probably set you back a few hundred dollars for just one weekend night stay.
So that reward alone should more than wipe out the annual fee associated with this card.
You also earn 3 Hyatt Gold Passport points for each $1 spent at Hyatt properties, 2 Hyatt Gold Passport points for every $1 spent at restaurants, car rental agencies, and on airline tickets purchased directly with the carrier, along with 1 Hyatt Gold Passport point for each $1 spent elsewhere.
And there's no limit to how many points you can earn.
You can earn a free night with as little as 5,000 points for a category 1 room, with no blackout dates.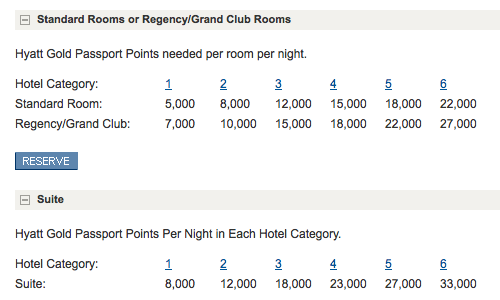 The Hyatt Credit Card Numbers
The credit card APR is a variable 15.24% for both purchases and balance transfers, meaning it's not a good choice for balance transfers.
It's pretty much in-line with average credit card interest rates, but you certainly shouldn't carry a balance if you don't want to be bombarded with finance charges.
[See no fee balance transfers if you want to transfer a balance.]
There is also an annual fee of $75, which I suppose is offset by the free night's stay you're rewarded with each year.
Another plus to the Hyatt Credit Card is that there is no foreign transaction fee, so it's a great credit card to use when traveling abroad.
Additionally, it's infused with smart chip protection which secures your card when you travel internationally.
The Verdict
In summary, the new Hyatt Credit Card from Chase is a great deal if you're a frequent traveler, especially if you already stay at Hyatt properties.
By the way, there are roughly 500 Hyatt properties worldwide, so you'll always have options with this hotel chain.
Even if you don't travel much, if you've got one big trip planned you can take advantage of those two free nights and stay somewhere really nice. There are no category restrictions for the opening bonus nights, so you can really put on the ritz.
Despite the presence of an annual fee, which is waived the first year, it's very easy to earn free hotel stays with this card. After all, your get two free nights simply by spending $1,000.
And with the one free night awarded annually, that relatively low fee is offset anyway.
If you're looking for the most cash back instead, check out the bonus offer from Chase Sapphire.
(photo: UggBoy♥UggGirl [ PHOTO // WORLD // TRAVEL)