Recently, I highlighted some of the most expensive credit cards currently available in the United States.
It was more of a "for fun" post, rather than an advice piece. And at the end of the article, I noted that the credit cards were more entertainment value than actual value.
So let's look at one of them in more depth to see if it's a good deal, or simply a cash-burner.
American Express Platinum Annual Fee = $550
The biggest downside to Amex Platinum is the $550 annual fee
Which is offset partially by the $200 airline credit
And the $200 annual Uber credit
Making it effectively $150 per year if you use those two benefits in full
The first major strike against the American Express Platinum Card is its staggering $550 annual fee. It used to be $450 prior to March 2017.
Sure, if you're filthy rich it's not a lot of money, but for everyday consumers it's a significant amount of cash to fork over to your credit card issuer each year.
So what does this charge card with no spending limit offer that its peers do not, and is it worth the hefty price tag?  Let's find out.
Tip: You may be able to get the Platinum Card without an annual fee the first year ($550 in savings) if you apply for the Platinum Card from American Express for Ameriprise Financial. Yes, a mouthful, but the savings are substantial.
It has been said that you don't actually need to be an Ameriprise customer to get this version of the card, but the terms say otherwise.
If Amex finds out you don't have an Ameriprise account, or if your Ameriprise relationship ends, they can cancel your card or transfer your account to another American Express card product with different features and benefits.
So it would only make sense to go after the annual fee-free version if you are legitimately an Ameriprise customer.
By the way, if you are indeed an Ameriprise member, you can also earn 5,000 bonus Membership Rewards points for every $20,000 in spending, up to 30,000 Membership Rewards points annually. Cha-ching!
60,000 Point Sign-Up Bonus (Look for the 100k Point Sign-Up Bonus!)

Amex Platinum typically comes with a 60k sign-up bonus
For spending $5,000 in the first three months
But a 100k bonus tends to circulate at some point every year
So be sure to keep an eye out for it and be patient when applying to maximize the bonus
For starters, the Amex Platinum comes with 60,000 Membership Rewards points when you spend $5,000 during your first three months of card membership.
Simply put, 10,000 points is worth $100 in gift cards or other merchandise, so you're basically getting $600 in value there ($650 if you include the $5,000 in spending).
That's not a bad haul, but it barely offsets the annual fee. In fact, you're just $100 or so in the clear.  Not great.
The upside is if you use the points toward tickets on any airline, you get 20% of your points back. In other words, they go a bit further.  But it's still not enough…
You can also earn 10x points when you use the card with select merchants and 2x points when you book travel online at American Express's travel website.  So the points can certainly add up.
Tip: Keep an eye out for 100,000 bonus point Amex Platinum offers in the mail and via the Cardmatch tool. You can earn 100k points for spending just $5,000 in the first three months of membership, which is a bonus that will actually make this credit card quite attractive.
Even if you don't get the offer in the mail, call American Express and ask for it! They'll usually match offers sent to other customers, assuming you're a creditworthy borrower.  Or look for a link online.  Either way, you the 100k sign-up bonus can't really be matched, even with the annual fee factored in.
After all, 100k points can be worth quite a bit if redeemed for travel with a frequent flyer program.
There is also a 100k offer attached to the business version of the card that requires $25k in minimum spend during the first three months for those big spenders out there with a business.
[Chase Sapphire Reserve vs. Amex Platinum]
What Other Perks Does Amex Platinum Offer?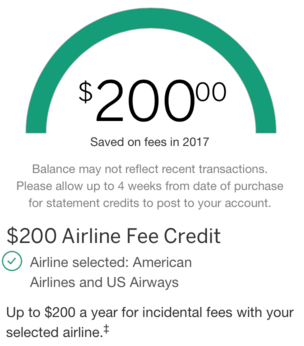 The $200 airline fee credit is handy and often triggered by gift cards
The $200 Uber gift card is also beneficial and can be used with UberEats
You also get free lounge access in several different programs
And there are no foreign transaction fees charged
There are certainly a lot of travel-related perks with the Platinum Card, namely the $200 annual airline fee credit, which reimburses you for incidentals like baggage fees, change fees and in-flight expenses.
However, the use of the $200 is severely limited in the real world. First off, you have to select one airline ahead of time, and then actually charge some incidental fees to your Amex Platinum Card from said airline.
Sadly, airline tickets, gift cards, flight upgrades, duty–free purchases, and award tickets are all excluded from the $200 credit, though I have heard that some gift card purchases still resulted in a statement credit.
Compare this to the Citi Prestige card, which reimburses pretty much everything including airline tickets!
Additionally, you get a $100 statement credit if you book a qualifying cruise or vacation of $3,000 or more via the Platinum Travel Service.
You also gain free access to airport lounges in over 600 international and domestic locations in 100 countries. And you can bring two guests for free!
On top of that, you can earn a free international companion airline ticket when you purchase a qualifying full-fare first or business class ticket through the Platinum Travel Service.
The upside is a free first class or business class airline ticket, the downside is you have to pay for one of them, which ain't cheap.  And you may be subject to fees and taxes on top of that.
There's also a $200 Uber credit, which can offset the annual fee if you use it. But it too is restricted because you only get $15 a month and the unused credit doesn't roll over month-to-month.
The Platinum Card is also foreign transaction fee free, which is great for world travelers, but not that special in and of itself.
And hotel and car rental upgrades seem to be the norm with this card as well.  For example, Amex Platinum card holders automatically receive gold status in the Starwood Preferred Guest program and Marriott, which grants you 4 p.m. late checkout and an "enhanced room" when available at check-in.
You also get gold status in Hilton Honors, along with elite status in a number of car rental programs, such as Avis Preferred and Hertz Gold Plus Rewards.
Finally, you also receive up to $500,000 in travel accident insurance when you use the Platinum Card for your purchase.
There's also a concierge service, which can help with shopping and dinner reservations at the world's best restaurants, along with access to once-in-a-lifetime events.
This credit card also offers purchase protection, extended warranty, and return protection.  For example, if your laptop falls to the ground or gets stolen, Amex will reimburse you for the full purchase price so long as it occurs within 90 days of purchase.
Of course, their lower-end credit cards offer the same protection, so it's not necessarily unique to the Platinum Card.
That said, you might be better off with the Blue Cash Everyday card, which comes with similar perks and cash back, all with no annual fee.
Pros of the American Express Platinum Card
No spending limit
No foreign transaction fees
5X points on flights booked directly with airlines or with American Express Travel
5X points on eligible hotels booked via amextravel.com
$200 annual airline fee credit
$200 Uber credit
Free access to tons of airport lounges
Fee credit for Global Entry or TSA Pre
Free Boingo internet access
Free companion first class/business class international airline ticket annually
Gold status in Starwood Preferred Guest, Marriott, and Hilton Honors
Elite status in car rental programs
Free premium roadside assistance
$500,000 in travel accident insurance
Purchase protection/extended warranty
Concierge service
Cons of the American Express Platinum Card
$550 annual fee
No promotional APR
Balance must be paid in full each month
Limited bonus point categories (harder to earn points quickly)
So-so sign-up bonus unless you get the 100k offer
High minimum spending requirement
Authorized users charged $175 (but can add up to 3 cards for that total price)
Tip: If you want to qualify for the American Express Black Card, you need the Platinum Card first, and must spend at least $250,000 on it annually.