Recently, I highlighted the most expensive credit cards currently available in the United States, including Amex Platinum.
It was more of a "for fun" post, rather than an advice piece.
And at the end of the article, I noted that many of those credit cards were more entertainment value than actual value.
But one very expensive credit card is also extremely popular.
Let's take a look to see if it's a good deal, or simply a cash-burner.
American Express Platinum Annual Fee = $695
The biggest downside to Amex Platinum is the $695 annual fee
It can be mostly offset via several usable monthly/annual credits
There is a $200 Airline Fee Credit (for lounge or incidentals)
$200 Uber Cash ($15 allocated monthly for rides or Eats)
And a $240 Digital Entertainment Credit ($20 monthly)
Those who use all three credits pay an effective $55 annual fee
The one major strike against the American Express Platinum Card is its staggering $695 annual fee.
It used to be $450 prior to March 2017, then it increased to $550.
Somehow we're now close to $700! Yikes.
However, American Express has added way better benefits you can actually use.
Sure, if you're filthy rich it's not a lot of money.
But for everyday consumers, it's a significant amount of cash to fork over to your credit card issuer each year.
So what does this charge card with no spending limit offer that its peers do not? And is it worth the hefty price tag? Let's find out.
$200 Uber Cash with Amex Platinum
Pretty much everyone uses Uber, or at least has an Uber account.
With Amex Platinum, you get $15 in Uber Cash each month. And $20 in the month of December.
The beauty of this credit is it can be used for rides and Uber Eats.
If you don't ride with Uber, use the credit to buy lunch/dinner each month with your Platinum card.
Tip: Select pick-up to avoid all the delivery fees and tips. This way you don't overspend while using the credit.
I pick up a pizza each month that I'd buy anyway and get full use of the Uber credit.
To use the credit, add your Amex Platinum to your Uber account(s).
Amex Platinum $240 Digital Entertainment Credit

Next up is the $240 Digital Entertainment Credit offered by Amex Platinum.
Again, this is one you can actually use. And it's super simple.
You get $20 per month for all 12 months. The credits can be used for the following:
Audible, Disney+, The Disney Bundle, ESPN+, Hulu, Peacock, SiriusXM, and The New York Times
I use it for The Disney Bundle and Peacock (not premium).
In the past, I used it for Peacock premium, which runs about $10.
But I rarely watch Peacock, so I switched to $4.99 Peacock basic and the $14.99 Disney Bundle.
Collectively, that costs $19.98. So I'm essentially maximizing this credit.
Tip: Enrollment is required on the Amex website.
Amex Platinum $200 Airline Fee Credit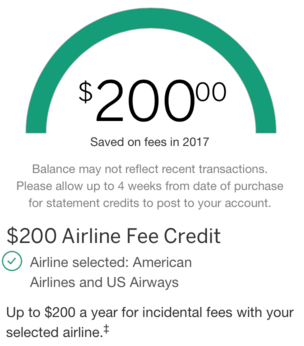 There are several travel-related perks with the Platinum Card, including airport lounge access.
There's also a $200 annual Airline Fee Credit, which reimburses you for incidentals like baggage fees, change fees and in-flight expenses.
It resets each calendar year, not anniversary year. So every January 1st, you can use it again.
The caveat here is the use of the $200 is severely limited in the real world.
First off, you have to select one airline ahead of time, and then actually charge some incidental fees to your Amex Platinum Card from said airline.
Sadly, airline tickets, gift cards, flight upgrades, duty–free purchases, and award tickets are all typically excluded from the $200 credit.
However, there are some workarounds, like buying sub-$100 Southwest flights or purchasing United TravelBank funds.
I selected Southwest for my annual Airline Fee Credit and get the full $200 use out of it.
Amex Platinum 125,000 Point Sign-Up Bonus!

Amex Platinum typically comes with a 60k-80k sign-up bonus
But there's currently a 125k publicly available bonus
It requires minimum spend of $6,000 in the first six months
This is probably one of the best offers in history for this card so be sure not to miss out!
If you're still with me, and like the sound of the annual credits Amex Platinum offers, it gets better.
At the moment, you can earn 125,000 Membership Rewards points when you spend $6,000 during your first six months of card membership.
That's not a bad haul, and might be their best ever sign-up bonus considering the relatively low credit card minimum spend.
If you transfer those miles to an airline frequent flyer program, you might be able to book round-trip business class to Europe.
That's worth thousands of dollars. Or you could use the points to book cheaper domestic flights.
There are plenty of options to redeem Membership Rewards points.
What Else Does Amex Platinum Offer That's Useful?
I highlighted what I feel are the best aspects of Amex Platinum for most people.
But the card offers even more value, which you may or may not want/use.
For example, there's a biannual $50 Saks Fifth Avenue credit.
It works out to $50 in statement credits from January through June, and another $50 from July through December.
Simply make a purchase at a Saks store or their website twice a year to earn the statement credits.
I usually just buy a Kiehl's men's skincare package for around $50 each period. That gives me another $100.
There's also a $189 Clear credit, along with a credit for Global Entry or TSA PreCheck.
Additionally, there's a $300 Equinox Credit & SoulCycle At-Home Bike Credit.
And a $200 annual credit on prepaid Fine Hotels + Resorts® or The Hotel Collection bookings .
You can get a monthly Walmart+ membership for free too ($12.95 statement credit plus local applicable sales tax that covers the full cost).
Airport Lounge Access with Amex Platinum
Everyone seems to go nuts for airport lounges. I'm not sure why. It's generally buffet food that's been sitting out and free drinks.
If that's "your jam," know that Amex Platinum offers complimentary access to 1,400+ lounges in over 500+ airports across 650 cities.
You also get access to Centurion Lounges at select airports nationwide and in select countries worldwide.
However, come February 2023, you'll only get access for yourself unless you spend $75,000 on the card each calendar year.
If you can spend that, you'll get complimentary guest access for up to 2 guests the following year.
If not, it's $50 for each guest or $30 for children (ages 2-17, with proof of age). Ouch.
[Chase Sapphire Reserve vs. Amex Platinum]
Amex Platinum Travel Benefits
The Platinum Card is also foreign transaction fee free, which is great for world travelers, but not that special in and of itself.
Amex Platinum card holders also automatically receive gold status in Hilton Honors and Bonvoy (Marriott).
And you get elite status in a number of car rental programs, along with Premium Car Rental Protection.
Additionally, you get Baggage Insurance, Trip Delay Insurance and Trip Cancellation and Interruption Insurance when you use the Platinum Card for your purchase.
There's also a concierge service, which can help with shopping and dinner reservations at the world's best restaurants, along with access to once-in-a-lifetime events.
This credit card also offers purchase protection, extended warranty, and return protection.
For example, if your laptop falls to the ground or gets stolen, Amex will reimburse you for the full purchase price so long as it occurs within 90 days of purchase.
Of course, their lower-end credit cards offer the same protection, so it's not necessarily unique to the Platinum Card.
See all Amex Platinum benefits here.
Tip: The Amex Platinum is free for active duty service members and spouses! But not for veterans.
Is Amex Platinum Worth It?
As I pointed out, it's fairly easy to get the $695 annual fee knocked down to $55.
All you need to do is maximize the Uber, streaming, and annual airline credits.
From there, you can extract even more value via the $100 Saks credit, and credits for Clear or TSA Pre/Global Entry.
It's not difficult to come out ahead if you use all those services anyway.
If you don't use them, it might not provide much value. And the effective $58 monthly fee for Amex Platinum will be a waste.
The tipping point for me would be the sign-up bonus. If it's 100k+ MR points, then you get a break-even card and lots of bonus points.
You also get lounge access and other miscellaneous travel benefits, along with 5X points on flights, which some folks really value.
Pros of the American Express Platinum Card
No spending limit
No foreign transaction fees
5X points on flights booked directly with airlines or with American Express Travel
5X points on eligible hotels booked via amextravel.com
$200 annual airline fee credit
$200 Uber credit
$240 streaming credit
Free access to tons of airport lounges
Fee credit for Global Entry or TSA Pre
Free Boingo internet access
Free companion first class/business class international airline ticket annually
Gold status in Marriott Bonvoy and Hilton Honors
Elite status in car rental programs
Free premium roadside assistance
Baggage, travel, trip interruption insurance
Purchase protection/extended warranty
Concierge service
Cons of the American Express Platinum Card
$695 annual fee
No promotional APR
Balance must be paid in full each month
Limited bonus point categories (harder to earn points quickly)
High minimum spending requirement
Authorized users charged $175 (but can add up to 3 cards for that total price)
Tip: If you want to qualify for the American Express Black Card, you need the Platinum Card first, and must spend at least $250,000 on it annually.