Ah the Black American Express Card, such a legend in the credit card world. But is it any good?
Credit cards don't typically fall into the category of pop-culture, nor do they usually garner much attention aside from their basic functionality.
But one credit card has mystified and amazed consumers and the general public for years: "The Black American Express Card."
During the 1980s, many believed it was a hoax or simply urban legend, but it has since been confirmed by such media empires as the Wall Street Journal and Forbes.
However, the question remains whether it was created before or after rumors of such a credit card emerged.
The American Express Black Card Is Officially Called 'The Centurion Card'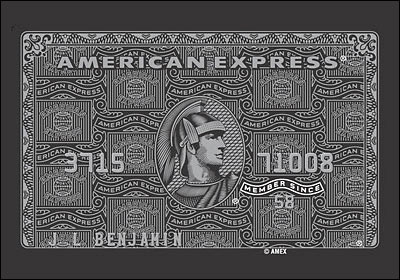 The Black American Express credit card is actually formally referred to as the "The Centurion Card" by American Express.
It is offered by invitation only, usually to celebrities and business tycoons and the like.
Or anyone that tends to charge a ton of money on their American Express Platinum Card.
By the way, Centurions were commanders of the Roman Army, hence the picture of one on the front of the Black Card.
This is a common theme throughout the Amex credit card portfolio.
A Level Up from Platinum (Big Level Up)
The Centurion Card is the next level up (way up) from the Platinum charge card offered by American Express.
As you might suspect, it comes with no pre-set spending limit. A lot of credit cards claim that, but the Centurion Card really means it.
And it's made of titanium, unlike the lowly plastic credit cards us schlubs carry around.
However, it does come with a hefty $5,000 annual fee, making it the most expensive credit card in the world.
Spending Requirement for the American Express Black Card:
It costs $10,000 to enroll in the Centurion Card program – and you apparently need to spend a minimum of $250,000 within 12 consecutive months on an Amex Platinum card first to qualify.
Assuming you're able to pull that off, you also need to have a stellar credit score. And plenty of spare change to pay that $5,000 annual fee.
Tip: The annual fee for the first additional Centurion Card is $0. Each additional Centurion Card beyond that costs $1,500.
Benefits of the American Express Black Card
Benefits of the Black Card include complimentary upgrades on a variety of transatlantic flights, personal shoppers at high-end boutiques, and free night stays at leading hotels worldwide.
Additionally, a personal concierge is assigned to your account with a direct phone number and email address.
You also get lounge access, at you guessed it, Centurion Lounges worldwide. And all the other airport lounges you'd expect.
Oh, and then there's the bragging rights, and the absolute FLEX when you pull it out to pay for something!
In reality, bragging rights are probably one of the main reasons most individuals actually want the Amex Black Card to begin with.
Get Instant Status with The Centurion Card
Hilton Honors Elite Diamond Status
MeliáRewards Platinum
Marriott Bonvoy Gold Elite Status
IHG Rewards Club Platinum Elite
Delta SkyMiles Medallion Status
Hertz Gold Plus Rewards President's Circle
Sixt Advantage Circle Diamond
If you enroll in their partner's loyalty programs, you'll receive instant status and lots of benefits.
What's kind of weak is Gold Elite status in Bonvoy, which is pretty basic. The others might be worth something…
The Centurion Card also comes with a variety of different complimentary insurance policies.
You get Travel Inconvenience, Travel Medical Assistance, Travel Accident Insurance, Car Rental Loss & Damage Insurance, and Baggage Assistance.
And there's purchase protection and extended warranty.
You also get free Amex Platinum cards if you want them
Is The Centurion Card Worth It?
It's possible the real value of The Centurion Card can't be articulated.
Or can't be spelled out with bullet points. It might be one of those "if you know, you know" type of things.
After all, there's no sign-up bonus, nor are there bonus spending categories.
Ultimately, the perks don't seem to be that exciting or different than what you'd receive with other high-end credit cards.
The main selling point is that  American Express has a special concierge reserved solely for Centurion members.
This makes it easy to snag reservations at world-renowned restaurants and ensure you never miss out on anything you want to do.
At the same time, Centurion misses the mark on even basic offerings.
The Amex Black Card in Pop Culture
Mentions and appearances of black American Express credit cards have been made in popular TV shows.
For example, on "The OC" and "Real Housewives of Orange County", as well as in the Bond flick, "Casino Royale"
Musicians ranging from Paris Hilton to Kanye West and Jay-Z have also included the famed credit card in their song lyrics, firmly establishing its luxury appeal.
The largest purchase ever made with the Centurion credit card was said to be a painting worth $170 million.
But more common purchases include luxury automobiles, jewelry, private jets, and expensive furniture.
There are believed to be about 10,000 Centurion credit cardholders worldwide, which begs the question, is an even more exclusive credit card needed?
For us regular folk, there's the Amex Platinum, Gold, or even the fee-free American Express cards.
Pro tip: There's also an American Express Business Centurion Card available.  Ask your lovely boss to hook you up.