I recently applied for the American Express Gold card because it was offering a whopping 90k sign-up bonus.
Specifically, Amex offered me 90,000 Membership Rewards points if I spent a piddly $4,000 in the first six months from account opening.
Roughly $667 in spending per month, which is about as good as it gets, especially with a reasonable $250 annual fee.
Now I have no immediate plans to travel or stay at hotels in the near future, but I knew this offer couldn't be beat.
It's also generally advisable to keep going after sign-up bonuses if you want to earn lots of points, even if you have no plans to use them just yet.
In my eyes, you should always be working on a new bonus if you've got regular spending you're going to do anyway. Why let it go to waste?
But not everyone feels that way, or looks at it that way. Or thinks credit card points hold that much value.
After all, it can be complicated transferring points to an airline.
Perhaps this is what credit card issuers bank on. Folks not knowing there are better redemption options that exist. Or not putting in the time to learn about them.
How Much Are American Express Membership Rewards Points Worth to You?
As noted, I won't be using MR points to transfer to travel partners like airlines and hotels, which is pretty much the best redemption value without question.
And I certainly won't be buying any merchandise in their catalog like a blender or headphones or some other silly item.
That leaves me with cash back ( via Amex gift cards), statement credits, and gift cards, assuming I wanted to use the points right away.
I don't, nor will I.  But I still wanted to quickly determine the best value for my points in the future.
After some digging, I found a link that lets you do just that on the American Express website (it's always nice to go directly to the source).
This link might be best visited while not logged in to American Express.
That should allow you to select the card of your choice, not just the cards Amex knows you already have.
So use a browser you don't normally use or clear your cache before visiting that link.
If it works properly, you should get to a page that says to login or alternatively, shows you all the cards if you "Don't have a Membership Rewards account."
You want that second option so you can see the redemption options/values for cards you've yet to apply for.
Pick Your Amex Card to See Redemption Options and Values
I went ahead and selected the Amex Gold Card to see what I could possibly get out of the offer.
From there it will default to show you what 10,000 Membership Rewards points are worth…and then display a variety of tabs including gift cards, shopping, travel, charity, your charges, and more.
So I went ahead and changed the default amount of Membership Rewards points to 90,000 to match my offer and then toggled through the redemption options.
Here's what 90,000 Membership Rewards points will get you:
Gift cards – up to $450 – $900
Amex gift card – $450.00
Shop with MR points – $450.00
Pay with Points at Amazon – $630.00
Pay with Points at Best Buy – $630.00
Pay with Points at Grubhub – $630.00
PayPal – $630.00
Find flights – $900.00
Upgrade with Points – $900.00
Reserve prepaid hotels – $630.00
Book Fine Hotels & Resorts – $900.00
Rent Prepaid Cars – $630.00
Use points for an Airbnb gift card – $630.00
New York City Taxis – $900.00
Uber – $630.00
Donate to charity via JustGiving – $630.00
Cover Your Card Charges – $540.00
Notice how few of the redemption options provide a one cent per point valuation. Kind of weak.
With Chase Ultimate Rewards you can get cash for points at a 1:1 ratio, whereas with Amex it's not even an option.
It's also important to look at all your options. For example, using points for an Amex gift card will give you 0.5 cents per point value, but you can cover your charges at 0.6 cents per points, after the fact.
Worst Ways to Redeem American Express Membership Rewards Points
The absolute worst way to redeem American Express Membership Rewards Points is to "Shop with Membership Rewards Points."
This gives you a 0.5 cents per point, which is a big waste of value.
Or perhaps to use your points to pay for an "excise tax offset fee."
This fee is charged if you transfer MR points to U.S. airlines, where Amex charges 0.0006 cents per point (up to $99 per transaction).
Hypothetically, transferring 90,000 points to Delta would cost you $54.
If you had another 10,800 points to redeem you could waste them on that excise fee of $54.
That's probably a horrible decision. A better one might be transferring points to a foreign airline instead.
Best Ways to Redeem American Express Membership Rewards Points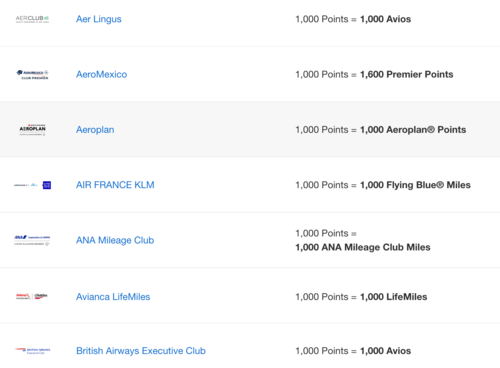 Now let's talk the best Amex Membership Rewards Points redemptions.
There's no point (no pun intended) of having a drawn out conversation here.
The undisputed best use of Amex MR points is to transfer them to airline partners.
Once you do that, they can be used for booking award travel with numerous airlines.
And because ticket costs for premium economy, business, and first class seats are obscene, your value per point can be exponential.
For example, you might be able to book a $5,000 ticket for way less than 90,000 MR points.
But say it did require 90,000 points for a $5,000 ticket. Your Amex points would be worth ~5.5 cents apiece.
At the end of the day, if you aren't using Membership Rewards points for airfare or for transfers to travel partners (or perhaps a taxi in NYC), you're probably not getting even 1 cent per point.
Read more: Good, Bad, and Ugly Credit Cards for Gift Card Redemptions