There are a variety of ways to cash in credit card points and miles. One of the most common methods is to redeem for a statement credit, which is essentially a rebate for all your purchases (this is why they aren't taxable).
Nothing beats cash, right? Well, not always. In some cases, it might actually make sense to redeem for a flight or even a gift card if the redemption values make sense.
But it certainly depends on the credit card in question. Let's take a look at some instances where it's good or bad to redeem credit card points for gift cards.
Discover Offers Bonus Money on Gift Cards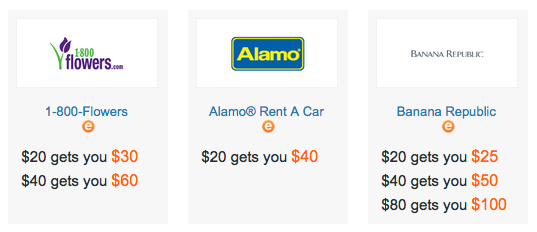 One of the coolest things Discover allows is statement credits for any amount you choose. So you can redeem your CashBack Bonus for odd amounts like $13.04, instead of fixed amounts like $25 or $50.
This makes cashing out super easy and convenient, and might make cardholders forget about other options like gift cards.
But Discover actually gives you a better value when you redeem for gift cards instead of cold hard cash.
One example is car rental gift cards, which Discover often doubles. For $20, you get $40 with companies like Alamo, Enterprise, and National.
Or you can redeem your points for a $20 Gap gift card valued at $25. A $45 Starbucks gift card will give you $50 in coffee.
There are tons of discounted gift cards in the Discover redemption center, making it a good value for cardholders.
American Express Isn't Good for Gift Card Redemptions
Now let's look at American Express, which allows you to redeem Membership Rewards points for gift cards.
You can get a $25 Amex gift card for 5,000 points. In other words, your MR points are worth half a penny each, as opposed to Discover, which offers values of two cents per point in some cases.
In other words, Amex doesn't provide good value for gift card redemptions, so you're better off using your points for something else, such as travel or Uber, which provides a one cent per point redemption value.
Some of the offers are better, like 2,941 points for a $25 Cheesecake Factory gift card, but that still represents a sub-one penny per point value. Boo!
Citi Is Better Than Amex, But Not Great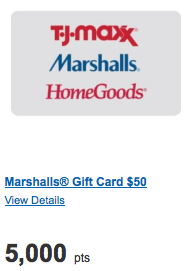 If you've got lots of Citi ThankYou Points, you can redeem them for gift cards via Thankyou.com.
The redemption values are generally a penny per point, so a $50 Marshalls gift card will set you back 5,000 points.
So clearly it's better than Amex, but not as good as Discover, which offers reduced redemption costs, as noted above.
However, Citi does sometimes offer deals on gift cards like Discover so in some cases it can be worth cashing in your TYP for a gift card.
Chase Gives You a Penny per Point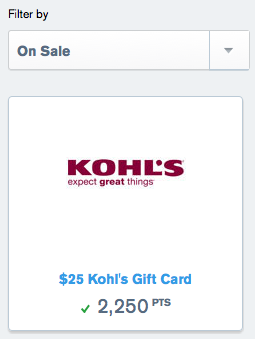 Much like Citi, Chase Ultimate Rewards points used for gift cards redeem at a value of a penny per point.
So a $10 Best Buy gift card will set you back 1,000 UR points. The good thing about Chase is the low redemption amounts. You can redeem for as little as 500 points for a $5 gift card.
And they sometimes have sales on gift cards, though it's generally slim pickings. If you want to see what's "on sale" you can quickly filter the results, which is handy.
Of course, transferring your UR points to an airline or simply redeeming them for cash back at a penny per point also makes sense.
After all, once you've got the cash you can buy discounted gift cards online and get more value for them that way.
Barclaycard Lacks Selection
Over at Barclaycard, it's best to use miles for travel purchases because you get a better redemption value.
It's a little deceiving at first because it generally takes 5,000 miles to redeem a $25 gift card. But you earn two miles per dollar spent on the Barclaycard Arrival Plus.
So in reality gift cards are still worth a penny per mile, which is the same as Citi, better than Amex, but not as good as Discover.
Unfortunately, they don't have much of a selection when it comes to gift cards, and the travel redemption is a much better value, even if they are fake miles.
In summary, redeeming credit card points for gift cards isn't the best value for your points in most cases, though Discover does make it a more compelling option.
Just be sure to explore ALL your options before burning your hard-earned points!