There have been quite a few commercials for Bank of America cash back credit cards lately, so I thought I'd do a quick review of the latest offer.
The "BankAmericard Cash Rewards Credit Card" has no annual fee and 0% APR for the first 12 billing cycles on both purchases and any balance transfer made within 60 days of opening the account.
*There is a 3% balance transfer fee if you choose to transfer a balance, which is pretty much the industry standard.
[See the Chase Slate No Fee Balance Transfer if you want to transfer a balance and avoid the fee.]
Also note that an excellent credit score is required to apply for the BankAmericard Cash Rewards card.
Update: They have since renamed this card the "Bank of America Cash Rewards Credit Card" and doubled the opening bonus!
1%, 2%, and 3% Cash Back Rewards Categories All Year Round

Obviously the biggest draw tied to this new credit card is the cash back rewards program, as the name itself implies.  Here are the rewards categories:
– 3% cash back at gas stations
– 2% cash back at grocery stores and wholesale clubs
– 1% cash back everywhere else
For the first $2,500 in combined gas, grocery store, and wholesale club spending each quarter, you will earn 3% and 2% cash back, respectively.
This limit is certainly a drawback and one to look at closely to determine how it will reduce your total cash back, if at all.
For bigger spenders, it will likely limit cash back earnings, though most cardholders probably won't notice the limits because it's somewhat difficult to spend $2,500 on such expenditures in three months.
On all other purchases, you will earn 1% cash back, which is their simple, no-nonsense approach to cash rewards.
There is no limit to the amount of 1% cash back rewards you can earn, and you can redeem cash back when you've earned as little as $25.
The illustration above is an example of someone spending $1,500 on groceries/wholesale clubs and $1,000 on gas in a given quarter. That puts their cash back rate at 2.40% overall from the combination of 2% and 3% categories.
If they happen to have a Bank of America checking or savings account, the cash back rate is even higher. You get a 10% bonus when redeem your cash back into a Bank of America checking or savings account.
That pushes the cash back rate to 2.64%, which is pretty solid.
Bank of America Preferred Rewards Customers Can Earn Even More!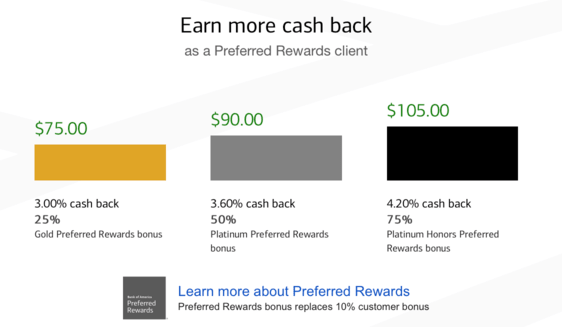 If you happen to have a good amount of money in a Bank of America account, such as $20k for Gold, $50k for Platinum, or $100k+ for Platinum status in their"Preferred Rewards" program, your cash back rate jumps even higher.
It can be as high as 4.20% based on the spending I used in the initial example thanks to a 75% rewards bonus boost.
If you simply spend $2,500 per quarter on gas and have Platinum status in the Preferred Rewards program, you'll earn an effective cash back rate of 5.25% on those fuel purchases. Not bad.
The cash back rewards can be credited to a checking or savings account, or mailed to you in the form of a check. And cash back rewards do not expire.
Another plus is that there are no rotating cash back categories to worry about, unlike the Chase Freedom credit card, and you don't need to sign-up or register your card for the higher cash back tiers.
Get a $200 Opening Bonus With BankAmericard Cash Rewards
The biggest draw to this credit card (in my opinion)
Is the $200 sign-up bonus for spending just $500 in 3 months
That's something pretty much anyone can do
The lack of an annual fee means the whole $200 is yours too!
On top of the everyday cash back, you can also earn a $200 cash back bonus if you make just $500 in purchases during the first 90 days from the date the account is opened.
Additionally, if you redeem your cash back rewards directly into a Bank of America checking or savings account, you'll get a 10% bonus.
In other words, a $25 cash back reward would equate to $27.50 when deposited in a BofA account. So why wouldn't you opt for this method if you have a checking or savings account with them?
If you spend $1000 a month on the card, or $12,000 annually, you'll earn $120 cash back, plus potentially a lot more if you frequently use the credit card at gas stations and supermarkets, and deposit it in a BofA account.
Factor in the the $200 upfront bonus and you could be looking at well over $400 in cash back in the first year.  Not a bad deal as far as cash back credit cards go, especially seeing that there is no annual fee.
But I still think the Blue Cash from American Express is the best cash back credit card for those who spend a bit more monthly, as it offers 1% cash back on all purchases, 3% back on groceries (up to $6,000 annually) 2% cash back on gas, and 2% at select major department stores. There's also a $100 welcome bonus.
So be sure to compare these credit cards carefully to determine which is best, based on your unique situation.
Also check out the new Capital One Quicksilver Cash Reward Credit Card, which offers 1.5% cash back year-round with no limits whatsoever.
Why I Use the BankAmericard Cash Rewards Card
I actually have this card in my wallet, though I don't use it all that much. Aside from the opening bonus I earned (and the healthy credit limit I received), I like the the personalized cash back offers they send my way.
Once you setup your online account management with this card, you can head over to the offers page to see where you can earn even more cash back.
Lately, I've used this card to earn 10% cash back at Petco, Bristol Farms, Western Bagel, Starbucks, and a few other spots. It's as easy as selecting the offer(s) and then using the card. I don't have to worry about portals paying me out or failing to do so because of a screwy cookie or something.
My statements from them look like the screenshot above, pretty much all special cash back deals, one after the other.
Full disclosure: I don't even use this card for the 3% cash back at gas stations or the 2% at grocery stores because I have other cards that give me more. But it's still a worthy addition to your lineup given the lack of an annual fee and the constant offers.