If you're like a lot of people, you love Starbucks coffee. In fact, you probably go to Starbucks most mornings before work. It's no doubt one of the few things you look forward to.
But the problem with Starbucks is that it's super expensive. Their drinks range in price anywhere from $2-$5, depending on what you order. A lot of people get the good stuff, which tends to run in the higher end of the range.  Either way, it costs a lot more than the stale coffee in the break room.
And regardless of what you buy, if you're a frequent patron of Starbucks you need to make a few moves to ensure you get the most bang for your buck, or rather, your swipe.
[Check out the new Starbucks credit card from Chase!]
Get a My Starbucks Rewards Membership
The first step is to sign up for a "My Starbucks Rewards" membership, which gives you access to special offers and discounts. It also allows you to earn stars, which will level you up to the Green level and then onto Gold.
You need five stars to get to Green, and 30 stars within a 12-month period to get to the Gold level.
At the Green level, you get free refills on brewed/iced coffee and tea. Additionally, you get a free birthday drink or food reward and 15% off at the Starbucks Store.
Once at the Gold level, you get a free food or drink item every time you earn 12 stars. Ultimately, your goal is to get to the Gold level as quickly as possible and stay there indefinitely. That way you're always earning something each time you visit.
The exclusive offers are actually decent too. You usually get an e-mail every week or so that allows you to earn bonus stars with ease. So you don't really need to buy 12 items to get a free one.
If you take advantage of the deals, it's easy to earn 12 stars when only buying 5-6 items.  So it's kind of a no-brainer to join the program if you're going to go to Starbucks anyway.  By the way, there are star codes on the bagged coffee at grocery stores.
Tip: Download the Starbucks app and use it to pay. If you've got a significant other that also enjoys Starbucks, have them download the app as well and share the same Starbucks payment card within the app.
Use a Cash Back Credit Card to Get Discounted Starbucks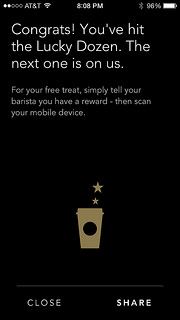 And now for step two. Every time you buy Starbucks, make sure you're doing so with a cash back or rewards credit card.
The easiest way to do this is to buy Starbucks gift cards at stores that offer cash back or points.
For example, if you have a Chase Ink card, buy Starbucks gift cards at office supply stores and you'll be earning at least 5X points on those purchases. Make your purchase online through the Ultimate Rewards portal and get 7X points per dollar.
Say you purchase a $200 Starbucks gift card at Staples via the portal. That's over 1400 points, which is worth $14 cash or even more if redeemed for travel.
If you have the American Express Blue Cash Preferred card, you can earn 6% cash back on Starbucks gift cards when purchased at grocery stores. Once you get the gift card, simply load it onto your account by doing a Starbucks Card balance transfer.
Also be sure to look out for cash back bonuses for Starbucks purchases. Not too long ago, I got 20% cash back for doing an auto reload using my Bank of America Cash Rewards credit card.
Once I received the reward, I simply stopped the auto reload and went back to maximizing my cash back through other means.
Buy Discounted Starbucks Gift Cards Online
Sometimes there are also great deals to buy discounted Starbucks gift cards online, which you can then transfer to your existing Starbucks account.
For example, you might be able to buy a $100 Starbucks gift card for closer to $80. And if you buy them when you get 5% cash back on online purchases (Discover it usually offers this during the fourth quarter), you'll get an even greater discount.
You'd be looking at $100 worth of Starbucks for only about $76, which helps make the cost of Starbucks a little less devastating. And remember, you also get a free drink (or food) every 12 purchases, so the costs keep moving lower.
I recently purchased two separate discounted Starbucks gift cards (a $50 one for around $38 and a $100 one for about $78) on two different sites, Raise and Gift Card Zen, both of which worked fairly instantly.  I received card numbers and corresponding codes via e-mail and quickly merged the balances onto my Gold level Starbucks card.
The only downside to all this is that you might have a greater willingness to go to Starbucks, which could end up costing you more in the long run.
Remember, it's just free coffee, so don't get too excited about it.  But if you can't live without it, make sure you're getting it for the lowest net cost.
Read more: How to get at least 5% cash back on every purchase.