Every once in a while, I like to highlight unlikely uses for credit cards, instead of focusing on their rather mundane operating nature.
Sure, they can be used to purchase items you wouldn't normally be able to afford, or to earn cash back rewards, but still, that's not very exciting.
So without further ado, I present to you the "credit card bottle opener," which as the name implies, can be used to open bottles.
As you can see, it looks just like a credit card (assuming your credit card is manufactured from stainless steel and has a giant hole in it).
Note: The Chase Sapphire Preferred card is actually made of metal, though it's missing the hole required to open a bottle.
There are actually a ton of different credit card bottle openers on the market, ranging from an arty matte stainless steel one priced at $28 from a company called Fitzsu, to a personalized one for $14.95.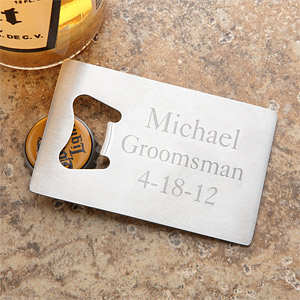 The latter can be given as gifts to groomsmen in a wedding, as if they need any more reason/help to drink.
They also sell even cheaper ones in bulk for companies that want to run a promotion and include their logo.
And you can fit the gizmo neatly inside your wallet next to your other real credit cards.
Or perhaps next to your other transformer credit cards, such as the credit card fork and knife (yes, those really exist too).
In reality, you can now enjoy a complete meal (along with alcoholic beverages) with the help of your credit cards thanks to these silly inventions.
I'm just waiting for someone to come up with the "credit card corkscrew" so I can open a wine bottle too.
If the credit card design isn't your thing, there's always the "key bottle opener," which looks like an old timey key and open bottles with ease.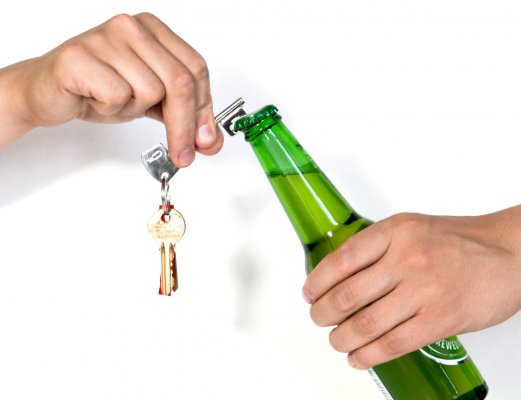 Either way, both options are incognito, and will work well for the more refined drinker who has outgrown the all-too-obvious old school keychain bottle opener.
Just be mindful of the metal detector.
Read more: Are credit cards going to be obsolete soon?