First there was the Google credit card, and now there's an Apple credit card?
Not so fast folks – this is more of a "what if" scenario. And one credit card comparison company had some fun with the idea in a recent infographic.
Their infographic is essentially a play on Apple's many product launches, and if you didn't know any better, you could easily fall for it hook, line, and sinker.
Oh, and you'd probably be scurrying to sign up for an Apple credit card in the process.
The iCard from Apple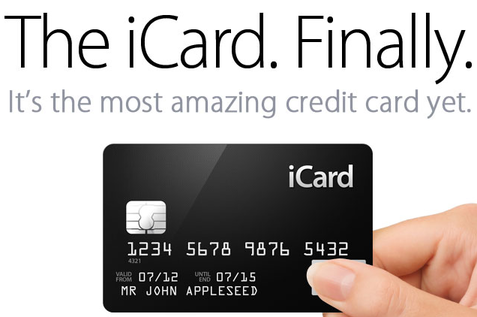 So if this magical credit card actually existed, CreditCardCompare.com.au would envision it looking like the above.
And of course it would be called the "iCard" because Apple loves putting the letter "I" in front of everything they create and sell.
Additionally, the Apple credit card would be the "most amazing credit card yet." Why? Because everything Apple does is always the best ever, most spectacularly amazing innovative, fill in the blank.
The Aussies got playful with the whole thing, going on to say that the iCard would fit perfectly in your Passbook for iPhone.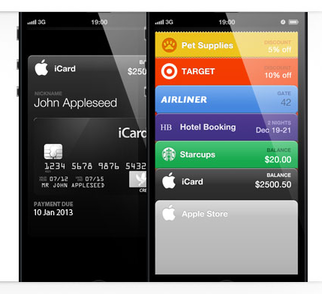 And that you could swipe and pay using your iPhone, or even tell Siri to pay your bills for you.
Oh, and if you happened to lose your iCard, you could locate it with the "Find My iCard" app, similar to the very real "Find My iPhone" app that is actually available to iPhone owners.
Spend $100, Get Tree Planted in Amazon
It gets even more ridiculous.
The infographic notes that for every $100 spent on Apple products using the Apple credit card, the green company will plant a tree on your behalf in the Amazon jungle.
You can also take advantage of AppleCare+ for your iCard in case anything goes awry, similar to the warranty in place for Apple computers.
Finally, the mythical iCard comes with a $100 welcome bonus. You get $100 off your next purchase at an Apple Store or iTunes.
Speaking of numbers, Apple is super generous by offering a low, low credit card APR of 10% for purchases and 0% APR for balance transfers for a full 24 months.
Oh, and they wouldn't dream of charging you an annual fee…
Ah, if only this were a reality, eh?
The Reality of Apple Financing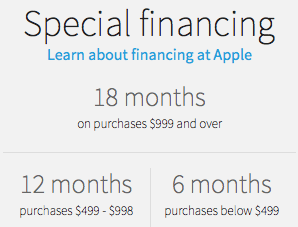 While that was all fun and games, Apple actually is in the financing game, as has been for years.
If you visit their website, you'll find a tab related to "Financing" that allows consumers to finance their Apple purchases.
After all, their computers don't come cheap, so sometimes people need a little helping hand.
One option is PayPal Credit, but it's not so hot because the APR is set at 12.99%. Alternatively, you can get the Apple credit card and receive 0% APR for six, 12, or 18 months depending on purchase amount (including taxes and shipping).
Barclaycard Visa with Apple Rewards
Apple currently offers the "Barclaycard Visa with Apple Rewards" in conjunction with Barclays bank, and it's a very real credit card that comes with a 0% APR option if you make certain dollar amount purchases at Apple within the first 30 days of account opening.
Their approach is pretty simple. The more you spend at Apple, the longer you get 0% APR (see photo above).
But after the introductory APR period ends, it shoots up to a much higher 13.99%-26.99%, which is variable and tied to the Prime Rate.
So no, Apple doesn't offer rock bottom APR. It's not egregious, but it's not cheap either.
It also comes with a 3-2-1 rewards structure, whereby you earn three points per dollar on purchases made at Apple, two points per dollar at restaurants, and one point per dollar elsewhere.
[checklist]
3 points per $1 at Apple Store or iTunes Store
2 points per $1 at restaurants
1 point per $1 on all other purchases
[/checklist]
Once you accrue 2,500 points you get a $25 gift card to either the Apple Store or iTunes. You can specify which when you apply for the card.
All in all, it's not the most impressive credit card out there, though if you were really diligent, you could eventually fund a free Apple computer with all those points. It just might take you a couple decades…
In reality, you could finance your Apple purchase with a standard credit card instead, perhaps one that offers a longer intro-APR period and a lower APR once it ends. Or one that offers an awesome sign-up bonus for minimum spending.
Alternatively, you could use the Barclaycard Visa with Apple Rewards to fund your Apple purchase, then transfer the balance to another 0% APR credit card once the 0% APR period ends (like Chase Slate). That could give you a few years of 0% APR to pay off your shiny MacBook.
For the record, the Barclaycard Visa with Apple Rewards doesn't have an annual fee, but it does charge for foreign transaction fees. It allows you to transfer an existing balance to the card, but the APR is way too high for that to make sense.
Old School Apple Credit Cards
Lastly, check out some of these old school Apple credit cards, which imply that Apple has been at the credit card game for decades.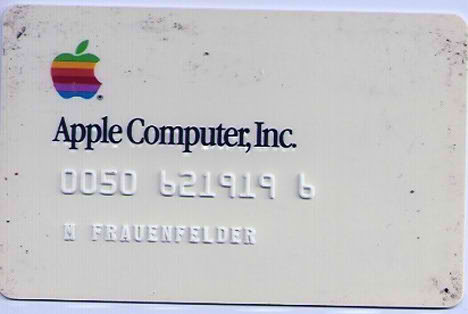 (photo: Credit Card Graphics Comparison)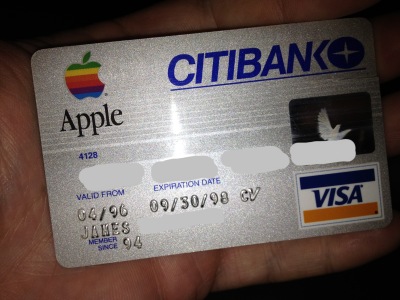 (photo: RetroMacCast)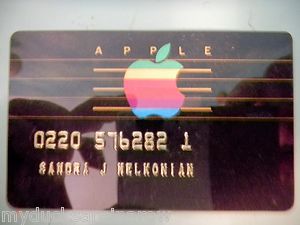 (photo: Ebay)