Update: It has now been confirmed that an Uber credit card is being released on November 2nd, 2017 by Barclaycard, per Uber themselves.
We now have all the important details on the exciting new Uber Visa Card, including some tasty bonus categories and a sign-up bonus.
Below is my review of the new Uber credit card. It looks like a big winner for those who want a year-round cash back credit card in their wallet.
Uber Visa Card Comes with $100 Sign-Up Bonus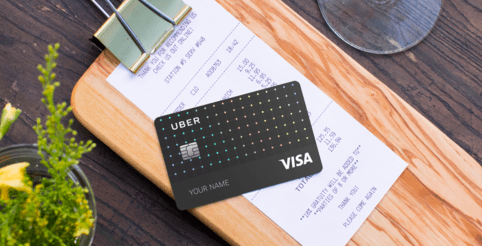 First things first, you'll get 10,000 bonus points when you spend $500 in the first 90 days from your account open date.
The 10,000 bonus points will be awarded at the close of the first billing statement in which you spend the $500.
Those points are good for $100 in Uber credits, $100 in cash back, or $100 in gift cards. Might as well take the cash and use it as you'd like since there's no extra benefit to the other redemption options.
However, there is the convenience factor of adding your Uber Visa Card to your Uber account and then using points for rides directly from the app.
Uber Credit Card Bonus Categories

You'll earn the following cash back multiples in some really good categories with no apparent limit:
4% back on dining (including UberEATS)
3% cash back on hotel and airfare purchases
2% cash back for online purchases (including Uber)
1% cash back elsewhere
The points you earn via the program are available the business day after the transaction that earns the points posts to your account. That's pretty awesome. No waiting period to use your points.
Also, they do not expire as long as you stay in good standing, and you can earn points internationally as well.
However, there is a minimum redemption of 500 points for $5 in Uber credit, and 2,500 points for $25 for all other redemption options.
So if you want cash back, you'll need at least 2,500 points. Anything short of that you'll have to throw toward an Uber ride. Or perhaps UberEATS.
There's also a daily limit of $500 for redemptions for Uber credits and cash back via bank deposit, which doesn't seem like it'll be a problem for most.
Uber Visa Card Is Foreign Transaction and Annual Fee Free
Another plus to this card is the fact that it doesn't charge an annual fee or  foreign transaction fees.
That's actually pretty amazing for a card with such high bonus categories. Where else can you get 4% cash back at restaurants, bars, and UberEATS?
And 3% cash back on hotels and airfare without spending an arm and a leg on annual fees?
Really, the only big category the Uber Visa Card is missing is gas, but seeing that it's a ridesharing co-branded credit card, that makes 100% sense.
Should You Apply for the Uber Visa Card?
I'm going to say YES given the fact that there aren't any fees and you can earn 4% and 3% cash back in really impressive categories.
If you use Uber, you also get 2% cash back, though sometimes Chase Freedom and Discover it offer 5% cash back on ground transportation quarterly.
And you get 2% cash back on online purchases, which again is an amazingly broad category.
There's also the $100 sign-up bonus in exchange for really easy minimum spend, and the fact that you don't have to pay foreign transaction fees on an annual-fee free Visa card is impressive.
Another perk is cell phone protection of up to $600 if you pay your bill with the Uber credit card. It covers theft and damage.
Lastly, you can get a $50 credit for online subscription services including Apple Music, Pandora, Spotify, Amazon Music, Google Music, Audible, Sirius XM, Netflix, Hulu, HBO NOW, DirecTV NOW, the membership fee for Amazon Prime, and Shoprunner if you spend $5,000 on the card in 12 months.
That 12-month period begins on your account open date through to your anniversary date, and each 12 months thereafter.
So there's a good chance you can also get another $50 in credit if you use any combination of the services above.
You'll be able to view progress toward that annual spend, along with any eligible online subscription service transactions found on your account.
The only real downside to this card is that it's a cash back credit card and not everyone wants cash back. But that's a pretty soft drawback.
All in all, I'm really impressed with this card, so much so that I could see Barclaycard revising it in the future because it seems too lucrative.
The Uber Credit Card Rumors
Before we knew the real details, this was my write-up on the card. Interesting if you were curious what people (including myself) thought would be offered.
My guess is it'll offer some sort of Uber rewards program whereby you get X points per dollar spent that can be redeemed in the form of Uber credit.
Should be interesting given the Uber/Amex relationship, and could in fact dilute it.
Recently, Uber and American Express cozied up by including a $200 annual Uber credit on the revamped and more expensive Amex Platinum card.
But it's possible Uber may go a step forward and introduce a full-fledged "Uber credit card" based on a survey posted to Reddit.
The poster shared a screenshot that appeared to show three different options for a hypothetical Uber credit card, all providing 3% back on Uber purchases.
Additionally, all three options would come with a sign-up bonus of $50 in Uber ride credit when you spent $1,000 in the first three months.
Uber Credit Card Option 1 provides:
– 3% back on Uber, hotels, and airfare
– 2% back on online shopping and dining
– 1% back elsewhere
The "back" seems to refer to an Uber rewards program that allows redemptions for Uber credits, cash back, gift cards, or hotel/airline purchases.
It also comes with the added benefit of being able to land "top rated drivers" for uberX rides as well as early access to new restaurants in the uberEATS program.
Uber Credit Card Option 2 provides:
– 3% back on Uber and dining
– 2% back on online shopping, hotels, and airfare
– 1% back elsewhere
Here the "back" is only good for Uber credits, not cash back or other stuff.
For additional card benefits, it allows for the selection of "newer vehicles" for uberX rides, discounts at local shops and restaurants, and early access to concerts and sporting events.
They also throw in three waived cancellation fees per month for uberX rides if you want to bail without getting hit with the typical $10 fee for canceling after five minutes have elapsed.
Uber Credit Card Option 3 provides:
– 3% back on Uber and dining
– 2% back on online shopping, hotels, and airfare
– 1% back elsewhere
Again, this option only seems to allow for Uber credit redemptions, but also comes with more Uber benefits such as getting specific types of uberX vehicles, like newer cars or "Only Teslas."
And discounts are local shops/restaurants, early access to events, and 120-day protection on new purchases made with the card.
Does an Uber Credit Card Make Any Sense?
All in all, while purely speculation and no more than a survey at the moment, it doesn't come off as all that enticing.
As I've said before, you're often better off using a non-co-branded credit card to get the most value with a certain brand.
For example, you might be able to earn Ultimate Rewards faster than you can earn Marriott Rewards points, and then you can simply transfer your UR to the Marriott loyalty program.
Similarly, there are lots of credit cards that offer cash back on travel and/or ground transportation, which often includes Uber and UberEATS.
Additionally, many credit cards come with annual credits for the same thing, such as Chase Sapphire Reserve and Amex Platinum, meaning you can get $200 or $300 in free Uber rides each year.
Maybe someone who uses Uber all the time would like the Uber credit card due to the improved vehicle choice and top driver perks, but it's hard to say if that alone would be worth holding the card.
We also don't know if there would be an annual fee, a semi-important detail that could certainly change the outlook of such an offering.
In any event, an Uber credit card wouldn't be a mind-blowing event for me.
I only like co-branded credit cards when they come with mega sign-up bonuses. Otherwise, they're usually far too restrictive in terms of points redemption. Still, it'll be interesting to see if something materializes.
Uber Fuel Card for Drivers
Back in 2015, Uber launched a "Partner Fuel Card" that allows its drivers to receive an automatic discount of 1.5% on fuel purchases.
Additionally, extra savings at participating gas stations mean they can earn up to 15 cents off each gallon of gas they purchase.
The MasterCard product from FleetCor also allows cardholders to deduct these purchases from their Uber earnings each week.
A minimum of 100 rides per month is required to get and keep the Uber Fuel Card, which is actually a charge card (no credit check required).
For the record, it only works at gas stations where MasterCard is accepted.