I knew at some point I'd be forced to write about bitcoin on this site. I didn't want to do it, but it was inevitable. So I'm sorry.
Anyway, Coinbase, which is one of the major bitcoin players here in the United States, sent out a tweet last night noting that four major credit card issuers were blocking purchases.
BofA, CapOne, Chase, Citi, Say No to Crypto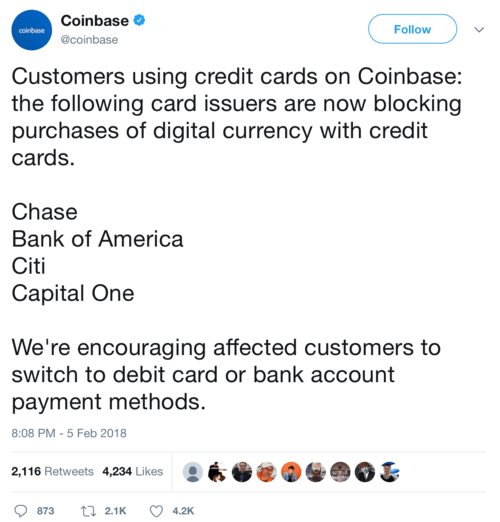 The tweet included a few household names that many consumers may have been using to load their Coinbase accounts, including the following:
– Bank of America
– Capital One
– Chase
– Citi
The notable exceptions not listed include American Express, Barclaycard, Discover, Elan Financial Services, and Wells Fargo.
Whether those are still available for deposit or soon to be blocked is another question.
Either way, even if you can use your credit card successfully at Coinbase, they warned of another issue last week.
Watch out for Cash Advance Fees at Coinbase
Some of the major credit card networks also apparently changed the merchant category code (MCC) so that Coinbase purchases could now incur cash advance fees.
For the record, they already charged credit card fees of 4% per deposit, so this would be on top of that.
Additionally, yes, additionally, the Coinbase purchases typically trigger a foreign transaction fee, assuming you use a card that doesn't waive these fees.
All told, you could be looking at an enormous credit card bill simply to purchase cryptocurrencies.
Let's tally it up just for fun.
A $500 crypto purchase will have the following fees, potentially:
– 5% cash advance fee: $25
– 4% credit card fee: $20
– 3% foreign transaction fee: $15
So that's $60 in fees (or 12%) on a $500 purchase, assuming you can even get it to go through. Then you have to consider the fact that cash advances typically accrue interest immediately, with no grace period whatsoever.
That means you have to pay off the entire credit card balance immediately to avoid any interest charges there.
To add insult to injury, these purchases are not considered purchases because they're treated as cash advances, which means no credit card points or cash back.
And perhaps more importantly, they may not trigger the minimum spending requirement to earn a sign-up bonus.
In summary, it sounds like a really bad proposition, especially with crypto experiencing a bit of a pullback at the moment.
Perhaps this didn't matter six months ago, what with bitcoin prices doubling every month, but now it's a lot more important to look at transaction costs.
Stay tuned for more on this front. I wouldn't be the least bit surprised if other credit card issuers take similar action.
In the meantime, you can deposit money via a debit or checking account and avoid most if not all of these fees. But even then, it's still the wild west out there…