For a while now, Chase has been the leader in offering credit card sign-up bonuses.
They constantly blow away the competition, though without a healthy dose of it, one might worry that they'll have less incentive to keep the lucrative offers coming.
In fact, they've already begun to tinker with varying annual fees, as evidenced by these screenshots of the Chase Ink card.
The same is true with the United MileagePlus Explorer Card from Chase, at least when it comes to the bonus miles you can earn.
30,000 Bonus Miles or 50,000 Bonus Miles?

If you make your way to their website, typically via Google, you'll most likely see an offer for 30,000 bonus miles after spending $1,000. And another 5,000 bonus miles if you add an authorized user.
This isn't a bad deal per se, but you can do much better.
There is also a simple way to boost your bonus miles to 50,000 by simply changing your path to the credit card application page.
But first, you need to be a United MileagePlus member. For the record, you can become a member simply by signing up at the United website in five minutes.
Once you've done that, all you need to do is head back to the United website and login. Then you should see a link to a credit card offer directly below your MileagePlus account summary.
What used to say, "Earn 30,000 bonus miles." Should now either mention 50,000 bonus miles or just say something like "free checked bag."
In any case, once you click on that link, you should reach a landing page that offers the 50,000 bonus miles after you spend $2,000 during the first three months.
Yes, you need to spend double, but it's still a very low spending requirement to earn such as large amount of miles.
You can also snag 5,000 bonus miles for adding an authorized user, bumping the bonus miles up to 55,000. And you can earn 10,000 more if you spend $25,000 on the card each year.
So the miles can really add up. Oh, and this offer still waives the annual fee the first year, so nothing to worry about there.
How to Get 100,000+ Bonus Miles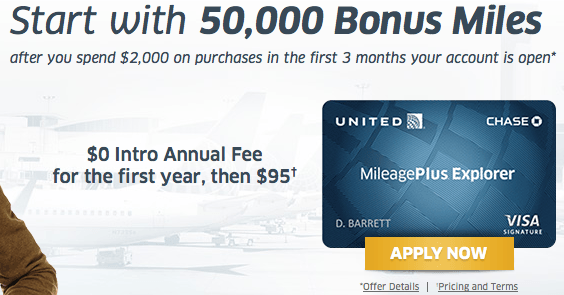 If that isn't enough for you, it's possible to get over 100,000 bonus miles to use toward a United flight (or their many partners) by applying for a second credit card.
There are two ways to do this. If you have a business, you can apply for the business version of the Chase Explorer card as well and get 50,000 bonus miles for the same spend.
That'll put you at 104,000 total miles just for hitting the minimum spending requirement.
Alternatively, you can apply for a different Chase credit card that allows point transfers to airlines, including United.
Options include the Chase Sapphire Preferred or Chase Ink, both of which offer sizable sign-up bonuses.
Once you hit the spending requirement, you can transfer the Ultimate Rewards points to United and you should have enough miles to fly just about anywhere for free.
The moral of the story here is to always determine if there's a larger bonus out there before jumping at the first offer. There are often targeted offers if you take a moment to look around.
Tip: There's also a targeted 70k offer floating around, generally via mailers so check your snail mail too!
(photo: Jose Mesa)