Discover is running a nice little promo that lets you choose where you want to earn 5% cash back from now until November 30, 2014.
This is in addition to their regular quarterly cashback calendar (check right sidebar for current deals), which from October 1st until the end of the year offers 5% cash back at department stores and online purchases (think Amazon).
It's a targeted offer, but it seems anyone can access it once logged in to Discover by following this link. I didn't get targeted (I have the Discover it card), but the link worked for me just fine.
It will display the following page (see screenshot), which allows you to activate a 5% Cashback Bonus for the retailer of your choice.
I was given a choice between the following companies:
– Applebee's
– Bed Bath & Beyond
– Lowe's
– Olive Garden
– Shell
– Walgreen's
I selected Walgreen's because the other ones weren't that appealing to me. Now if I purchase $1,000 worth of stuff between by the end of November I'll earn $50 in bonus cash back. Not bad eh?
Look for the E-Mail and Check Your Account Dashboard
You will receive an e-mail that confirms your enrollment in the special offer. It should include the company you selected for your bonus 5% cash back.

Additionally, once you log back into your Discover account online, it should list the promo on the right side of the page under the quarterly calendar bonus, as pictured below.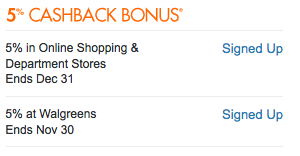 I would make sure you see all of these confirmations before going and making a ton of purchases at your selected store to ensure you actually receive the bonus 5% cash back. Otherwise you could be sorely disappointed.
The cool part about this offer is the fact that there don't seem to be any exclusions regarding what you buy.
So if you select Walgreen's, or another retailer that sells gift cards, you can effectively earn 5% cash back at other stores you shop at, such as Amazon, Southwest Airlines, etc., etc.
Of course, individuals with the Old Amex Blue Cash already earn 5% back at gas stations, grocery stores, and drugstores, so it won't do much for them.
And Chase Ink cardholders already earn 5X points on gift cards at office supply stores, so you might want to pick a different category if you have these other cards.
Keep in mind that once you select a retailer it cannot be changed, so choose wisely.
Additionally, purchases made using a virtual wallet (perhaps Softcard) or third party payment provider aren't eligible, nor are purchases made outside the United States.
If the link doesn't work for you, try using a different browser or going into incognito mode. And remember you need to be logged in before trying the link,, otherwise it'll say no cookie found. And you need a cookie. =)