Looking to save some money at Amazon? Well, there's an awesome Amazon American Express promo going on until July 31st that allows certain American Express cardholders to get $15 off purchases of $50 or more when using points to make a purchase.
The great thing is that you can use as little as one Membership Rewards point to trigger the $15 discount.
You can use Amazon gift funds or another credit card for the remainder of the purchase; for example, Discover it offers 5% cash back at Amazon at the moment, so you can use one Membership Rewards point and put the rest on your Discover card.
Buy $50 Gift Cards for $34.99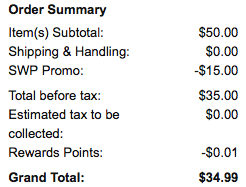 I already took advantage of this offer on three different Amazon accounts. I believe it only works once per Amazon account, but multiple times per card if the card is linked to multiple Amazon accounts.
In other words, my Amex Blue card is on my both my account and my wife's, so I was able to get $15 off twice with the same card.  Not too shabby!
I went the easy route and simply purchased Starbucks $50 gift cards (Amazon gift cards don't work, but other gift cards do).
To get the credit, simply add the $50 item to your cart and then begin the checkout process at Amazon.com.
When you get to the screen that shows all your credit cards, select the American Express card that is registered in the Shop with Points program. It will indicate that it is registered.
If not, register it here and then try again. Only American Express cards with Membership Rewards are valid (no cash back cards like Blue Cash).
You will then be able to select how many points, or rather the monetary amount, you'd like to use. Just input $0.01. That should set you back one MR point.
Because you'll only be using a penny, you'll also need to select a credit card to pay for the remaining $34.99 or whatever the amount it is.
As noted, I chose my Discover it card because I get 5% cash back this quarter.
On the final checkout screen you will need to enter the promo code "SWP07AXP15."
Assuming you're targeted, you should get an instant $15 off the purchase, lowering a $50 purchase to $34.99.
For the record, this is a targeted offer. My guess is that Amex cards that were previously linked to Shop with Points at Amazon.com are eligible.
I tried linking some cards to Shop with Points and then entering the promo code but it didn't work.
However, I was able to speak with an Amazon representative via online chat who gave me a $15 credit for a card that wasn't previously registered nor eligible for the promo.
So even if you aren't targeted, you can fire up online chat and ask them to honor the deal. Just explain that you saw the promo or that your sister or brother or wife or husband received it.
Tip: Always leave at least a few points in your rewards accounts for promos like this. If you cash them all out (like Discover allows) you might miss one of these great deals.
Get $15 Off $15 at Amazon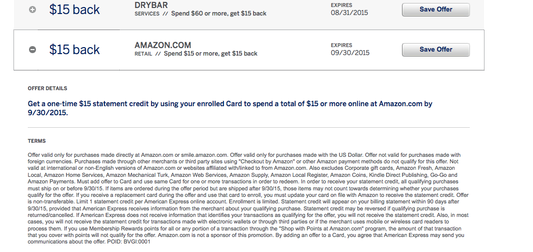 There's an even better deal floating around for some lucky American Express cardholders.
I found it in one of my accounts, an authorized user account to be exact. It's an Amex Offer that gives you an amazing $15 off $15 at Amazon.com.
In other words, a free $15.  There are some restrictions, but you can buy gift cards, including Amazon gift cards.
So check ALL your American Express accounts to see if this offer is in there and add it ASAP!  It must be used by September 30th, 2015.