Here's a little credit card tip. If you're trying to maximize your cash back or bonus point categories, you should know that ridesharing services like Lyft and Uber count as travel to most credit card providers.
After all, they are providing transportation, which generally falls under travel (from point A to point B), even if it's just around town, and not to some exotic locale.
So if you have a credit card that offers bonus points or miles in the travel category, make sure you save that card within the Uber or Lyft (or Sidecar) app. That way you can maximize your points.
The new Sam's Club MasterCard offers 3% cash back on travel, and ridesharing services like Uber and Lyft should be included under that definition. So if you get the card, make it your default payment option.
Additionally, Chase Sapphire Preferred earns two points for every dollar spent on travel, including ridesharing services, so you get double points without doing more than making it your default card when using Uber/Lyft/etc.  It's actually even more with the 7% annual points dividend…
The same goes for Barclaycard Arrival Plus World Elite MasterCard and the Capital One Venture Rewards Credit Card. Both cards offer 2X miles for ALL purchases, including Uber and the other ridesharing companies.
The Barclaycard Arrival Plus is best because you get double miles and 10% of your miles back when you redeem them for travel, aka Uber. In that case the miles are worth 2.2 cents each. It's not a ton more than Sapphire Preferred, but if you use ridesharing services a lot, it can add up.
The Uber Black Car and SUV options are, for a lack of a better word, über expensive, so the miles can add up in a hurry, especially if you use their services all the time.
[Check out the new Uber Visa Card from Barclaycard.]
You Can Get 2X Rewards on Uber with No Annual Fee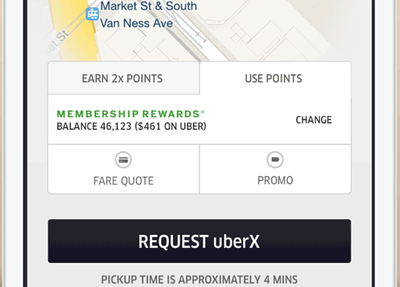 For those who don't want to pay an annual fee, the Barclaycard Arrival World MasterCard offers 2X miles on travel as well, so you don't need to pay an annual fee to max out rewards on ridesharing purchases.
Additionally, American Express cardholders who have a card enrolled in the Membership Rewards® program can earn 2X points for all Uber rides.
How to Sign Up for the Membership Rewards Program with Uber

You just need to add your Amex to the Uber app and then enroll in the "Rewards for Rides" program. Pretty much all Amex cards are eligible, including the Green and Gold Amex cards, along with standard non-cash Blue cards and the Platinum Card.
Once you add an eligible card to the payment section in the Uber app, it will ask you if you want to enroll the card.  Simply click on the enroll button and it will process your card instantly.
You will receive a follow-up e-mail that confirms your enrollment and specifies that eligible Uber rides paid for with your card ending in XXXXX will earn 2X Membership Rewards points.
That's it, you're done. The new program also allows American Express cardholders to pay for their Uber rides with points, right from within the app, though it would probably make more sense to earn 2X points and redeem them elsewhere.
If you do choose to use your points but the ride costs more than your available points balance, Amex won't deduct any points.  Instead it will charge your card for the full amount and you'll earn 2X points for the ride
Another no-annual fee option is Capital One Quicksilver, which offers 1.5% cash back on all purchases, including Uber. Not as good as 2%, but still something for doing little more than setting your preferred credit card.
Remember to always consider which card will earn you the most rewards before making a purchase, and especially before making a certain credit card your default card for a recurring charge.
You could be missing out on a lot of extra bonus points or miles if you don't think before you swipe.
Read more: How to earn 5% cash back on almost every purchase all year long!
(photo: 5chw4r7z)