Chase just delivered an early Christmas (or any other holiday) present to its Freedom cardholders.
From November 23rd until December 31st, 2015, you'll earn double the amount of promotional cash back when shopping at Amazon with your Chase Freedom card.
In fact, they're doubling the fourth quarter rotating category in its entirety, meaning you'll earn 10% cash back at Zappos, Audible.com and Diapers.com as well.
The same quarterly limit of $1,500 does apply, however, it will be reset on November 23rd so you actually get a brand new $1,500 to play with, even if you spent a bunch at these stores since the fourth quarter began on October 1st.
Earn $150 Cash Back in One Month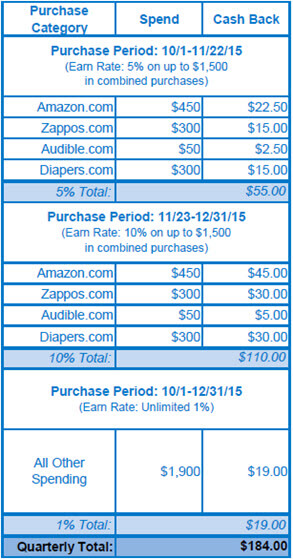 This means you can earn $150 in cash back in just over a month, along with whatever you earned from October 1st until November 22nd.
If you have Chase Sapphire Preferred or Chase Ink Plus/Bold, those 15,000 Ultimate Rewards points can be transferred to airline and hotel partners as well.
So you could potentially get even more value out of this deal with certain non-cash redemptions.
Ultimately, the best bet for most people is to buy Amazon gift cards and earn 10% back for future spending.
You'll effectively get your Amazon items for 10% off once you receive your cash back. And I'm sure most people can easily spend $1,500 at Amazon in the course of a few months, if not sooner.
No Need to Sign Up Again
If you already activated your fourth quarter 5% cash back bonus with Chase, there's no need to sign up again to be eligible for this deal.
You're automatically enrolled and will earn 10% cash back when making purchases at the merchants previously mentioned.
If you haven't signed up, make sure you do so by December 14th in order to be included in the promotion. I believe it's retroactive even if you sign up after spending.
Also, if you're planning on making big purchases at any of these stores, you might want to wait until November 23rd or even a few days later to make sure you actually earn the double cash back.
Keep in mind that the extra 5% cash back can take 1-2 billing cycles to be awarded and reflected in your statement, so be patient.
And as with any type of date-based promotion, it's wise to make the purchases well within the window to avoid any surprises.
For example, you won't want to miss out by a day if your order isn't processed immediately.
I'll probably just buy Amazon gift cards for the full $1,500 unless I come up with a better idea.
I suppose you can also buy third-party gift cards on Amazon's website as well and effectively shop at those stores at a rate of 10% off.
For the record, Discover it is also offering 5% cash back at Amazon during the fourth quarter, but new cardholders get their cash back doubled the first year.
So this essentially matches the existing Discover deal, which might be the whole point of it.
In any case, you can take full advantage if you have both cards and earn 10% back on up to $3,000 in purchases. Not a bad way to earn $300 or more.
Enjoy!