These days, American Express seems to have a credit card for every color of the rainbow.
They've got their notorious Black Amex, the Platinum Card, they had a Clear Card, the Plum Card (it's a color too), and of course, the classic Green and Gold cards.
Oh, and let's not forget the credit card issuer's range of Blue cards, such as the Blue Cash Everyday Card, or the Blue Sky travel rewards card.
The possibilities seem to be endless, which makes it difficult to narrow down a selection.
Fortunately, I've gone through all the features to make it a lot easier to discern which card is better for you, and why.
The American Express Green Card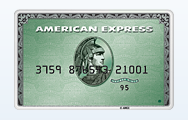 Let's start by taking a closer look at the "Green Card," which for some reason reminds me of the 1980s.
It has certainly been around a long time, largely because it's the company's default charge card. That's right, it's a charge card, not a credit card.
So you must pay off your balance in full each month, or you'll be penalized. There is no interest rate (APR) because charge cards aren't assessed interest.  And there is no pre-set spending limit.
In other words, you should only select this type of card if you want the security and convenience of a credit card, but have the cash to actually pay off all your purchases each month.
If you're looking for a revolving credit card, check out the Blue series instead.
Anyway, the Amex Green Card is pretty no frills as most credit cards go. It comes with a $95 annual fee, though it's waived for the first year.
Additionally, you get a single Membership Rewards point for every dollar spent using the card, which can be redeemed for all types of stuff like gift cards, transfer to travel partners, merchandise, etc.
The points have no expiration date, and there's no limit to how many you can earn. Pretty basic rewards program here.
The Green Card also comes loaded with a number of insurance features, including baggage insurance, car rental loss and damage insurance, and travel accident insurance.
It also provides free roadside assistance (if your 50 miles or more from home) and access to a 24/7 "Global Assist Hotline."
Along with that, American Express Green Card holders get purchase protection, return protection, extended warranty, and easy dispute resolution.
Oh, and you can Sync your American Express card to receive access to all types of deals on Twitter, Facebook, and Foursquare.
Sadly, all of these features are generally available on all American Express cards, including those with no annual fee, so nothing really stands out here.
In short, the Amex Green is a hard pass, though I do like it for nostalgia sake. Other than that, it's kind of not worth carrying, especially with the annual fee.
Even if it didn't have an annual fee it'd be a questionable choice with so many better Amex credit/charge cards available today.
So why apply for Amex Green Card? The only real reason would be for a sign-up bonus. Generally, it comes with 25,000 points for a mere $1,000 in spending, which is attainable for most and not a terrible points haul.
The American Express Gold Card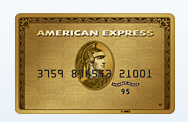 Now let's look at the Amex "Gold Card," which is not much different from the Green Card other than the name and the color.
In fact, the cards are pretty much exactly the same, barring a few details.
The biggest difference is that Amex Gold now offers 2X Membership Rewards points at restaurants and on flights booked directly with airlines. And foreign transaction fees are now waived.
Another feature of the Gold Card is access to the "Exclusive Gold Hotel Collection." In short, you get a $75 hotel/resort credit and a room upgrade (if available) when you stay two consecutive nights at a Gold Hotel Collection destination.
Hotel brands include Conrad, DoubleTree, Fairmont, Hilton, Loews, MGM, Omi, Radisson, Thompson, Waldorf Astoria, and more. So this is certainly a plus for the occasional (or frequent) traveler.
You also get access to a travel professional to help you book your trip.
Additionally, the roadside assistance with the Gold Card does NOT have a mileage limit, so you get free access to tows and other services regardless of how close you are to home.
It's good for those who want to ditch their AAA membership, assuming they were only using it for roadside assistance.
Another difference is the $160 annual fee, which exceeds the Green Card fee by $65, although it too is waived for the first year.
Lastly, the Gold Card comes with a discounted membership to Equinox, which is a chichi gym, along with some exclusive benefits like a free training session.
So all in all, the differences are fairly minute, though you could easily make the argument to opt for the Gold Card for an extra $65 annually.
In summary, the American Express Gold Card offers everything the Amex Green Card offers, but also the following:
– 2X points at restaurants and on flights booked directly with airlines
– Roadside assistance with NO mileage limits
– $75 hotel credit and upgrade at participating hotels
– Personal travel advisor
– No foreign transaction fees
– Equinox gym membership discounts and benefits
– $160 annual fee vs. $95 annual fee (both waived first year)
So if you're weighing the benefits of each, now you know the differences. If you favor the bonus categories, roadside assistance and/or hotel benefits, then the Gold Card is the winner here.
Otherwise, the Green Card should be sufficient, and will save you a few dollars each year. Oh, and I suppose gold looks fancier than green, so you'll impress more people when you whip it out.
However, I don't even think you can apply for the regular Amex Gold Card anymore to be honest. It seems to have disappeared from the American Express website for good, at least in the United States.
See also: The American Express Premier Rewards Gold Card, which actually offers more rewards points in exchange for a higher annual fee.
The Premier Rewards Gold is a far superior card to both Amex Green and Amex Gold, the latter of which I don't think you can apply for anyway.