It seems like a new celebrity credit card is released every week…I suppose it must be good business.
And in an effort to track all these wacky celebrity credit cards, I decided to create an open-ended list.
Over time, I will make additions when warranted – if you know of one I left out, please feel free to let me know.
So without further ado…
Kardashian Kard Prepaid MasterCard
This celebrity credit card is probably the most infamous.
It was actually cancelled nearly the moment it was released thanks to a probe conducted by Connecticut Attorney General Richard Blumenthal (thank you).
The prepaid card came with nearly $100 in annual fees, along with a fee to speak with a live operator, and even a fee to stop using the card.
Clearly one would have difficulty keeping up with the Kardashians with this terrible piece of plastic.
Elvis Presley Visa® Platinum Rewards Card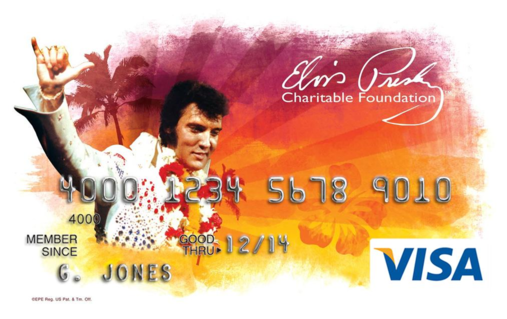 Not all celebrity credit cards are linked to living celebrities, as is the case with the Elvis Presley Visa® Platinum Rewards Card.
This actual credit card comes in five different designs, all of which feature the late great star doing what he did best, entertaining.
You can snag 0% APR on balance transfers for 12 months with the Elvis credit card, though it is subject to a 3% balance transfer fee.
KISS Army Visa® Platinum Rewards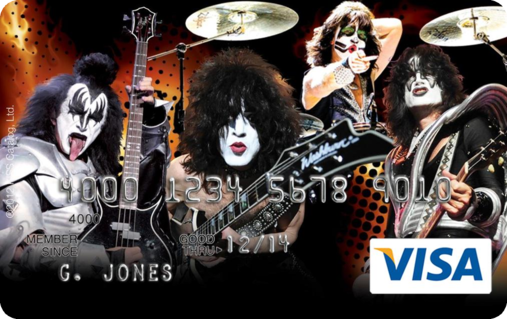 If you're a fan of the band Kiss, perhaps you'd be interested in carrying the KISS Army Visa® Platinum Rewards in your wallet.
It is offered in five different designs, which feature either the band or their logo, and comes with 0% APR for an introductory period.
However, it was difficult to find out what rewards the KISS Army Visa actually affords, so you'd probably be better off with another, less cool credit card.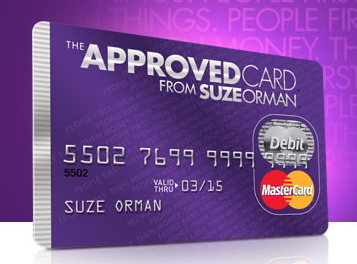 Financial guru Suze Orman also got into the credit card game back in early 2012 with her Approved Card.
It's actually a prepaid card, meaning everyone is automatically approved. Unfortunately, it has a ton of fees, which you think would make Suze cringe.
Still, she'll probably tell you that it beats standard credit cards and their costly finance charges.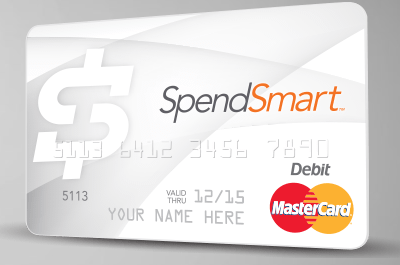 This prepaid credit card geared toward teens recently got a huge celebrity endorsement from worldwide pop sensation Justin Bieber.
The coolest feature of this card is the ability to track a teen's spending, so you know exactly what they're up to at all times. Or at least what they're buying.
But like most other prepaid cards, it's riddled with fees so beware.
The MAGIC Prepaid MasterCard
Yet another prepaid card offered by none other than Earvin "Magic" Johnson and OneWest Bank is the "MAGIC Prepaid MasterCard."
While this card has plenty of fees, at least Magic attempts to save cardholders money with "Magic Tips" and "Magic Mojo," both aimed at educating consumers about their finances.
It's also pretty sleek in black and gold, though you'd think it would come in purple and gold…
Young Money Card
Another prepaid card backed by a celeb is the "Young Money Prepaid Discover® Card," which is endorsed by well-known rapper Lil Wayne.
It comes with a $6.95 price tag (just to buy the card), along with a $4.95 reload fee.
If that's not enough for you, it also has a $3.95 monthly maintenance fee and a $2 ATM withdrawal fee. Forgot about young money, how about no money?
Prepaid Visa RushCard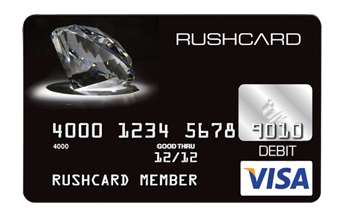 Years after founding Def Jam records, so-called "entrepreneur and philanthropist" Russell Simmons created the Prepaid Visa RushCard in 2003.
He actually is a bit of a pioneer in the payments world, seeing that his company was the first to offer direct deposit to a prepaid Visa card, and the first with check-writing capabilities.
His card has also managed to stay afloat for about a decade, which easily beats the shelf life of many other celebrity credit cards.
KLS RushCard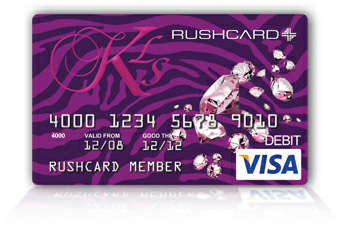 This one is just like the standard RushCard, except that it's blinged out with special styling by Simmons' ex-wife Kimora Lee, hence the acronym.
Kimora makes it all the more "fabulous" to look at, thanks to its purple and pink card design, complete with what look like images of diamonds.
Usher Visa Gift Card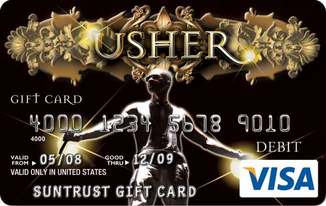 Back in late 2005, SunTrust Bank issued two Visa gift cards that featured Grammy-award winning performer Usher.
The prepaid Visa cards came in two versions, "In the Mix" and "Truth Tour," with denominations of up to $500. A portion of proceeds went to Usher's New Look Foundation, but the card is no more.
Carmen Electra Prepaid MasterCard
Another celeb credit card that is now defunct is the Carmen Electra Prepaid MasterCard, which came in two different designs that each featured Carmen posing rather awkwardly.
Like the other prepaid cards, it was riddled with fees, though it did have quite a few methods for loading the card free of charge.
Still, Carmen Electra's popularity ran out of steam, and so did the card. Put simply, the campaign to "Electrafy Yourself" fell on deaf ears.
There are plenty of other credit cards that have come and gone, and I'd rather focus on those that are still in existence. So I won't be including the Johnny Cash Prepaid MasterCard or Hilary Duff's Visa Gift Card. Shudder…
Stay tuned for more as they come.
Read more: A list of the most expensive credit cards.