In the credit card world, it seems we're always chasing after more cash back. And it appears as if the new Upromise World MasterCard is now one of the frontrunners.
First things first, this credit card is offered by Barclaycard in conjunction with Sallie Mae, the largest and most well known provider of student loans.
But everyone seems to be eligible for this credit card, both students and non-students alike. I checked.
If you're a student, you can use the rewards to pay down a Sallie Mae student loan.
If you're a non-student (or a student), you can request a check once your rewards balance reaches $10 or more in cash back.
There are a variety of other redemption options, including the ability to fund a 529 college savings plan, or to fund a high-yield savings account (this option includes an annual 10% match).
Parents, family, and friends of students may also direct their Upromise earnings toward the account of an Upromise account to help them pay down their loan(s) or fund a college savings account.
Why the Cash Back Is So Good

Take a look at this chart above. As you can see, you get 1% cash back on all purchases, at minimum.
The cash back increases to 2% at eligible movie theaters, and to 3% for gas purchases at Exxon or Mobil.
It rises to 4% for purchases made at eligible restaurants, and to 5% for shopping purchases made via Upromise.com.
Now let me get into detail about all these cash back tiers.
The 1% base cash back, along with the 2% movie theater cash back is self-explanatory.
For the gas purchases, you need to purchase 20 gallons or more in a calendar month to get the bonus. The gas savings are actually kind of weak if you don't like using Exxon or Mobil.
But where things get enticing are the restaurant and Upromise shopping cash back categories.
Up to 12% Cash Back at Restaurants

This is where it gets pretty darn attractive. You can earn up to 12% cash back when using your Upromise MasterCard at participating restaurants nationwide.
This works on a calendar year basis. For your first $124.99 spent, you get 6% cash back. It then climbs to 8% for $125-$299.99, 10% cash back for $300-$499.99, and finally 12% cash back for all restaurant purchases over $500.
So say you get to that $500 in restaurant spending early on, perhaps in January or February. For the rest of the year, you'll get 12% cash back at participating restaurants.
And that 12% includes food, drinks, tax, and tip, with no limit, so the cash back can add up quick.
The only downside is that not all restaurants participate, and there are some blackout dates, typically on weekends.
Online Shopping Portal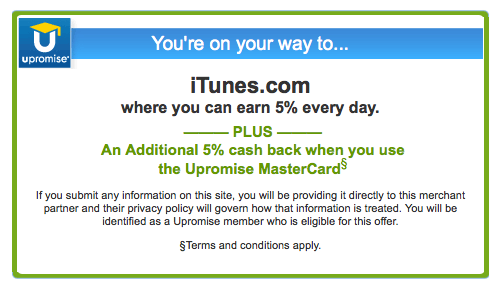 The last tier allows you to earn 10% or more cash back when making online purchases through the Upromise portal.
You get 5% for using the Upromise credit card, on top of whatever the retailer offers for shopping via Upromise, as you can see from this screenshot.
Even the tight-fisted Apple Store offers 1% cash back, but hey, they never offer discounts. And the iTunes stores offers 5% cash back, which doubles to 10% when using the Upromise MasterCard.
Some retailers even offer cash back of 15% or more, so you can get 20% or more cash back in total.
A Few More Details About the Card

The Upromise MasterCard has no annual fee, no earnings caps, and comes with a $50 bonus after your first purchase (if made within the first 90 days of account opening).
Additionally, it comes with 0% APR for the first 12 billing cycles on both purchases and credit card balance transfers (a 4% balance transfer fee applies).
The purchase credit card APR is a variable 12.99% to 20.99%, based on your creditworthiness.
Note: You can also sign up for just Upromise (free of charge) and enjoy all the benefits less the cash back offered from the Upromise credit card. Still a good deal on its own!