You may have seen ads for a 150,000-point bonus on the Chase Marriott Rewards Premier credit card lately. That sounds like the best bonus ever offered on the card and one that can't be missed.
It's well above the 100k offers seen in the past and the current 80k bonus.
Heck, 150,000 Marriott points is just about enough to book a 5-night stay at a category 8 hotel. Think a tropical getaway like Maui or a ski-trip to Breckenridge.
It costs 160,000 Marriott points for four nights in a category 8 property, and Marriott gives you a 5th night free when you redeem four nights.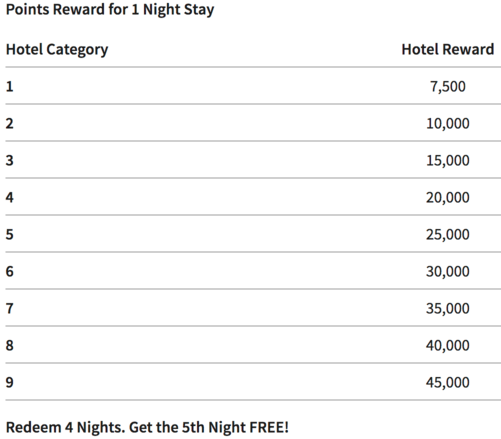 But sadly, the devil is in the details.
150,000 Marriott Points Is Not the Sign-Up Bonus
When I first saw the ad for the Chase Marriott card offering 150,000 bonus points, I was kicking myself for only getting the 100,000-point bonus.
However, upon closer inspection, my deal for fewer points was actually the deal. Allow me to explain.
The current 150,000-point offer is more style than substance. You see, the smaller print next to the 150,000 bonus points says, "Earn up to." Darn it! I hate it when that happens.
Yep, it's not as awesome as it first appeared. In fact, unless you've got deep pockets, or have great manufactured spending skills, it'll be tough to actually earn all those points.
Here's the deal. With the 150k offer, you earn 5X Marriott points on all purchases within your first year up to $30,000 in spending.
As we all know, 5X$30,000=150,000. So that's how they're able to advertise that big, juicy number to prospective customers.
In reality, it could say something to the effect of, "Spend $30,000 and earn 150,000 bonus points." Of course, that wouldn't sound very appealing, would it?
But that's exactly what the offer really is.
My 100k offer on the Marriott Rewards Premier Business Card was 100,000 points after spending $5,000 during the first three months, a much more attainable goal.
It has since dropped to 80,000 points when you spend $3,000, also an easily attainable goal and a decent points haul at that.
You spend a tenth of the required amount and wind up with more than 50% of the points, nothing to sneeze at.
The pro to the 150k offer is that the annual fee is waived the first year, and only $85 thereafter. My annual fee was charged on day one and is $99 annually.
Additionally, you can earn 7,500 points for adding an authorized user in the first three months, thereby pushing up your points tally to 157,500, just shy of the amount necessary for 5 nights at a luxury hotel.
Other, Better Options to Nab Lots of Marriott Points
As mentioned, unless you like to churn hardcore, the 150,000 Marriott offer probably isn't for you. But I know some people out there can probably hit the $30k in spending in a week or less and get all the points. In their sleep no less.
For the rest of us, it might make sense to look at other Ultimate Rewards-earning credit cards from Chase that allow 1:1 point transfers to Marriott and other brands.
Take Chase Sapphire Reserve, which offers 100,000 points after you spend $4,000. Those 104k points could just be transferred to Marriott and used for hotel reservations, if you were so inclined.
Have a spouse apply for the 80k Marriott offer and you've got nearly 200k Marriott points at your disposal. And the leftovers won't go to waste because they can be used for other redemptions, not just Marriott redemptions.
Other cards like Chase Freedom Unlimited or Chase Ink Preferred could accomplish the same feat. The latter gives you 80k UR points when you spend $5,000.
What I'm getting at here is that you don't always need the co-branded credit card because the Chase Ultimate Rewards program allows you to transfer points to a large number of hotels and frequent flyer programs.
I mentioned this in another post about being short some points for my Marriott redemption.
The takeaway here, as always, is to take a hard look at the offer to ensure it's actually a good offer. And then to compare it to other available offers to determine what the best route to the points is.
For some folks, this 150k offer might be just the ticket to earn a boatload of Marriott points without having to pay an annual fee. While others will find the road to 150k fruitless because of the enormous spending requirement.
(photo: Herry Lawford)