If you're like me, or countless others, you probably have several Chase credit cards that earn Ultimate Rewards.
Assuming you do, you'll notice that all your Ultimate Rewards are kept in separate accounts tied to the card that earned the points.
For example, if you have a Chase Sapphire Reserve card and a Chase Ink Preferred card, you will see separate balances for each card.
You might see something like 105,000 Ultimate Rewards points when you click on "See balance," and 85,000 when you check your Ink Preferred balance.
Unlike American Express, which automatically combines your Membership Rewards points into one account (though it does show how many you earned per card), Chase keeps them separate.
What that means, generally, is that you'll need to make an additional step if you want to pool your Ultimate Rewards in order to redeem for something big.
Combining Ultimate Rewards from Your Own Accounts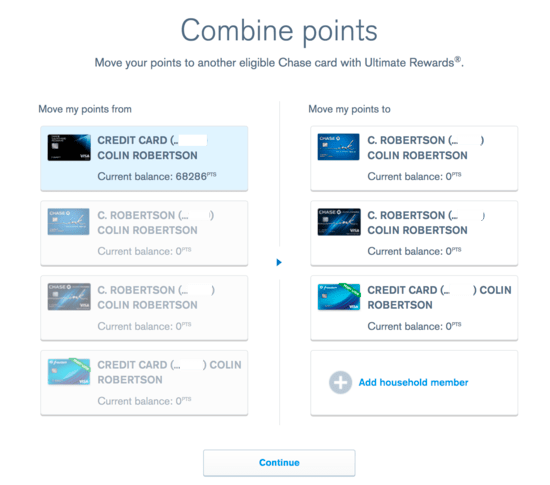 There are basically two situations where you'll be combining UR points. The first is when you're simply combining points between all your own cards.
I currently have a Chase Freedom, Chase Sapphire Reserve, and two Ink business cards. As mentioned, they all have separate balances.
At one point, I wanted to book an award flight for myself and my family, so I basically needed all of my points, and then some.
And because I was transferring the points to an airline partner, I had to at least move the Chase Freedom UR points to a premium Chase card that allows such transfers.
So I moved those points to my CSR account. To do so, simply log-on to the Chase website, then go to the Ultimate Rewards landing page on any of your cards.
You'll then see a points balance in the top right corner, click the down arrow next to it and you'll see all your individual points balances, along with a link to "Combine Points."
You should see something similar to the screenshot posted above. You'll notice I have all my points on my CSR. I already combined my points internally to that card, then sent the bulk of my points to a travel partner.
Now the remaining ones are on the CSR. I'll likely move them to my Chase Ink Preferred soon if I cancel the Chase Sapphire Reserve before year two begins. That way the points are safe.
For the record, these points transfers are instant, so if you need to pool your points together quickly for award travel or something, you don't have to worry about any delays.
You can then send them right off to British Airways, United, or another travel partner, which is also often instant.
Combining Ultimate Rewards with Another Person
Now you'll also notice from my screenshot the ability to "Add household member." This is an option that allows you to transfer Ultimate Rewards points to another person.
However, you are actually limited to transferring UR points to another household member ONLY. If they live elsewhere, no can-do.
You'll need to know their account number and their last name, and check a box that says you certify that the card belongs to you or another household member.
Chase doesn't mess around here, so you probably shouldn't either. They even warn of the ability to temporarily prohibit you from earning/using points if you've done something against their TOS.
Anyway, you should only pick someone that truly lives in your home, such as a spouse, sibling, child, etc. If you have a roommate you trust, that might work too.
Once this person (and card) is selected, they are the only person you can transfer UR points to. I believe you can change this person/card over time, but I would tread carefully trying to game the system.
To make things easier, you may want to have the person combine their points internally before you link up. That way all the UR points will be on one designated card account.
If you have multiple household members, and need all their points, you might ask them to combine their points first, then have them all sent to you by one person once they're combined. That way you aren't changing your designated person/card over and over, which could raise some red flags.
I recently had my wife designate me so she could send me some of her UR points. Just like combining your own UR points, the transfer is instant.
Then you can send the points off to wherever they need to go.
Combining Ultimate Rewards points can also be handy if only one household member has a premium card that allows airline transfers.
For example, if one person only has UR points tied to a Freedom card, they could send them to another household member with an Ink, CSP, or CSR card and effectively make the points worth more at redemption.
(photo: Nate Steiner)