I've already talked about how Chase Ink offers one of the best sign-up bonuses in the industry.
And I declared that when they were only offering 60,000 bonus points. They've since upped it to 70,000 points when you spend $5,000 in the first three months.
But that's not all! Now certain existing Chase Ink Plus cardholders have been given the opportunity to earn 10,000 Ultimate Rewards points for each "business owner" they refer to open a Chase Ink Plus card.
How the Chase Ink Referral Works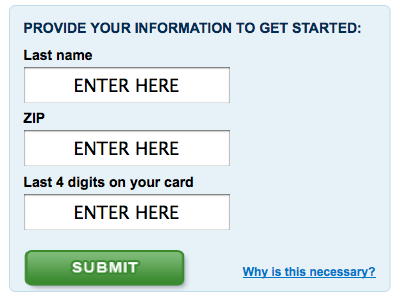 If you're currently a Chase Ink Plus cardholder, you may have been one of the lucky few to receive an e-mail about this referral promotion.
Assuming you were, you simply click on the link within the e-mail and provide some basic info about yourself, as seen above.
Note: You should put in the last four digits of your Chase Ink card that is listed in the e-mail.
If entered properly, you'll see a screen that allows you to send e-mails to specific people, such as a spouse or other family member, or a friend/co-worker.
Chase says that within a week they'll send each business owner an e-mail regarding the Chase Ink Plus offer.
The offer is 70,000 Ultimate Rewards points for $5,000 in spending during the first three months from account opening.
Additionally, those who refer new cardholders will receive 10,000 Ultimate Rewards points if the individual requests the card by October 20th and uses it by January 21, 2015.
Yes, all they have to do is use it once to get 10,000 bonus points. But obviously they'll want to spend $5,000 to get that lucrative 70k sign-up bonus.
For the record, you can invite as many people as you'd like, but you can only earn up to 50,000 bonus points via referral per calendar year (5 referrals).
Why Refer Your Spouse?
Well, if you refer your spouse, you can share the points and take a trip together. Think honeymoon, or romantic getaway.
With 70,000 bonus points plus another 10,000 for the referral, you'll give you Ultimate Rewards points balance a serious shot in the arm.
It could be enough to buy a roundtrip airline ticket to just about anywhere. Or it can used for multiple hotel stays and/or shorter-distance domestic flights. Think staycation.
Either way, it's a bonus opportunity that shouldn't be passed up. The one major caveat is that the Chase Ink Plus does not waive the annual fee for the first year, so those points come at a $95 premium.
But snagging 30,000 extra bonus points will more than make up for the cost of that fee, especially if the points are used toward travel.
By the way, 80,000 Ultimate Rewards points are worth $1,000 if redeemed for travel because you get 20% off when you redeem your points through Chase Ultimate Rewards.
Tip: You can sign up for both Chase Ink cards and receive both bonuses. The Chase Ink Bold offers 50k bonus points for the same spending requirement, so taken together, you're looking at 130,000 total points.
That's $1,625 in travel value when redeemed via Chase Ultimate Rewards. Nobody can beat that.