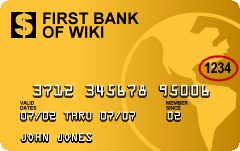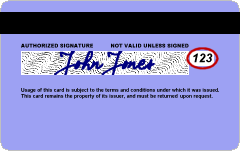 A CVV number, or "Card Verification Value" is the three of four digit security code printed on credit cards, intended to add protection to "card not present" transactions.
There is also the lesser known CVV code known as "CVV1" encoded (hidden from view) on the magnetic stripe of the credit card intended for security on transactions in person.
But let's focus on the "CVV2 number" which is the visible security code you'll find on the front or back of your credit card.
CVV2 Number Born Out of Internet
The CVV2 number was originally conceived after credit card transactions via phone or Internet, known as "card not present" transactions, increased in popularity.
On most credit cards the CVV2 number is located on the back of the card, adjacent to the box occupied by your signature.
Discover, Mastercard, and Visa each have a three-digit code located on the back of the credit card, and also refer to the CVV2 code as "CVC2" and "CID".
American Express credit cards print the number on the front of the credit card, to the right of the embossed credit card number.
American Express uses a four digit number referred to as a CID, or card identification number.
The main security benefit of the CVV2 number is that it prevents criminals from using your credit card online or via other "card not present" transactions if they don't actually have your credit card in their possession.
In most credit card skimmer scams, criminals will have most of your critical information, but without a CVV2 number from the physical credit card itself, they may be blocked from making "card not present" transactions.
That's why it's common in phishing scams for these criminals to present all your credit card information and ask that you simply provide your CVV2 number to give them the missing piece.
Keep Your CVV2 Numbers Private
Never share your CVV2 number with anyone unless you know they are a trusted merchant!
Many merchants store your credit card information, but are barred from storing your CVV2 number, so even if your credit card details are stolen, your security is less comprised.
However, this won't prevent criminals from using your credit card in face-to-face transactions, or via gas stations and other places where a CVV2 is not required.
CVV2 numbers have become increasingly important for security, and some people have even suggested that credit card users remove them from their credit cards as an added security measure.
In a way the CVV2 is a "pin number" and should be guarded as such, but removing or scratching the number out could backfire if you forget what that number is.
Either way, understand the importance of the security feature and do your best to keep it private.
(photo source: wikipedia)