These days it's pretty common to see two versions of a certain credit card. The "preferred" version and the "classic" version.
And perhaps one of the most popular credit cards doing the premium and standard version is the Chase Sapphire card.
While it's great to have options, knowing what each card offers can be a bit daunting, especially with all that tiny fine print to comb through.
So today we'll look at how the Chase Sapphire and Chase Sapphire Preferred stack up against one another, and help you decide which one you should choose based on your unique financial profile.
Chase Sapphire (for Average Joes)
The "regular" Chase Sapphire card comes with most of the bells and whistles you'll find with the Chase Preferred card, minus a few bonus incentives.
You still get 2X points for airfare and hotel accommodations booked through Chase's Ultimate Rewards console, 2 points for every dollar spent on dining, and 1 point for every dollar spent on all other purchases.
Additionally, points never expire and there's no limit to how many you can earn. There are also no blackout dates or restrictions.
Points can be redeemed for travel, gift cards, standard merchandise, and cash back.
And when you call Chase via their dedicated phone line, there is no waiting – a representative will answer straight away.
Finally, you can also earn 10,000 bonus points when you make just $500 in purchases during the first three months from account opening.
That's good for $100 in cash back or travel.
Chase Sapphire advantage: There's no annual fee!
Chase Sapphire Preferred (for the Big Boys)
All that sounded pretty good, right? So what about the Chase Sapphire Preferred card? What makes it so "preferred" anyways?
Well, aside from everything offered via the standard card, you also get a number of other benefits.
Perhaps the biggest draw is the 50,000 40,000 bonus points, which you can earn after spending $3,000 in the first three months from account opening.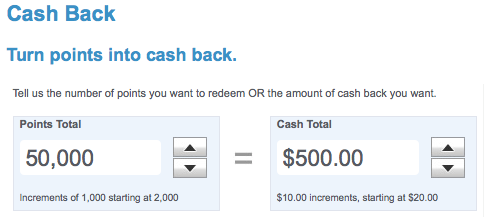 That 40,000 points is redeemable for $400 cash back or $500 in airfare. Why $500?
Well, another benefit of the Chase Sapphire Preferred is that your bonus points go 25% further when you use them for travel (hotel or airfare).
So those 40,000 points are really worth 50,000 points.
On top of that, you also earn 2 points for every dollar spent on travel and a 7% annual points dividend, even on points already redeemed, meaning your points are worth that much more.
Finally, you don't pay foreign transaction fees when you use the Chase Sapphire Preferred outside of the United States.
The downside: You must pay a $95 annual fee with the Chase Sapphire Preferred, though it's waived for the first year.
For the record, the credit card APR is the same on both cards, as are all fees and penalty rates.
So which one should you go with?
Well, if you're a big spender or a big traveler, the Chase Sapphire Preferred makes sense because your points are worth 25% more, you avoid costly foreign transaction fees, and you get that 7% annual points dividend.
You'd have to spend about $143,000 a year on the Preferred card to earn 10,000 dividend points, enough to offset that annual fee entirely.
Although, if the card was used for travel, you could offset the annual fee that way as well.
There's also the $400 cash back bonus to consider – that's quadruple the initial bonus on the standard card, meaning you'd come out ahead even after paying the annual fee for a couple years.
But if you don't spend too much, perhaps just a thousand or so a month, the standard card is a solid choice.
You won't have to worry about the annual fee, but you still get to take advantage of the Ultimate Rewards program and that $100 initial cash back bonus!