The benefits of Visa Infinite have finally made it to American soil with the launch of the Crystal Visa Infinite Card issued by City National Bank.
Interestingly, if you go to the Visa Infinite website the United States isn't even listed as a country or region from the pull-down menu. Perhaps this will be updated soon.
In any case, this must be pretty groundbreaking stuff right? Well, let's dig in and see what this initial U.S.-based Visa Infinite offering actually provides.
$400 Annual Fee for the Crystal Visa Infinite Card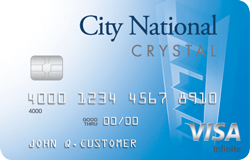 The first thing that popped out at me was the $400 annual fee, which is less than both Citi Prestige and Amex Platinum and also waived the first year.
That's a plus given the fact that these massive annual fees are rarely ever waived.
The other thing that popped out at me was the super low purchase APR of 9% and the also low cash advance APR of 12%, not that anyone with this card will likely carry a balance and pay finance charges.
The Crystal Visa also doesn't charge foreign transaction fees, another benefit for the type of person that is likely to apply for this card.
Like those other two fancy cards I mentioned, this puppy comes with a $250 statement credit for incidental airline fees each calendar year.
I don't think you can get the statement credit for actual airfare, like you can with Prestige, but it seems better than the Amex Platinum benefit because you don't seem to need to designate a specific airline.
What makes the Crystal Visa perhaps better than those cards is that you can get $100 off the total cost of domestic round-trip coach airline tickets for two to five travelers via the Visa Infinite Discount Air Benefit website.
This could potentially save a frequent traveler a good amount of money since there's no limit to how many times you can use it. And reservations can be made up to 11 months in advance.
It also provides Priority Pass Select membership, a Global Entry application fee credit and a CLEAR membership for frequent flyers looking to skip the lines at the airport.
Cardholders also get a 24/7 concierge to assist with flights, hotel and dinner reservations, and so on.
Additionally, you are able to take advantage of the Visa Infinite Luxury Hotel Collection, which provides best available rates, complimentary breakfast, free Wi-Fi, and other VIP amenities.
The card comes with the usual bells and whistles like identity theft protection, car rental insurance, all types of other travel-related insurance, price protection, roadside assistance, access to once-in-a-lifetime events (blah) and much more.
Oh, and hefty discounts at Avis, National, and Silvercar.
For the record, the Crystal Visa Infinite Card also provides access to Visa Signature benefits, which are a tier below Infinite.
It basically goes Visa Infinite, Visa Signature, and then Visa Platinum. Yes, Platinum is relative crap.
Lastly, I should mention that cardholders receive three points per $1 spent on travel and dining and one point for each $1 spent elsewhere in the City National Rewards program.
I'm mentioning it last because the points are only good for basic stuff like merchandise, gift cards, and travel valued at one cent per point. You can't transfer to frequent flyer programs like other cards in the same category.
100,000 Bonus Points After Spending $5k
If you're able to take advantage of their in-branch 100k bonus offer, which requires $5,000 in spending during the first 90 days, you can get a lot of value out of this card.
That's good for a $1,000 Citi National Bank Visa gift card (105,000 points needed).  As mentioned, they also waive the $400 annual fee during year one and offer a $250 airline credit.  You can maximize this by opening some authorized user cards to get the $250 credit on those cards as well.
If you opened several AU cards, you could wind up with thousands of dollars in value from this sign-up offer, especially since the $250 reimbursement is per calendar year.
For example, in one 12-month period you could get $500 per AU card in waived airline fees and $1,000 for the main card as a sign-up bonus plus $500 in waived airline fees.  That could easily amount to $3,000 or so depending on how many AU cards you open.
However, the $250 airline statement credit doesn't count toward airfare, airline gift cards, mileage points, etc., so you may not get the value you're looking for out of it.
My Thoughts on Crystal Visa Infinite
All in all, I'm pretty unimpressed by the Visa Infinite offering from City National Bank, as I figured I would be.  But you might be able to get big value out of it via the sign-up bonus during year one.
As noted, you can get the Prestige card from Citi that comes with 50,000 bonus miles for spending $3,000 and a $250 annual airline credit for actual airfare.
It also has the same basic premium benefits like airline lounge membership and credits for expedited airport security, along with bonus categories to earn points quickly.
The only advantage I see with Crystal Visa is the big sign-up offer and the fact that the annual fee is waived the first year, so you could potentially "make money" with the statement credits.  But without the sign-up bonus it's not really much of a winner in my book.
Additionally, it's a pain to get approved for this card because you have to go into a bank branch, which may entail opening other City National accounts like a checking or savings account. Or at least being pressured to do so.
Of course, you might impress some credit card connoisseurs with this card, because it says "Infinite" in the bottom right-hand corner of the card, but beyond that I'm not sure there's much value to this card over others in its class.
I'm looking forward to more domestic Visa Infinite offerings in the future, though I doubt those'll impress me either.
There's a chance I may apply for the Crystal Visa Infinite card if they still have the 100k bonus going, though I'd prefer to redeem it for $1,000 cash (check) rather than a gift card I'll need to liquidate.
Crystal Visa Infinite Benefits
[checklist]
$250 annual incidental airline fee credit
$100 off flights via Visa Infinite Discount Air Benefit website
Visa Infinite Hotel Privileges such as free breakfast/Wi-Fi
Visa Infinite Car Rental Privileges such as big discounts at Avis and National
3 City National Rewards points on travel and dining purchases, 1 point elsewhere
No foreign transaction fees
Priority Pass Select Membership
Global Entry application fee credit
CLEAR membership
24/7 Concierge
Infinite cardholders get all the benefits of Visa Signature as well
Low APR (9% on purchases)
Must apply in branch (only available in select states at City National Bank)
[/checklist]
(photo: wlodi)