If you know anything about American Express, you know they require excellent credit to get approved for their credit and charge cards.
They are perceived as a top-tier credit card issuer so only the best applicants can typically apply and get approved for their cards.
But now there's an option for those who are lacking in the credit department.
A pair of co-branded Amex cards from BBVA don't use FICO scores to determine approval. Instead, the bank uses your "AMP Credit Rating," which apparently doesn't even correspond with FICO.
You Create Your Own Credit Score
The AMP Credit Rating comes from a credit reporting agency called "eCredable" that lets you build your own credit report and subsequently generate your own credit score.
The angle here is that you can add bills that aren't typically reported by the big three credit bureaus, including Equifax, Experian, and TransUnion.
So even if you eschew credit, you can get approved for an American Express credit card.
With eCredable, you can add bill payment information for a number of bills not found on a standard credit report, such as utilities, insurance, cable and cell phone bills, rent, and more.
In other words, those with no credit who are living "debt free" (I'm looking at you Millennials), or those with limited credit history, can build a report and show creditors like BBVA they are worthy of holding an Amex card.
Apparently some 26 million adults lack a credit file and 19 million don't have enough credit to generate a credit score using traditional models. These folks are known as "credit invisibles."
The downside is that it costs $19.95 to get your bill accounts verified. Obviously lenders can't just take your word for it, and verifying takes time and manpower, so it costs money.
It's unclear how many accounts you'll need to verify (if any) to get approved for an Amex (it will depend on your unique credit profile), but it could be worth it. You can use a simulator on the eCredable website to determine what you'll need for a certain score.
BBVA Compass NBA Credit Card Uses AMP Credit Rating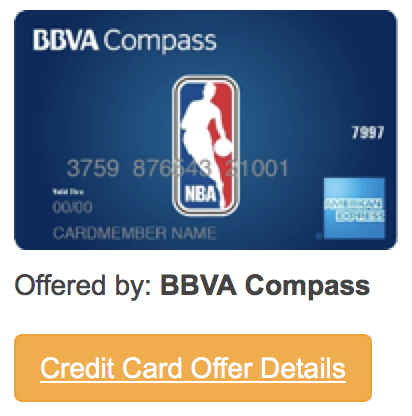 There are a pair of BBVA Compass Amex credit card offers that pull your AMP Credit Rating. They seem to be exactly the same other than the fact that one calls for excellent credit and the other good credit, per AMP's scale.
Both offer 0% APR for the first six months on purchases before jumping to a variable APR between 9.49% and 29.49%.
The credit limits will range from $500 to $2,000, which is quite low but expected for someone lacking traditional credit.
The good news is there's no annual fee, a $200 sign-up bonus if you spend $1,000 in the first 90 days, and a decent rewards structure.
You get 5X points on all purchases during NBA All-Star Weekend and the two weeks of the NBA finals. This is presumably when you'd want to hammer your card hard to earn 5% cash back on everything.
The rest of the year you earn 3X points on NBA tickets, at NBA arenas, and at NBAStore.com.
You also earn 2X points at gas stations and at supermarkets, along with one point per dollar spent elsewhere.
So it's certainly not a bad starter card…it actually stacks up pretty well. And if you take advantage of the many Amex Offers available you should be able to generate hundreds in savings the first year alone.
That should be more than enough to offset the fees to generate your AMP Credit Rating.
Ideally, you should attempt to build credit the normal way so you have a FICO score (and a VantageScore) so you can avoid paying to create a credit score.
But this is one way to get around that pesky requirement and still end up with a decent credit card.