Update: Score 23% cash back with Discover it Miles and Apple Pay until the end of 2015!
Looking for a 3% cash back credit card? Well, you just found one, at least for the first year. After that the story changes.
The newly launched "Discover it Miles" is a new iteration of the Discover it card that comes with 1.5 miles on every dollar spent with the card with no limits and no rotating categories.
While its name contains the word "miles" and you earn "miles," you don't need to spend money on travel, nor redeem for travel. So it's not really a travel rewards credit card, despite the mile-heavy name…
Double Miles During Year One

The best part about this new credit card is the fact that you get double miles during the first year. And no matter how you redeem the points, one mile is worth one penny.
This differs from the Fidelity Amex and Barclaycard Arrival Plus World Elite MasterCard, which only give you 2X when you redeem for retirement or travel, respectively.
So after 12 months (12 billing cycles), all the miles you've accrued will be doubled and applied to your account.
For example, say you spend $2,500 each month with the Discover it Miles card. After 12 months, you'd earn 45,000 miles (2500 x 1.5 x 12 = 45k).
After that year is complete, Discover will go in and double those miles, leaving you with 90,000 miles, or $900. Not bad for a year's spending, right?
Normally, that level of spending would only amount to $450 with a 1.5% cash back card, such as the Capital One Quicksilver. So you get a quite the leg up with the first-year bonus.
However, it should be noted that cards like Quicksilver come with an opening bonus, so if you don't spend all that much during the first year, the Discover it Miles card might not be the winner.
For example, say you only spend $500 a month during the first year. That would be $6,000 in total spending, or 18,000 miles. That's good for $180 cash back.
With Quicksilver and its $100 opening bonus (assuming you qualify), you'd earn $190 total for the same amount of minimal spending.
In other words, if you do apply for the Discover it Miles card, you'll want to spend a lot during the first year to make it worth your while.
No, this doesn't mean spend above your means or arbitrarily. It just means if you have large expenses planned, you can snag 3% cash back on them.
But as mentioned, after the first year double comes and goes, it's just an everyday 1.5% cash back card.
[See credit cards that offer 2% cash back or 2x miles year round.]
What Else Does Discover it Miles Offer?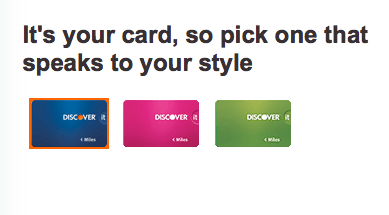 All in all, it's not a bad credit card. It doesn't have any major fees, which means it can remain in your wallet for as long as you'd like.
And you can use it to travel thanks to a lack of foreign transaction fees (assuming Discover is accepted in whatever foreign country you happen to be in).
Additionally, you can go ahead and get that inflight Wi-Fi (even if it's really slow) because it's reimbursed with this card.
Those are probably the only travel-related elements of this miles card.
The downside is that "it Miles" doesn't offer much beyond that, aside from the stellar 3% cash back bonus during the first year.
For some folks, that might be enough to apply for this card. For others, simply getting to choose a color might be reason enough to apply. =p
See how it compares to the regular Discover it card.
Discover it Miles Summary
[checklist]
1.5 miles per dollar spent
Double miles during first 12 billing cycles
No limits, sign-ups, or rotating categories
$30 back annually for inflight Wi-Fi
No annual fee
No foreign transaction fees
No late fee on first missed payment
Late payments won't raise your APR
[/checklist]
Read more: Citi Double Cash offers 2% cash back when you pay off your credit card