By now, you're probably used to credit cards that only offer bonus cash back in select categories during certain periods of the year.
Perhaps one of the most popular credit cards to offer this revolving rewards structure is the Chase Freedom card. The new Discover it credit card offers the same style of cash back.
In both cases, you must sign-up each quarter to get 5% cash back in certain categories chosen by the issuer, such as restaurants, gas stations, movie theaters, grocery stores, travel, and so on.
Along with these restrictions, both the aforementioned credit cards limit the total amount of quarterly spending ($1,500) that is eligible for the 5% cash back.
In other words, the most you can earn each quarter in a specified category is $75, at the 5% cash back rate. Not as amazing as it appears, eh?
U.S. Bank Cash+ Offers More Cash Back Flexibility
Enter the new U.S. Bank Cash+ credit card, which lets you choose your bonus cash back categories each quarter.
Sample categories include:
– Gas stations (2% max cash back)
– Grocery stores (2% max cash back)
– Drug stores (2% max cash back)
– Bookstores
– Department stores
– Restaurants
– Fast food
– Furniture stores
– Car rental
– Electronics stores
– Charity
– Movie theaters
– Hotels
– Cell phones
– Sporting goods
As you can see, there are a lot of categories to choose from, though the seemingly most popular everyday purchases appear to be capped at 2%.
In any case, you are able to choose three bonus categories each quarter, including a single 2% cash back category, and two 5% cash back categories.
How Much You Can Earn with U.S. Bank Cash+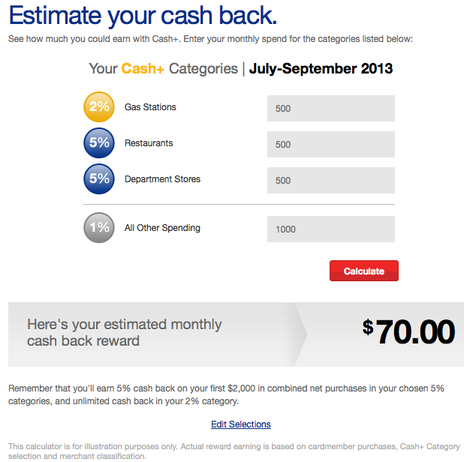 In the example I created above, you can earn a healthy $70 a month in cash back by spending $500 a month in each of the 5% cash back categories, $500 in the 2% cash back category, and $1,000 on all other spending. If you keep that up all year, you're looking at $840 in total cash back, plus a $25 bonus.
Clearly this self-service model provides more flexibility (and cash back) than the Discover it and Chase Freedom cards, seeing that you aren't at the mercy of your credit card issuers' cash back choices.
Secondly, cash back in the 5% categories maxes out at $2,000 in purchases each quarter, as opposed to just $1,500. That's another $25 in cash back quarterly, if you do the math.
On top of that, you also get the 2% cash back category, which has no spending restriction whatsoever. You simply get 2% cash back, no matter how much you spend in the category.
Finally, you automatically earn a $25 Cash+ Bonus Rewards Card after you redeem $100 or more in cash back (in a single redemption, limit one per calendar year).
Taken together, you're looking at an additional $125 in bonus cash back each year, assuming you exhaust the 5% cash back spending limits and redeem annually for the $25 bonus.
And that's before the 2% cash back category is factored in. So if you're looking for a solid cash back credit card that offers more than the competition, U.S. Bank Cash+ might be for you.
The only downside is that you must apply for the card at a U.S. Bank Branch. Expect them to cross-promote other services, such as checking and savings accounts, and who knows what else.
Tip: This credit card is a Visa Signature Card, which offers zero fraud liability, purchase security, travel accident insurance, and many other perks and discounts.