Wells Fargo just launched two new travel rewards credit cards backed by American Express with attractive sign-up bonuses.
The new "Propel World Card" comes with 40,000 bonus points if you spend $3,000 during the first three months as a cardholder.
That's good for at least $400 cash back, with redemptions as low as 2,500 points possible for $25 gift cards.
The downside to the new card is the hefty $175 annual fee, though it is waived for the first year!
Wells Fargo Banking Customers Get Annual Bonus Points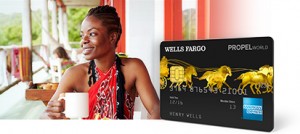 If you happen to be a Wells Fargo customer already, you can also earn an annual bonus on the non-bonus points you accrue throughout the year.
In other words, you won't get the annual bonus on the 40,000 sign-up bonus points, or on the bonus categories, but you'll still get a bonus on all other non-promotional points you earn.
If you have an eligible Wells Fargo savings or checking account, you'll get a 10% annual bonus.
For those with a PMA package, you'll get an annual bonus of either 25% or 50%, depending on both your balance and the type of PMA package. You need a balance of at least $250,000 for the 50% bonus.
So for those who already have a lot of assets in Wells Fargo accounts, your non-bonus points could be worth 50% more.
Additionally, the Propel World Card comes with 3X points on airline purchases and 2X points on hotel purchases. For every other purchase you'll earn one point.
For example, say your monthly spend on WF Propel looks like this:
– $100 on airline purchases
– $100 on hotels purchases
– $800 spent elsewhere
You'll receive the following points:
– 1,000 non-bonus points
– 100 relationship bonus points (minimum)
– 200 airline bonus points
– 100 hotel bonus points
Grand total = 1,400 points
Another Propel perk is the lack of a foreign transaction fee, meaning it's a credit card you can actually use worldwide.
Wells Fargo has a Luxury Hotel Program that provides 20% off reservations, free room upgrades, and free daily breakfast to Propel World cardholders, along with a $100 annual reimbursement for incidental airline charges.
You can also take advantage of 25% off car rentals and $100 off qualifying air and hotel packages at 150 destinations worldwide. And you get a complimentary "premium concierge."
Lastly, it comes with smart chip technology so it's certainly geared toward the world traveler.
There's Also a Sister Card Called Propel 365
If that $175 annual fee is too much to stomach, you can opt for the "Propel 365" card instead.  It also has an annual fee, though it's only $45 and waived for the first year of cardmembership.
The sign-up bonus is halved to 20,000 points and still requires a hefty $3,000 in spending during the first three months, which seems a bit steep for such a small amount of bonus points.
Additionally, the card doesn't feature smart chip technology, though it doesn't charge foreign transaction fees either. A little mixed there.
As far as rewards, you get 3X points at all U.S. gas stations, 2X points at U.S. restaurants, and one point everywhere else.
So the rewards program is very similar to the BankAmericard Cash Rewards credit card, though BofA offers 2% cash back at grocery stores.
And you're still eligible for the annual bonus of 10%, 25%, or 50%, depending on your relationship with Wells Fargo.
For the record, both Propel cards come with 0% APR for the first 12 months, before adjusting to a variable rate between 13.99% and 21.99%.
All in all, it's a pretty aggressive offer for Wells Fargo, a bank that hasn't been that active in the credit card world up until now.
If you spend a lot of money annually in the specified reward categories and have an existing relationship with Wells, you could accrue a lot of points quickly, so these cards are certainly worth a look.
But the sign-up bonus isn't quite as good as the 60,000 points being doled out by Chase Ink at the moment.
And the Wells Fargo rewards points can't be transferred to leading airline reward programs, another major disadvantage to this travel-related credit card.