It's that time of the year again, when we scramble to make sure any and all calendar-year travel credits are exhausted. For those who still have unused credits, they might be looking at gift cards to get the job done.
As most of you know, gift cards typically trigger travel credits offered by credit card issuers, so for those who aren't traveling, or have no plans to, buying an airline gift card can fill in the blanks.
This doesn't always work by the way, and varies by card, so it's important to know what works and what doesn't before you go and spend $100 or more, only to find out the credit didn't actually fire!
For example, the Bank of America Premium Rewards travel credit seems to be especially picky.
My Gift Card Journey

Once you buy, you can either hold onto the gift card and use it eventually, or unload it, either for cash or to a friend or family member.
Back when I had Chase Sapphire Reserve (before canceling after a year), I bought some Southwest gift cards to trigger the credit. I actually used those because I travel with them fairly often.
But I didn't need more, and when it came time to collect my credits for my Schwab Amex Platinum, I decided to go with American Airlines because they seem to be in decent demand relative to other airlines.
At first, I thought about selling on Raise, but then I discovered a huge downside. They won't let you list gift cards until 45 days have passed since they were issued. Hmm…yeah, way too impatient for that.
So I moved on, even checking out Reddit's marketplace, which seemed a bit too involved and potentially risky if I got caught up with a bad apple. So I kept digging.
I made my way over to GiftCardZen and while they were ready to buy my gift card, they offered some absurd $20 or something for my $100 AA card. Hard pass.
Cardpool Seems Pretty Straightforward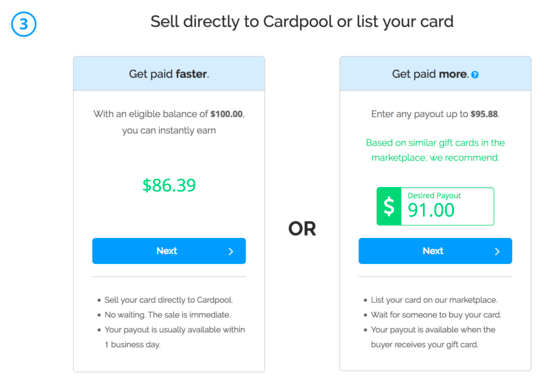 Then I found Cardpool, which seemed really streamlined. I had heard of the company but never used it. I clicked on sell gift cards and instantly saw a really fair offer, at least in my eyes.
They were offering over $80, which sure, is 20% off, but it's also 80% for doing a little more than nothing. I didn't have to list the card and wait to have someone buy it, or work to find a seller on my own.
I could instantly offload it to them and get paid in a few days. They also have an option to redeem for an Amazon gift card, which results in 6% more. That pushed the total to nearly $87, which is better than I would have expected just about anywhere.
They also give you the option to list the card yourself for any amount up to a certain limit, which seemed to be around $96 in my particular case.
If you go that route, you'll get paid once someone buys your card from their marketplace. I suppose I could try that too, I'm just really impatient. And when it's only ~$5 or so, it's hard to bother.
Could I Do Better? And One Warning…
In any case, the instant sale of gift cards for cash or Amazon gift cards is amazingly easy and borderline delightful. I value convenience and no-nonsense above most things these days, and that's what I got with Cardpool.
I'm sure it's possible to do better elsewhere, and maybe it's not that hard to actually sell on their marketplace. I have no idea, cards might sell in days or even hours. I'll have to test that out at some point.
But in the meantime, I'm happy to get most of the value back in a matter of days with little more effort than filling out a short form, especially since I have multiple cards that earn travel credits.
There is one caveat: once you sell to Cardpool, they note that because the card has been sold, it's your responsibility to ensure it isn't used by accident. If it is, they can charge your credit card, which is why they ask you to enter a credit card when selling a card.
I don't think it'll be an issue, but it's a possibility. Other than that, if you value convenience over highest possible value, this service seems pretty incredible.