Along with a new branding campaign from Barclaycard to Barclays, the company has launched its latest credit card, "Barclays Arrival Premier."
As the name suggests, this is a luxury travel credit card intended for those who, well, like to travel luxuriously.
Let's see if it lives up to its name.
Barclays Arrival Premier Comes with a $0 Sign-Up Bonus and $150 Annual Fee
$0 sign-up bonus
$150 annual fee (not waived 1st year)
25,000-point annual spending bonus instead
As with all my reviews, I usually open by talking about the sign-up bonus. Unfortunately, this new card from Barclays does not feature one. We're off to a bad start here.
That's right – there's a $0 sign-up bonus associated with this new credit card, which will certainly turn off a large swath of the population.
Instead of earning a sign-up bonus, you can earn a spending bonus annually. Let's hope other credit card issuers don't follow Barclays lead here. It'd be smart though…
Anyway, if you spend $25,000 per year, which is only about $2,100 per month, you'll earn 25,000 bonus loyalty miles.
Broken down, you get 15,000 bonus miles if you muster $15,000 in annual spend, and an additional 10,000 miles for $10,000 more in annual spend.
So your bonus with this card only comes after a year of consistent spending, but it appears to be ongoing year after year. That's the tiny silver lining.
Barclays Arrival Premier Earns 2X Miles Per Dollar Spent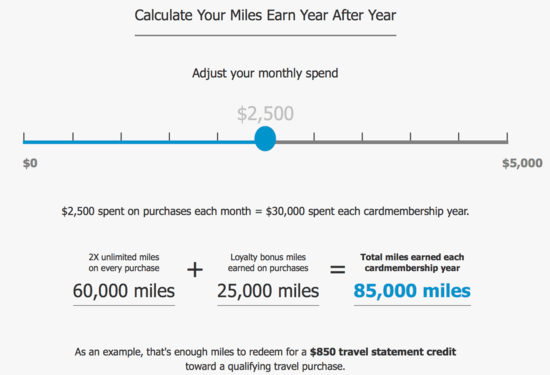 Earn 2X points per dollar spent
No categories to worry about
Can redeem at full value for travel redmeptions
Half value for statement credits and gift cards
Aside from the reverse bonus, you also get two miles for every dollar spent using the Barclays Arrival Premier MasterCard.
Let's say you spend $2,500 a month in the first year. That amounts to $30,000 in annual spend, or 60,000 miles.
You would also earn the 25,000 bonus miles, for a grand total of 85,000 miles in year one.
You could then redeem those miles for an $850 travel credit, assuming you paid for some qualifying travel with the card.
If you choose to redeem for a cash back statement or gift cards, the redemption value gets cut in half. So you'll need 5,000 miles for $25 in value.
Clearly travel redemption is the way to go, but there might be an even better use of the miles.
Barclays Arrival Premier Allows for Transfers to Airlines
Joins Amex, Chase, Citi, and HSBC
In allowing points transfers to airlines
But not at a 1:1 ratio
1.4:1 or 1.7:1 in the case of JAL
One exciting feature on this new credit card is the ability to transfer miles to leading frequent flyer programs, similar to Chase Sapphire Reserve and Amex Platinum.
Their airline partners include:
Aeromexico
Air France/KLM
China Eastern
Etihad
EVA Air
Japan Airlines (JAL)
Jet Airways
Malaysia Airlines
Qantas
The list isn't all that extensive, but it does give you another option to use your miles outside the normal redemption choices.
The downside is that the miles don't transfer at a 1:1 ratio. Instead, Barclays miles transfer at a 1.4:1 ratio, which makes sense since you earn them at a 2X clip unlike Amex Membership Rewards and Chase Ultimate Rewards.
And Japan Airlines is a much worse 1.7:1 ratio.
Anyway, using our 85,000 points from the example above, you'd wind up with just over 60,000 miles if you transferred them to the airlines above. For JAL, you'd only get 50,000.
Whether that would be good enough for a quality redemption is questionable.
What Else Does Barclays Arrival Premier Offer?
No foreign transaction fees
$100 Global Entry credit
Lounge Key membership
Bonus miles when sharing travel stories on Barclays Travel Community
As you might expect on a premium travel rewards credit card, they waive the foreign transaction fees, which is nice but expected.
Additionally, you get the typical $100 credit for Global Entry every five years if you don't already have it. It's handy to use for someone else that might need it.
Then there's membership to Lounge Key, which is inferior to Priority Pass but similar. The difference is as a member you still have to "pay as you go." Each lounge visit will set you back $27 per person.
Finally, you can earn bonus miles if you participate on the Barclays Travel Community website.
Is Barclays Arrival Premier Good or Bad?
Seems like a bit of a dud
Especially as Barclays flagship U.S. product
Expected something bigger
To compete with American Express, Chase, and Citi
In summary, it doesn't seem like a big winner to me, and it's certainly not as lucrative as the old Arrival Plus card was.
The first problem is the $150 annual fee, which isn't waived the first year.
The second problem is the lack of a sign-up bonus.
The third problem is the fact that you need to spend all year to get any sort of bonus, and the bonus isn't all that great assuming you do muster the minimum spend.
I don't like the way Barclays is going with this reverse bonus seeing that all credit card issuers offer initial spending bonuses, not annual ones, especially when they're charging an annual fee.
The Lounge Key program is also kind of nonsense seeing that they're charging you to use the lounge. It's barely a perk, especially since you're paying an annual fee for this card.
I can't imagine this credit card being very popular, and it's certainly not putting the new stateside Barclays brand's best foot forward.
(photo: Raymond June)