File this one under annoying, bizarre, and perhaps a little backwards. And that's being friendly.
I am a member of Credit Sesame, a helpful service that provides you with a free credit score and some level of credit monitoring.
It's pretty similar to Credit Karma, though the latter is more robust when it comes to free services.
Anyway, I receive emails from Credit Sesame periodically, usually notifying me that my credit score has changed. It's a call to action for me to visit their site and see what's going on. Totally fine in my book.
While I'm there, I might take an interest in related credit card products and apply, earning them a commission.
Or sign up for some premium services, like credit monitoring or a tri-merge credit report. Again, all fine.
I Can't Unsubscribe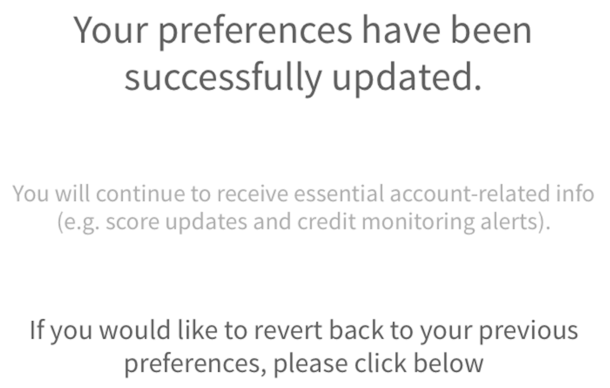 Here's the problem, at least in my humble opinion. You can't unsubscribe from Credit Sesame emails. If you want to maintain your membership, you must continue to receive at least two emails from the company per month.
One is a mid-month summary and the other email is a monthly Score and Data Refresh notice. If you are a Credit Sesame member, you may have noticed these emails and looked to opt-out.
Unfortunately, the ubiquitous unsubscribe button at the bottom of these emails isn't anywhere to be found. Instead, there's just a line about you receiving the email because you're a member of Credit Sesame.
And that if you want to change your email address, to visit the Alerts section of your account page at Credit Sesame.
There's nothing about stopping the emails entirely. This isn't true of other emails they send, which you can opt-out of, such as offers, surveys, special promos, and advice.
When you opt out of those, it will reiterate that you will still receive "essential account related-info." In other words, you'll still get those two pesky emails every month.
How to Stop the Credit Sesame Emails

Now if you want to stop all Credit Sesame emails, you have to close your account. Yes, they'd rather you close your account with them than just stop receiving a couple of emails.
To do this, once logged in to their website, hover over your name in the top-right hand corner and select profile. There you will see the option to "Delete My Account."
If you do decide to delete your account, you'll have to wait a year to become a member again due to their arrangement with their data providers, as noted in the screenshot above.
And perhaps this gives us a clue as to why they want to keep those emails coming. Chances are they have to pay for the data included in your free membership, so if you sign up and never visit their site, they're going to lose money. Or certainly not make any money.
I checked out competitor Credit Karma's policy to see if this was an industry thing or just specific to Credit Sesame, and it appears to be the latter.
Once I logged in to Credit Karma, I noticed I could stop all emails. And my most recent email from them also had the standard unsubscribe button at the bottom, which was reassuring.
With all the emails we get these days, it's nice to have full control over what is sent to you, without feeling pressured to continue receiving them.
(photo: Shawn Campbell)