One of the fasting growing airlines in the United States is Virgin America, which seems to add new destinations every few months.
Beginning in April, the airline plans to add a Los Angeles to Las Vegas route, which will excite all the partygoers who don't want to make the long desert drive.
Virgin America also offers service on popular routes like Los Angeles and New York, and more offbeat places like Palm Springs and Austin, Texas.
They're also partners with a number of international carriers, including Air New Zealand, Cathay Pacific, Emirates, and many more.
Long story short, if you want to fly somewhere, there's a good chance Virgin America or its partners can get you there (in style).
If you already like flying with Virgin America, you may be interested in their credit card, known as the "Virgin America Visa Signature Card," which is offered by Barclaycard.
Free Round-Trip Reward Flight and 10,000 Bonus Points

This travel rewards credit card has some pretty enticing opening bonuses.
First off, you receive 10,000 Virgin America "Elevate" bonus points after you make your initial purchase (you automatically become an "Elevate" member upon card approval).
To put it in perspective, a flight from Los Angles to the Bay Area or Las Vegas runs around 2,500 Elevate points.
So you could squeeze two short round-trip flights out of the opening bonus.
And if you spend $1,000 in the first 90 days after opening your account, you get a free round-trip flight on Virgin America.
The flight must occur between February 19, 2013 and July 11, 2013, and there are some blackout dates.
But hey, a pretty good deal for the frequent traveler.
If that's not enough for you, if you also transfer an existing credit card balance to the card, you'll receive up to 5,000 more bonus points (1 point per dollar).
You want more? You also get $150 off a companion ticket each year, so when you take someone with you, you'll save a good chunk of money on airfare.
But wait, there's still more. Virgin America cardmembers also earn 300 bonus points for every $5,000 in net purchases made each year, up to 1,200 annual bonus points.
And if you spend $25,000 on everyday purchases from January to December, you'll receive 10,000 "Elevate Status Points." These are different from the bonus points, and basically allow you to achieve Silver or Gold Status in Elevate.
In each of those tiers, you get cabin upgrades, flight discounts, and more reward points when you book travel on Virgin America.
The Critical Numbers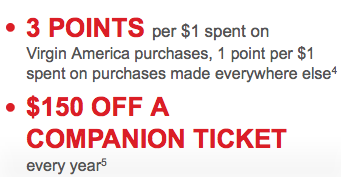 There is an annual fee with the Virgin America Visa Signature Card. It's not waived for the first year, so take note.
The credit card APR for purchases ranges from a variable 15.99% to 24.99%, based on your credit score.
And it comes with 0% APR for balance transfers for the first 15 billing cycles. The balance transfer fee is 3% if made during the first 15 billing cycles ($10 minimum).
Additionally, there is a 3% foreign transaction fee, which is standard outside the Chase Slate No Balance Transfer Fee offer.
You earn 1 Elevate point for every dollar spent using the card, and 3 points per dollar spent on Virgin America purchases.
So the points can add up quickly. All in all, this is a pretty good deal based on the opening bonuses alone, assuming you like to travel.
In fact, the savvy cardholder could squeeze 3-4 round-trip flights out of those bonuses.
But if you prefer an all-around cash back credit card, check out Blue Cash from American Express instead.
Tip: There is a no annual fee version of the Virgin America card available as well, but the bonuses aren't nearly as good.
(photo: Binder.donedat)