There's been a strong push of late to replace physical credit cards with either all-in-one cards such as Coin and Stratos or digital wallets like Apple Pay.
But many of those systems rely on an associated device, such as a smartphone, to operate, along with an internet connection.
Sure, most people don't travel without their phones these days, but we all run out of juice, some of us on a daily basis. And there's not always reception.
A Stand Alone Smart Wallet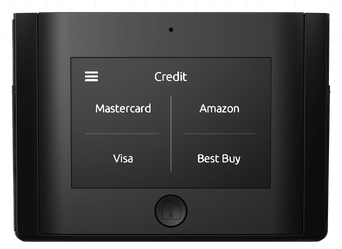 For those not interested in constantly syncing their smart all-in-one card with their phone or worrying about whether they'll have wireless service, there's a new alternative.
I'm talking about Wocket, which is an actual physical smart wallet you carry with you that only requires one associated smart card for all of your credit cards, debit cards, loyalty cards, gym cards, etc.
The wallet itself even has an e-paper LCD screen for scanning barcodes, if for example, you have a gym card that needs to be scanned rather than swiped.
The device is about the size of a traditional leather wallet (3.46″W x 2.75″H x .39″T), though it's constructed of plastic, and can hold up to 10,000 cards on the associated WocketCard.
How to Use WocketCard
If you buy the device you will receive a card reader that allows you to load all of your physical cards to the Wocket wallet. As mentioned, you can also scan barcodes.
From there, you must categorize each card as debit, credit, loyalty, etc. To secure the device, you can set a PIN code and a biometric voice control that unlocks the wallet.
When it comes time to use any of your loaded cards, you simply select the card you'd like to use from the Wocket wallet touchscreen and the plastic WocketCard pops out of the device.
The WocketCard is a smart credit card with your name on the front, a dynamic magnetic stripe on the back, and a special LCD screen that will display the last four digits of the selected card and the security code.
This is essentially how you know you've selected the right card from the Wocket wallet. You can see the last four digits before swiping it or handing it to a clerk.
The WocketCard will stay programmed until the purchase is complete or for up to five minutes. This keeps it safe.
The wallet also displays all your stored card information if you need to view it for an online purchase. This way you can put your plastic credit cards away and basically forget about them.
The device features a rechargeable year-long battery and a stitched-leather carrying pouch so it can be slipped into your pocket like a traditional wallet.
For the record, Wocket doesn't store your card information on the cloud or on your phone, which they refer to as "insecure device."
So that might give it the upper hand over other available options.
The question you need to ask yourself is whether simplifying your life should require you to carry a smart wallet and a smartphone. Because let's face it, you're still going to need your phone.
The Wocket is currently shipping to pre-order customers and the company will begin responding to invite requests on June 1st. The cost of the device is $149.99.