Earlier this year, American Express launched Plenti, a somewhat novel rewards program that lets you earn points and use them within a network of stores.
So you can earn Plenti points by paying your AT&T cell phone bill and then redeem those same Plenti points at Rite Aid or another participating store.
I actually signed up for Plenti and linked my AT&T account to earn Plenti points but haven't done anything with them yet. I've got nearly 1,000 Plenti points, which I believe is good for $10 in savings.
It's on cruise control and maybe in a year or two I'll have enough points to redeem for free gas at Exxon.
In the meantime I won't pay too much attention to the program because it seems like a lot of work with little upside.
The Plenti Credit Card from Amex
[checklist]
3 Plenti points at U.S. supermarkets ($6,000 annual limit)
2 Plenti points at restaurants located in the U.S.
1 Plenti point elsewhere
[/checklist]
Now American Express has a credit card that specifically earns Plenti points, called, you guessed it, the "Plenti Credit Card from Amex."
This is a way to start earning Plenti points at a much faster rate than just being a member of the Plenti loyalty program.
The card offers a 5,000 Plenti point bonus after you spend $250 within the first three months.
You also earn 3 Plenti points at U.S. supermarkets (on up to $6,000 in annual purchases), 2 Plenti points at restaurants located in the U.S., and one Plenti point elsewhere.
The Plenti points earned from your card are posted in your Plenti rewards account at the end of each billing cycle following the one in which the transaction occurred.
The Plenti Credit Card also comes with 0% intro APR for the first 12 months on purchases and there's no annual fee.
And it's an actual credit card, not a charge card, so you are able to carry a balance, not that it's recommended to do so.
Some Annoyances with Plenti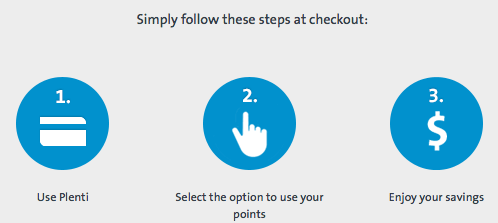 I dug through the fine print and found some things that might be a bit annoying for cardholders.
For one, you need to first sign up for Plenti before you can sign up for the Plenti credit card.
Apparently they are two separate accounts. To this end, you also need to use both your Plenti credit card and Plenti rewards card when shopping at Plenti merchants to get the bonus Plenti points those merchants offer.
It's not automatic simply because you're a Plenti credit card member.
Additionally, using Plenti points is also limited because you can only use them at the merchants that are part of Plenti.
From what I've seen, you can only redeem them at places like AT&T, Macy's, Nationwide, Rite Aid, participating Exxon. The list doesn't seem to be very long at the moment, maybe that will change, I don't know.
Wouldn't you rather have straight up cash back or Membership Rewards points that you could transfer to airlines and hotels?
To me, the Plenti loyalty program is fine because you can kind of set it and forget it and still earn some points over time.
But in my opinion the Plenti credit card is definitely a miss because you'll just wind up with a bunch (and maybe not even that many) Plenti points, which might be hard to redeem for anything you actually want.
At the end of the day, there are much better credit cards out there, not to mention better American Express credit cards such as Old Blue Cash or the Amex EveryDay cards that offer much greater flexibility when it comes to redemption.
So why bother with this card, especially seeing that it has a weak sign-up bonus and not much else.
(photo: Dan4th Nicholas)