If you haven't already heard of the company "Square," you will. They continue to revolutionize the payments industry, and their latest release looks like something straight out of Apple's design book.
The company introduced their latest product this week, the "Square Stand," which pretty much makes traditional cash registers look like a thing of the past.
It is the latest piece of hardware to come from the young company co-founded by Twitter creator Jack Dorsey, and flanks existing products such as the Square Reader and Square Wallet.
Now even large companies can ditch their old POS systems in exchange for a smartly-designed Square product.
What Is the Square Stand?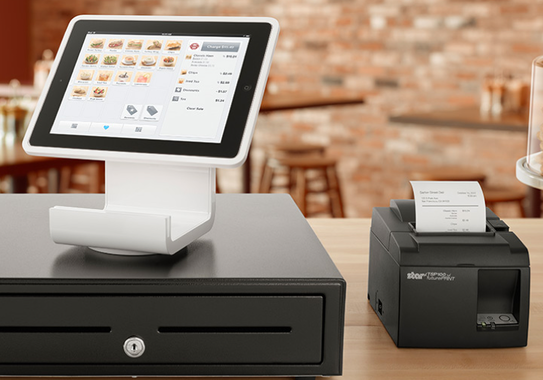 In a word (or two), it's a digital register. But it's also so much more, seeing that it runs on Apple's iPad device.
Put simply, a business that wants to accept credit cards would buy the unit, and then place their own iPad on top of the rotating stand.
From there, the merchant could run their business, or more specifically, their point of sale system from the Square Stand.
Merchants can add their menu items if they run a restaurant, create different employee logins, and gain access to real-time sales data.
Businesses also have the ability to add a cash drawer, a receipt printer, and a barcode scanner, all of which will work seamlessly with the device.
The Square Stand also has a built-in credit card reader, a charger for the iPad, and all information from swipe to payment is secure.
So instead of investing in a pricey (and clunky) point of sale system with bad support, or paying merchant account fees instead (or on top of the unit cost), businesses can go with the Square Stand.
Square Pricing Is Very Competitive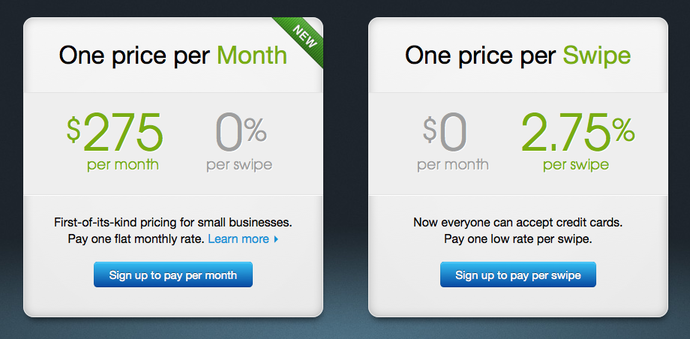 Aside from it being super attractive (it looks like it belongs in the Apple family), the pricing may also be a big selling point for small businesses.
Square charges a flat rate of 2.75% per swipe for American Express, Discover, MasterCard, or Visa purchases.
That means businesses won't have to tell disgruntled customers that they only accept Visa and MasterCard, much to the chagrin of Amex and Discover cardholders.
And businesses won't have to worry about complicated tier pricing. Instead, they can go with the flat swipe fee or even a flat monthly fee.
For companies that go with the monthly plan instead, they pay just $275 for swipes up to $21,000 a month.
Any monthly swipes over $21,000 or an individual payment over $400 will be subject to the 2.75% swipe fee.
Additionally, payments are deposited directly into your bank account within 1-2 business days.
Looks like Square has once again shaken up the payments industry, something the smaller guys should take out and be afraid of.
The Square Stand can be pre-ordered now for $299, and will begin shipping on July 8th, 2013.
(top photo: JMCostanza)