Awesome deal alert! At the moment, American Express is offering $25 back when you spend $50 or more at Smart & Final stores in the United States by June 30th, 2015.
Fortunately, there is a store just a few minutes away from my home, so I can take advantage of this offer very easily.
Even better, cardholders can take advantage of this offer three times per enrolled American Express card. So if you spend $150 over three trips, you get $75 back.
I don't shop there very often, but I do remember their prices being pretty reasonable, especially on beer and wine, and perhaps on bulk everyday items.
I also believe they sell gift cards, so if you want to forego all their food/supply offerings for 50% off gift cards, I suppose you could do that as well.
How to Get the Offer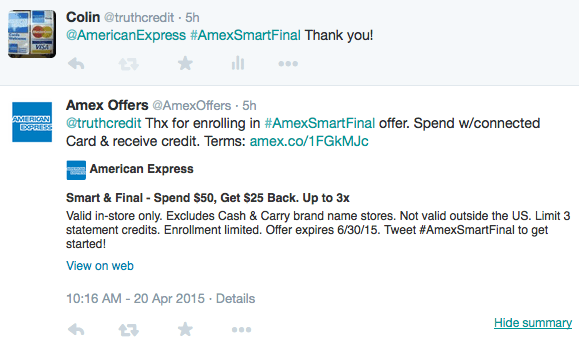 I find that the easiest and quickest way to enroll in these Amex Offers is via Twitter.
First, you need to link your American Express credit card. It's probably best to log on to Twitter before you visit their site.
To link your card, you'll either need to log in to your Amex account via that connect page, or simply enter your Amex card details and e-mail address.
For Serve and Fidelity Amex cards, it's probably wise to just enter the card details since Amex credentials probably won't work for those cards. But these types of cards are still eligible.
Once you've done that, you'll receive instant notification from American Express and an e-mail that confirms your card is connected to Twitter.
Then you can immediately tweet the hashtag #AmexSmartFinal @AmexOffers and you're done.
Simply visit the @AmexOffers Twitter profile page and then click on that giant "Tweet to Amex Offers" button on the left sidebar.
You don't have to Tweet anything specific other than the hashtag #AmexSmartFinal to enroll. I usually include something like "thanks" or "great offer" to personalize my tweet.
You'll receive a Twitter notification within a minute (usually seconds) that confirms your enrollment in the offer and provides the associated terms.
And you'll get an e-mail confirmation immediately once you shop at Smart & Final and spend the $50, as seen below.
Get the Offer Multiple Times!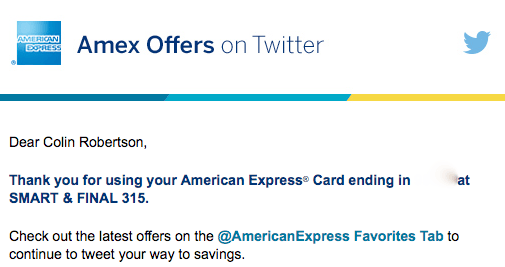 I've got four American Express cards at the moment, including the original Blue, Old Blue Cash, Fidelity, and Serve, all of which are now enrolled in this offer.
That means I can get up to $300 out of this amazing offer by making 12 trips to the local Smart & Final.
Yes, it'll take a little bit of work on my end, but it's a pretty easy way to get that level of savings. Savvy folks will figure out a way to make multiple $50+ purchases in one visit.
The $25 comes in the form of a statement credit once the qualifying purchase has been made.
They say it can take up to 90 days after June 30th for the credit(s) to appear, but these credits tend to pop up a lot sooner, sometimes immediately.
However, I've also had stragglers that don't show up until months later, though that typically always comes as a surprise and feels like a present when it does finally arrive.
It should be noted that this offer doesn't include purchases at Smart & Final stores outside the U.S. or at Smart & Final's restaurant warehouse store Cash & Carry.
Update: It only took a day to get my first $25 statement credit. Hooray!
(photo: Realtor Susan)