If you're looking for a fancy way to declutter your wallet (other than Apple Pay), you may want to check out the new Stratos card, which is a Bluetooth-connected card that just began shipping this week.
It works similarly to Coin, though there are a number of differences.
For one, you can store all types of cards in the Stratos app, including credit cards, debit cards, gym cards, gift cards, loyalty cards, and more.
And once they're in the Stratos app, they can be used anywhere traditional magnetic stripe cards can be swiped, including internationally.
Load Cards with the Stratos Reader
To load cards to the Stratos card, you simply plug in the Stratos Reader (which is included in the Stratos membership) to your phone's headphone jack and slide cards through the card reader.
The information will then pop up in the associated Stratos app and the cards will be ready for use.
There is no limit to how many cards you can add, and once they're added you'll always have access to all of them, even if you leave the actual physical cards at home.
Within the app you can also set your top three cards that are always available with or without your phone nearby.
How to Use a Specific Card with Stratos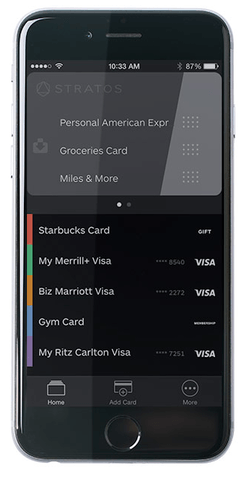 There are three touch sensors and associated LED lights on the front of the card that indicate which of these three favorites are activated.
So simply tap your card to wake it up and then push one of the three touch sensors and that card is now activated and ready for use.
The merchant simply swipes your card as they would any other credit card.
To use additional cards that aren't in your top three, simply double tap your Stratos card on your phone and the Stratos app will pop up on your lock screen. From there you can select the card you'd like to use.
In the future, the company hopes the double tap feature will pull up instant location- and history-based card suggestions so if you have a gift card or a coupon, it will remind you.
Or if you're at a gas station, it will recommend that you use your gas card.
The Stratos card can also be used online because all of your credit card information is stored in the app, so you can look up that information within the app if you need to make a purchase.
Stratos Is a Membership, Not Just a Card
In order to get the Stratos card, you need to become a Stratos member. This involves a $95 annual fee, though you can get a discounted two-year membership upfront for just $145.
Your membership begins on the date that you first pair your Stratos card with your phone.
You may also receive special discounts and invitations from Stratos and its partners.
Additionally, your membership means you get annual upgrades as the card is improved over time. They may add things like contactless payments (NFC), fingerprint security, and more.
And if the battery dies, they'll send you a new card right away. The company is actually alerted if and when this happens.
The Stratos card comes in five flavors (colors) for you to choose from, and features your name and membership number on the front of the card.
All your actual credit card (and loyalty card) details are hidden from everyone else, which makes the card more secure than traditional credit cards.
You can also lock your Stratos card if it's lost or stolen and reactivate by double tapping when it's within Bluetooth range of your phone.
If you place your order now they anticipate a ship date by October 2015 due to high demand.
Tip: If you refer others to Stratos, you can earn $15 per referral, up to the full cost of your membership.