In recent weeks, I've been seeing a lot of buzz about "mobile gift cards," which as the name suggests, can be used electronically while on the go to pay for stuff.
And let's face it – standard plastic gift cards have been around for far too long, and aside from having to carry them around with the fear of losing them, you never really know how much you've "got left" on them. There's also the issue of being more green.
These inconveniences, especially if you've got a whole big stack of them, call for something better, like the ability to store them in your smartphone.
There are already a few players on the scene, including one major credit card issuer and one tech start-up.
Gyft = Digital Gift Card App
The tech startup is called Gyft, a company based out of San Francisco.
In short, they allow you to manage your now worthless plastic gift cards by uploading them into their mobile app.
Once stored on a smartphone, you can redeem the gift cards when in stores by simply pulling up the appropriate gift card and tapping the "redeem" button.
That will pull up a barcode, which the cashier can scan for you just they would a normal product they sell.
Additionally, you can buy new gift cards from within the application, though I couldn't find where to do that on my iPhone app.
You can also send gifts or "regyft" your own gift cards and send them to a friend or family member via e-mail, text, Twitter, or Facebook.
Currently, Gyft has more than 100 retailers onboard, including Amazon, Apple, Chipotle, Macy's, Starbucks, and more.
So if you're looking to make your life a lot less complicated, their app might do you some good.
American Express Gift Cards Finally Go Mobile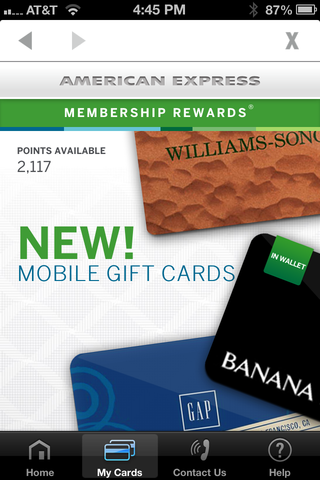 Then there's American Express, which now allows cardmembers to buy mobile gift cards on the go and use them for purchases in-store.
If you already have the Amex app, all you have to do is go to the "my cards" tab, then scroll down to "Mobile Gift Cards."
From there, you'll be given the option to browse available gift cards for purchase.
You'll also see your membership points balance so you'll know exactly what you can afford.
For example, if you've got 1,000 points and walk into a Gap, you can order a $10 mobile gift card on the fly and use it at checkout.
Once purchased, you simply hit "tap to pay" and the gift card reveals a bar code, which can be scanned by the clerk at the register.
You're also able to keep track of all your gift cards in one convenient place, instead of loading them into your overstuffed real-life wallet.
And the app makes it easy to see available gift card balances, as well as the ability to quickly and easily add money to existing cards.
In a nutshell, it's a much, much better way to use your American Express Membership Rewards points, without letting them go to waste.
So there it is – it appears as if the $100 billion gift card industry is finally evolving, and I for one, am excited. Now I just need someone to buy me a gift card…
Read more: Are credit cards going extinct?