One of the many perks of the Chase Ink cards is the free airport lounge access they afford cardholders.
However, the complimentary "Lounge Club" program is coming to an end on April 30th, so you need to act fast if you haven't already taken advantage of this benefit.
The Lounge Club offer provides Chase Ink Bold and Ink Plus cardholders with free membership and two complimentary visits, at which point each subsequent visit must be paid for.
Those two free passes can either be completed in two separate visits, or in one single visit with the cardmember and a guest using them simultaneously for entry.
After that, each visit costs $27 and is charged to the associated Chase Ink card used to sign up for the program.
This is a great opportunity to lounge at an airport in style if you have any upcoming travel plans.
The Lounge Club has 350 VIP lounges worldwide, so there's a good chance you'll be able to take advantage of it whether you're flying domestic or international.
The lounges come equipped with all types of great stuff like free alcoholic beverages, showers, WiFi, telephones, TVs, newspapers, magazines, and most importantly, an escape from the hustle and bustle of the airport.
How to Enroll in Lounge Club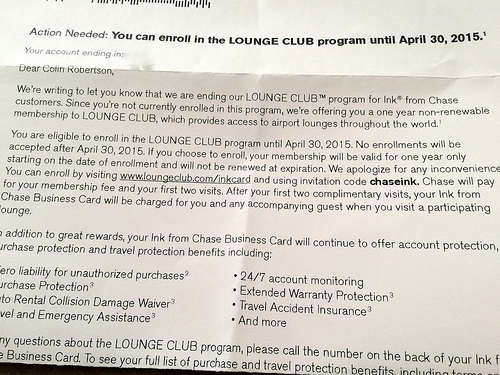 If you haven't yet enrolled in Lounge Club, simply visit www.loungeclub.com/inkcard and enter invitation code "chaseink."
From there you'll just need to fill in some basic information about yourself, and then provide your Chase Ink credit card details.
It will then take anywhere from 10 to 14 days to receive your Lounge Club membership materials in the mail, including the Lounge Club card used for entry into the lounges.
If you want to expedite delivery, they have an option that requires a $40 fee to get the membership packet much sooner. But that only really makes sense if you're planning to travel soon and definitely want to use a lounge in their network.
Assuming you choose to enroll, your membership will be good for one year beginning on the date of enrollment.
While no new enrollments will be accepted after April 30th, 2015, you can still use the lounge passes after that date so long as you're already signed up.
Once a year has passed, your Lounge Club membership will come to an end and it will not be renewed. This is actually a good thing because you won't have to pay any fees for continued enrollment.
So at the end of the day this is simply a quick and easy way to get two free airport lounge visits for five minutes of your time.
Tip: If you missed out on this offer don't fret, there's also free lounge access via the Citi Prestige Card, though it does carry a $450 annual fee.
(photo: Michael Coghlan)