If you haven't tackled your holiday shopping yet, like me and most everyone else, you might be wondering how to save a few bucks this year.
Fortunately, there are a lot of simple ways to get cash back when using your credit cards, especially if you make the purchases online from the comfort of your home or office.
Do You Have the Right Credit Cards?
First off, it's important to use the right credit card. During the fourth quarter (October 1st until December 31st), the Discover it card offers 5% cash back on all online shopping and at department stores.
You can spend up to $1,500 and earn 5% cash back (that's a maximum of $75). But wait, there's more. If you stack the 5% cash back with the portal bonus via ShopDiscover, you can easily earn 10% off your purchases or more.
For example, the Apple Store offers 5% cash back via ShopDiscover. Use your Discover card to buy stuff from Apple online through the portal and you can earn 10% cash back.
Other companies offer even higher amounts, like Sears, which offers 10% cash back + the 5% cash back for online purchases. Or 1-800-Baskets, which offers 25% cash back via the portal for a total of 30% off.
*Just be careful not to use external promo codes because they can nullify your cash back earned via the ShopDiscover portal.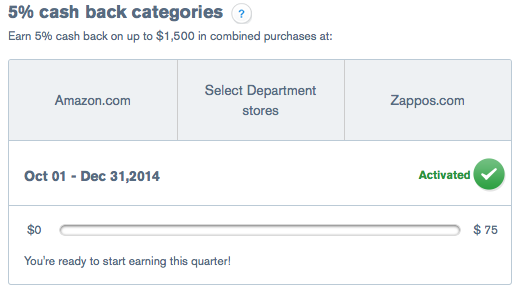 If you like to shop at Amazon, the Chase Freedom card offers 5% cash back on up to $1,500 in purchases there and at Zappos and select department stores.
By the way, the Amazon deal allows you to buy Amazon gift cards and earn the 5% cash back.  So even if you aren't shopping now, you can snag 5% off for future purchases.
You can also shop via the Ultimate Rewards portal to stack your cash back, similar to the Discover portal.
Finally, if you have a Citi Dividend card, you can earn up to $300 cash back (annually) on purchases made at Best Buy, at department stores, and at toy stores.
So if you have one, two, or all three of these cards, you can certainly buy most if not all of your holiday gifts online or at department stores and save a ton of money.
If you have the Chase Ink cards, which offer 5x points per dollar spent at Staples, it might be a good time to go buy that iPad or another electronic device.
I recently purchased an iPad mini at Staples with my Ink card at a heavily discounted price ($239 compared to $299 at most other stores) and I'll snag over 1,000 Ultimate Rewards points in the process.
If you have an American Express card or two, be sure to check out the available Amex Offers in your account to save even more money.
And if you have Softcard, remember you can earn $10 for every five taps made with your credit cards until the end of the year.
This is just the tip of the iceberg…there are many more deals across a wide array of credit cards, especially during this time of the year.
Be sure to carefully use the right one for each particular situation to maximize your savings.
Also a Good Time of Year to Hit Spend Bonuses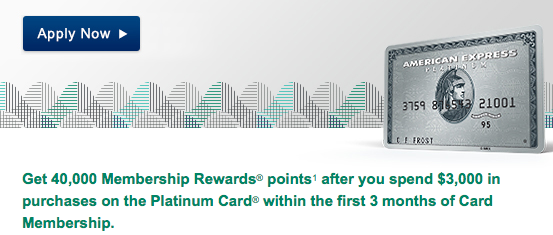 Oh, and one last thing. This is also a great time of year to hit spending bonuses tied to any new credit cards you apply for.
It can be a burden to spend a few thousand dollars to earn a sign-up bonus, but when you're practically forced to spend the money on gifts in the span of a month, it's easy to meet minimum thresholds.
So if you're looking for a new credit card, December is also an optimal time to look out for any generous bonuses credit card companies happen to be offering.
This way you won't spend more than you need/want simply to earn some airline rewards miles or a monetary bonus.
Happy shopping and happy holidays!