If you're a good student in need of a credit card, you can get awarded simply for maintaining a solid GPA.
It's part of the new "Good Grades Reward" promotion from Discover, which gives students a $20 Cashback Bonus for each school year in which they maintain a GPA of 3.0 or higher.
The $20 bonus is available for up to five years, meaning students enrolled in the program for their entire college tenure can earn $100.
Additionally, because new Discover it cardholders are now earning double cash back for their first year, students can snag $40 via the Good Grades Reward during year one.
At the moment there's a $50 bonus (find the right offer link) after you make your first purchase on the Discover it Student card, so it can be a pretty lucrative offer, especially for a student credit card.
In order to be eligible for the promotion, you need to apply for either the Discover it or Discover it chrome card and indicate that you are currently enrolled in college (undergrad or graduate school).
This should be auto-populated in the application (as your employment status) if you apply for a student version of the cards mentioned. You'll see "not a student" text in the application to indicate you're in the right place.
A Discover online chat representative told me, "You do have to have to be approved for a student version to qualify for this."
So be careful to apply for the correct version of the card to ensure you actually receive the bonus.
As stated, you also need a GPA of 3.0 (or equivalent) during a given school year (September – August).
That equates to a "B" average or 85% or higher if it's based on a 0-100% scoring range.
How to Get the Good Grades Reward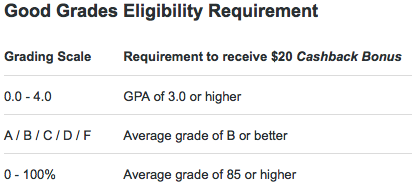 Once you've signed up for one of these cards (it only applies to new cardmembers of as July 23, 2015), you have to log into your Discover account online and enter your GPA or equivalent grade for any term during the school year.
Within 1-2 billing periods, you'll receive the $20 Good Grades Reward in your Cashback Bonus account.
As far as verifying your GPA, Discover said it may request additional documentation to verify that you did indeed maintain the grades necessary for the bonus.
Your account also has to be open and in good standing at the time of requesting the bonus, meaning no late payments!
For the record, the student versions of Discover it also come with the rotating 5% cash back categories, along with 1% cash back elsewhere.
And as noted, new cardmembers get double cash back the first year, which also applies to the $20 Good Grades Reward.
All in all, this is a great offer for a student credit card because most offer little to no cash back bonus.
However, if you've got good credit and can apply for a traditional credit card you might be able to get your hands on a much better opening bonus.
Either way, study hard and get good grades!