You may have seen commercials recently for "Citi Price Rewind," a new service that aims to take the fear out of getting ripped off while shopping, once and for all.
So instead of mistakenly overpaying for items, you can shop with your Citi credit card stress-free, knowing that any purchase you didn't get the best deal on can be renegotiated later.
At least, that's the short version of the story. If you read the fine print, it's actually a lot more complicated. We're talking page upon page of complex details.
In fact, it might not even be worth all the trouble to "file a claim." Yes, it sounds more like car insurance than it does price protection, but hey, that's how these things work nowadays.
The program is actually underwritten by Triton Insurance Company, so it's no laughing matter.
And it's far from that Circuit City commercial where the kid walks to the store with a newspaper cutout to get his swift, no-questions-asked refund.
How Citi Price Rewind Works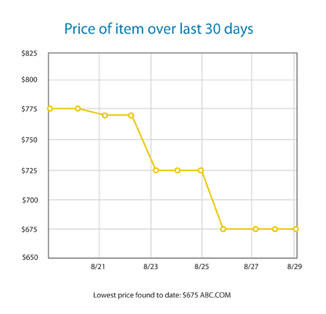 After you purchase something using your eligible Citi credit card, such as the Citi ThankYou Premier card, either online or in-store, you'll need to log on to your account online and select the item to begin a Price Rewind search.
The hope is that the item is in Citi's Price Rewind database – you can look up your item by UPC code, product name, model number, or by description.
Assuming it is in their database, Citi can automatically track prices of the product online for a 30-day window.
But you'll also need to tell them how much you paid, when you bought it, and where you bought it. Seems redundant, though it's important to remember that only total amounts show up on statements, not individual items purchased.
You'd think the credit card issuers would have that piece of the puzzle down by now, but they don't.
Anyway, if the price tracker finds that a retailer is selling the product for at least $25 less, you can submit a claim and get refunded whatever the difference is.
You don't have to do it online – you can also scour through newspapers and print ads as well, but you'll be on your own without the price tracker.
With the online tracker, you can get e-mail alerts if a lower price is found. It will also include instructions on how to claim your refund.
Either way, claims must be submitted within 90 days of the date of your purchase.
And your claim will most likely involve having to scan and copy receipts, as well as provide other documentation to demonstrate your claim.
Do You Have Time for This?
At this point, you might be wondering if it's all worth it.
As mentioned, the price difference needs to be $25. So don't waste your time on small ticket items. However, many big items are also excluded, such as cars, boats, jewelry, land, animals, tickets of any kind, and much more.
A Price Rewind also can't be based on the difference in shipping and/or sales tax, and it's only open to U.S. citizens who purchase goods domestically.
Additionally, your Citi business cards aren't eligible, nor are purchases made with ThankYou points, gift cards, and store credit.
If the product is found in Citi's Price Rewind database, it's not too much work. But you still have to hope a lower price shows up on their radar within a month.
If the product isn't listed, and you have to complete a manual claim form, you'll be in for even more hard work, including scanning a copy of the ad where you saw the lower price.
On top of that, the max refund amount is $250 per item, with a total cap of $1,000 per calendar year.
And if you buy multiple like items on the same receipt, you're still limited to the $250 difference, total.
All in all, it sounds like Citi is making the whole process a bit of a pain in the rear, whether intentional or not. The commercials make it seem like you click a button and the money is in your account.
In reality, it sounds very bureaucratic, paperwork-heavy, and time consuming, which as I've mentioned, will have some consumers wondering if they're actually saving money by jumping through all the hoops.
But if you use Citi already, it could be worthwhile for big purchases since it's free to use and doesn't require enrollment. Just be prepared to do some legwork to actually see a refund.
Lastly, some tips:
Complete the Price Rewind request as soon as possible, since the refund is only available if a lower price is found within 30 days of purchase.
And be sure to keep your receipt or a copy of your receipt, as it will be needed for a claim.
Lastly, good luck, because you're basically making a bet here, albeit a free one, less your precious time.
(photo: Christina Welsh)