A little over a week ago, I applied for the Citi ThankYou Premier Card. I figured the 50,000 point sign-up bonus was enticing enough to spend $3,000 in the first three months.
After all, you can transfer ThankYou Points to airlines and then travel the world for free.
Plus I've got some major spending to do anyway, so I decided it would be foolish not to easily hit a minimum spend with said spending. Oh, and the annual fee is waived the first year. I went for it.
Yesterday, I saw this giant package outside my mailbox. Yeah, outside because it was too big to fit inside.
At first glance, I thought it was something from Apple, seeing that it was in a sleek light gray box. Did I get a new wireless keyboard?
It certainly didn't look like the typical small white envelope containing a credit card I was accustomed to.
Anyway, I grabbed it, threw it under my arm (because it was that large), and headed inside to open it.
I peeled open the perforated strip and lo and behold, it was my Citi ThankYou Premier Card!
Upon opening the box, I was greeted by the line, "Welcome to the card with a broader definition of travel."
And "Your Citi ThankYou Premier Card has arrived."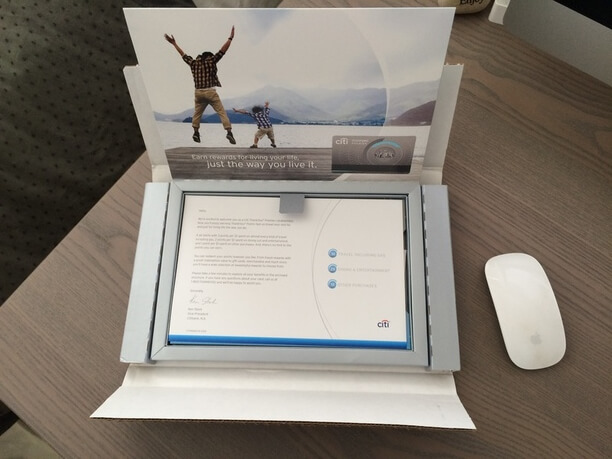 Wow. Pretty epic stuff. After peeling pack the layers of paper I finally found the physical credit card, which thankfully was not supersized like the box.
Inside was also a guide to protection benefits, terms and conditions, a thick cardboard insert explaining how the magnetic stripe is on the front of the card…
There was so much stuff in this box that I could literally set up a booth at a tradeshow and begin pitching the ThankYou Premier Card to potential customers.
Look how small my mouse looks in the photo next to the package.
What Happened to Caring About the Environment
Okay, I know what you're thinking. I'm a hippie, a bleeding heart liberal that stays up at night worrying about the polar ice caps melting and the rainforest getting chopped down.
But come on…is all this pomp and circumstance really necessary for a new credit card? Look, I get it. They're attempting to emulate the American Express experience seen with the Platinum Card and the Centurion Card.
You know, make you feel super special and important. Heck, it did kind of make me feel good for a moment. And the card is super cool looking too with its translucent signature Citi arc.
But all that paper and cardboard for what? To make cardholders feel special? How about cutting down on all the glut and just sending the thing in a small, unmarked white envelope.
And while you're at it, make the card recyclable somehow. Discover pulled it off at some point, though that effort was short-lived.
I already feel bad about having a bunch of pieces of plastic that eventually wind up in landfills.
Saddling me with a giant box and stacks of paperwork doesn't make me feel any better about the situation.