It took a while, but Chase is finally in the offers game with the launch of "Chase Offers," a new cash back program that seems eerily familiar to Amex Offers.
At the moment, it only appears to be live for Marriott credit cards from Chase. Fortunately, I have one of those so I decided to sign up and give it a spin.
Signing Up for Chase Offers
This was a bit of an unexpected step. Instead of simply adding Chase Offers to your Marriott card on the Chase website, you have to sign up on a separate website to activate your account.
Upon closer inspection, this might be because the actual domain name of the site is visaoffers.com. So, Chase might be just one of any other Visa card issuers to join this new savings program.
And yes, Visa gets access to your ongoing transactions on any registered card and the past 12 months of transactions. Sweet, sweet data…
Anyway, once you sign up by providing some basic info (email, location, and credit card number), you'll get an activation email.
Simply click on the link inside and your Chase Offers account should be live.
It didn't take long, but as mentioned, I expected the thing to just be in my Chase.com account when I signed in similar to Amex Offers.
Once you have successfully registered one card, you are able to add up to four more Chase Marriott Rewards. I didn't know people had that many Marriott cards…
Do You Earn Points or Cash Back via Chase Offers?
Another somewhat surprising aspect of the Chase Offers program is that the offers don't earn Ultimate Rewards points or loyalty points. Well, aside from the ones you'd normally earn.
You'd expect to earn Marriott points if you enrolled your Marriott card in a special credit card offers program, but alas, this is not the case.
You simply earn cash back in the form of a statement credit. This mirrors Amex Offers that are tied to cash back cards, though it differs from their Amex Membership Rewards earning cards.
It's fine I suppose, just expected Marriott points as opposed to a statement credit. The good news is the statement credits seem to post quickly, between three and 10 business days, they say.
How Are the Chase Offers?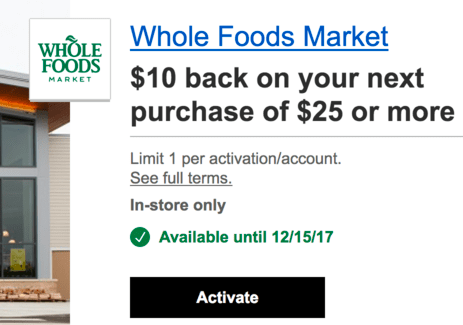 The one that will probably catch most folks' eyes is the $10 off $25 at Whole Foods. I'm not a big Whole Foods guy, but I know a lot of people are.
That's a healthy 40% off some groceries at Whole Foods, which might actually make the prices reasonable.
I also had a 20% back at Nordstrom offer, $10 back on $50+ purchase at Lowe's, $20 back on a Hulu subscription, and a bunch of 10% back offers. They mostly included chain restaurants like Chili's, Denny's, Pap John's, Olive Garden, Wingstop, and some bagel spots.
There's also a 10% back at Staples, though as you might have guessed, gift cards are excluded. We'll wait for the data points to stream in on that one since the offer is good online and in-store.
All in all, Chase Offers don't appear to be earthshattering, but it is yet another way to save money on your credit card purchases with very little effort.
I played with the location feature to see if more interesting offers would show up but it didn't do too much. Maybe one or two new offers would show up, but they weren't noteworthy.